Volunteer Orientation Template
Ready to rethink the traditional approach to volunteer orientations?
You've come to the right place. With Goosechase's Volunteer Orientation template, we're transforming first steps into engaging, unforgettable experiences. It's orientation, reimagined – prepare for a wild ride of learning and fun!
🏃
Just want the template?
Skip ahead
to the end of the article for a copy that's ready to go.
What Is A Volunteer Orientation?
Volunteer orientation is an initial training or introduction that organizations provide for their new volunteers. It's a crucial step in preparing volunteers for their roles and responsibilities within the organization. The orientation usually covers a variety of topics, including the organization's mission and values, expectations for the volunteers, the roles and tasks they will be performing, as well as any necessary skills or procedures they'll need to know.
This orientation process helps volunteers understand how their contributions fit into the larger goals of the organization, provides them with the knowledge and skills they need to succeed, and helps build a sense of community and connection from the outset. Essentially, volunteer orientation sets the stage for a positive and impactful volunteering experience.
Who Is This Volunteer Orientation Template For?
A Volunteer Orientation template can be beneficial for various groups, including but not limited to:
Non-Profit Organizations: These entities rely heavily on volunteers. An orientation template can help streamline the onboarding process, ensuring volunteers understand their roles, responsibilities, and the organization's mission.
Community Centers: These often run various programs requiring volunteer support. A template can simplify the task of communicating duties and expectations to volunteers.
Event Organizers: For one-off events like festivals, fundraisers, or races, a Volunteer Orientation template ensures all volunteers understand their roles and responsibilities, leading to a smoothly-run event.
Educational Institutions: Schools, colleges, and universities often have volunteer programs where a template could be useful in guiding new volunteer students or parents.
Corporate CSR Initiatives: Companies with Corporate Social Responsibility (CSR) programs can use the template to efficiently onboard employees volunteering in their initiatives.
Public Service Departments: Entities like parks, libraries, and local government offices that use volunteers can benefit from a standardized orientation template.
In essence, any organization that relies on volunteer support can benefit from using a Volunteer Orientation template to provide a consistent, comprehensive introduction to their operations and expectations.
Tips For Creating Your Own Volunteer Orientation Experience
Embarking on the journey of creating your own Volunteer Orientation can seem a bit like a wild goose chase, but have no fear, we're here to guide you!
Define Clear Goals: Begin by identifying what you want your volunteers to learn from the orientation. Keep these goals at the forefront of your planning.
Break Down Roles: Clearly explain the roles and responsibilities of volunteers. Break them down into manageable tasks that are easy to understand.
Keep it Engaging: Nobody enjoys a dull orientation. Use interactive elements like quizzes, games, or group activities to keep the volunteers engaged and interested. With Goosechase, turning your orientation into an engaging adventure is as easy as pie (or gooseberry pie, to be exact!).
Include Essential Information: Ensure your orientation covers vital information about your organization, its mission, and values.
Emphasize Communication: Encourage questions and discussion. Good communication helps volunteers feel more comfortable and involved.
Follow Up: After the orientation, be sure to check in with your volunteers, answer any questions they might have, and ask for feedback to make improvements.
Remember, the goal of your orientation is to prepare your volunteers for their roles while also making them feel welcomed and valued. Happy planning!
How To Put This Volunteer Orientation Template To Use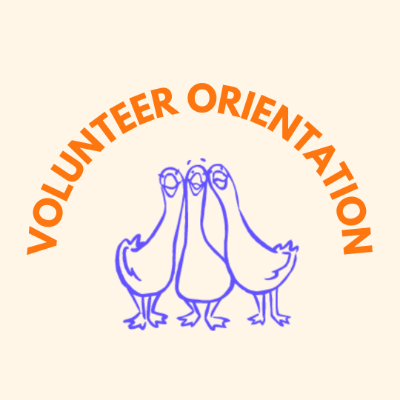 Volunteer Orientation
Welcome your volunteers with this fun, engaging Goosechase. Get them versed on your mission, vision, history, team, and services! Customize this template with your own info. Great for non-profits!
Get your own copy!
1. To copy an Experience to your account, first, make sure you are logged into your Goosechase account. If you don't have an account, you can create one.
2. Once logged in, go to the Experience you wish to copy (this one!) and select the blue Copy this Template button in the upper left-hand corner of your page.
3.  After you've clicked Copy this Template, the Experience will import into your account, and you will receive a confirmation screen once the Experience has been fully copied.
4. Now that the Experience is added to your account, you can make changes and edit the Experience to make it your own, or you can use the Missions in a different Experience by accessing the Mission in your Previous Missions bank. For more detailed instructions, click here.
5. It's GOose time!
What is Goosechase?
At Goosechase, experience is everything. Originally inspired by scavenger hunts, Goosechase is an online platform that enables organizations and schools to engage, activate, and educate their communities through delightful interactive experiences. Sign up and try creating a free recreational Experience, or check out our Pricing!