Volunteer Orientation: Improving Volunteer Retention with Thoughtful Onboarding
A volunteer's experience with your organization starts as soon as they're touched by your cause. Give them a warm, memorable welcome to the team with an engaging orientation.
As a non-profit organization, you've got a lot on your plate. Saving the world requires a never-ending to-do list...and all hands on deck. We know you rely on committed volunteers to help carry out your important work, and recruiting, training, engaging, and retaining them are challenges.
Although volunteerism is on the rise, retention rates are decreasing. Folks are contributing their time and effort, but not quite committing to the same organizations year over the year. We're happy that people are passionate about helping different causes, but also recognize this spells a challenge for you, who constantly needs to recruit, train, and orient volunteers.
So, what can you do differently to improve volunteer retention? Start at the beginning: improve your volunteer orientation. Not to be confused with volunteer training, where you focus on the specific details and processes associated with the volunteer role, volunteer orientation is all about deepening your volunteers' emotional connection to the cause, and setting up a comfortable community environment they get excited about contributing to.
A thoughtful volunteer orientation process should help volunteers:
Feel welcome, comfortable and part of the team
Deepen their understanding of and connection to your organization's vision, mission, goals, and culture
Build community amongst fellow volunteers
Build confidence in the organization and its leadership
Here's a simple template you can customize for your organization's needs. It includes Missions for volunteers to get to know each othe and your organization, and collects some important data (like paperwork requirements, contact details, and schedule availabilities) in the process.
We know you've got a lot to do, and we hope this helps check something off your list.
If you're already using GooseChase to run experiences, you can click the button below to copy this scavenger hunt to your account.
Here's a sneak peek...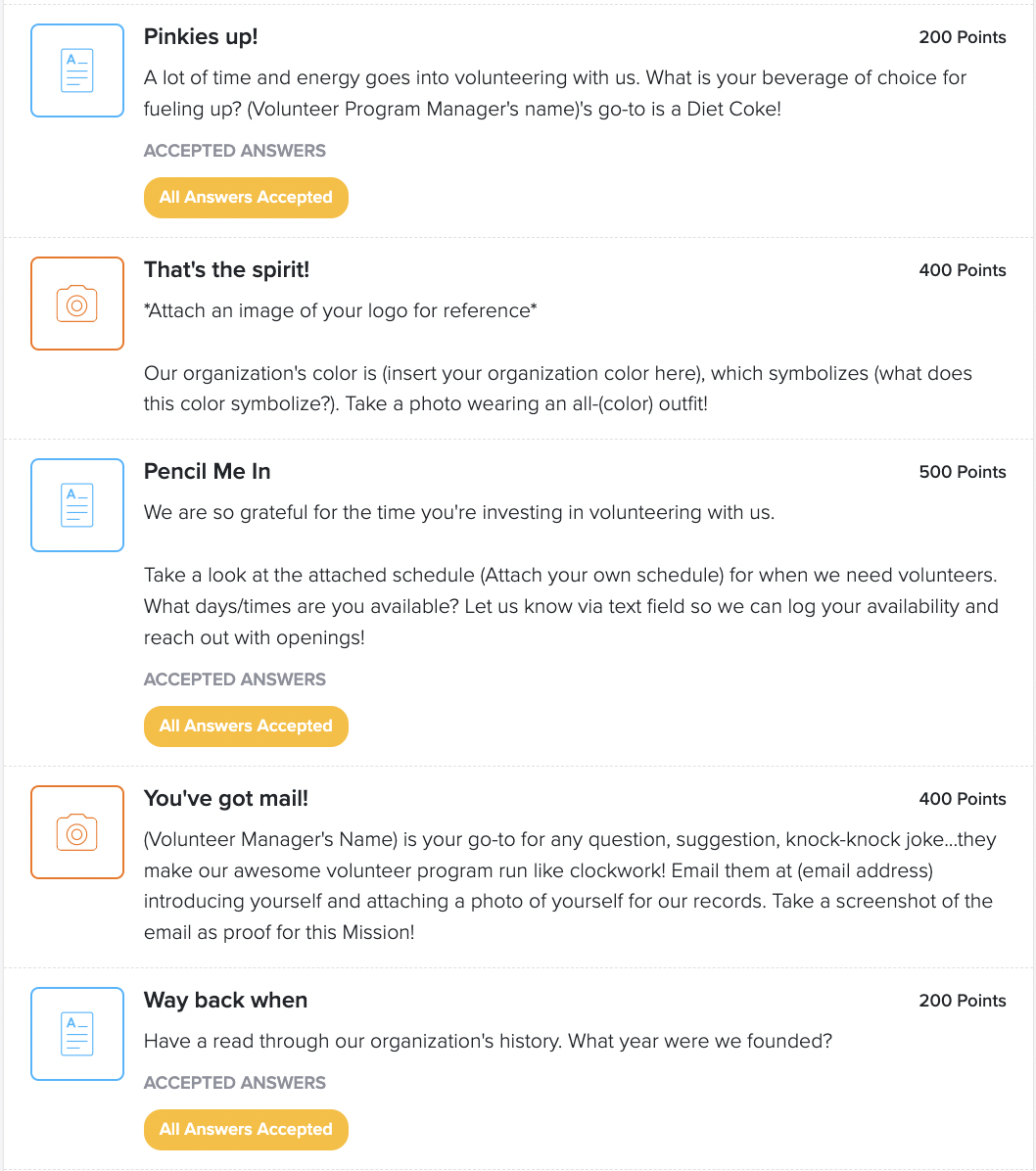 Want to create a fun, engaging game for your community? Take a look at our How It Works page to see how easy it is to get started on GooseChase!
Looking for more inspiration?
What is GooseChase?
GooseChase is an online platform that helps organizers create and run digital scavenger hunt experiences for team building, learning, public engagement, or a variety of other events. Sign up and try creating a free recreational game, or contact us to learn more about our enterprise solutions!