Welcome to the ultimate Seattle adventure!

With our Goosechase Seattle Tour template, you're about to embark on a journey that's as exhilarating as it is enlightening. Discover the city's iconic landmarks and hidden treasures, all while engaging in fun-filled, interactive activities. Prepare for an experience that's as unique and vibrant as Seattle itself!
🏃
Just want the template?
Skip ahead
to the end of the article for a copy that's ready to go.
What Is a Seattle Tour?
A Seattle Tour is a guided exploration of the city of Seattle, which is known for its rich history, vibrant culture, and stunning natural beauty. During this tour, you'll get to explore the city's iconic landmarks such as the Space Needle, Pike Place Market, and the Olympic Sculpture Park, among many others. But it's not just about sightseeing. You also get a taste of the city's unique vibe, hear stories about its past, and immerse yourself in its culture.
With the Goosechase Seattle Tour template, this exploration is taken to a whole new level. Instead of a traditional tour, you're led through a series of interactive activities and missions, each designed to highlight different aspects of the city. It's a perfect mix of learning and adventure, wrapped up in a package of fun and excitement. It's like a journey through the city, but with an added layer of interaction and enjoyment that makes it an unforgettable experience.
Who Is This Seattle Tour Template For?
Tourists and Visitors: The Seattle Tour template is perfect for anyone visiting the city for the first time or even seasoned travelers looking for a unique and exciting way to explore Seattle. It makes discovering the city's charms easy and fun!
Event Organizers: Event and trip organizers can use this template to provide a novel and engaging experience for their attendees, be it a corporate retreat, family reunion, or a social club outing.
Educators and School Groups: Teachers or student group leaders can use it as an educational tool, turning a city tour into a fun, interactive learning experience.
Local Residents: Even for locals, the Seattle Tour template can be a refreshing way to rediscover the city they call home, explore unvisited corners, and learn new facts about Seattle's history and culture.
Companies for Employee Engagement: Businesses can use this template as a unique team-building exercise, fostering collaboration and camaraderie among employees while they enjoy exploring Seattle in a whole new way.
In essence, the Seattle Tour template is a fantastic resource for anyone seeking to transform a regular city tour into an extraordinary, interactive adventure!
Tips For Creating Your Seattle Tour Experience
Diving into creating your own Seattle Tour on Goosechase? Here are some tips to make your tour as immersive as possible:
Know Your City: Spend some time researching Seattle's landmarks, history, and culture. The more you know, the more exciting and informative you can make your Missions.
Mix It Up: Combine educational missions with fun and interactive tasks. It keeps participants engaged and ensures there's something for everyone!
Make it Accessible: Consider the age range and physical abilities of your participants. Design missions that everyone can enjoy, ensuring no one gets their feathers ruffled.
Think Outside the Box: Seattle is not just its popular spots. Include less-known but interesting locations or facts about the city to make your tour truly unique.
Test Your Tour: Try out your tour yourself or with a group of friends before the actual event. Or if you're visiting, ask a local friend to stress test it. It ensures everything goes smoothly on the day, and you can have a practice run of the fun!
Good luck, and happy exploring!
How To Put This Seattle Tour Template To Use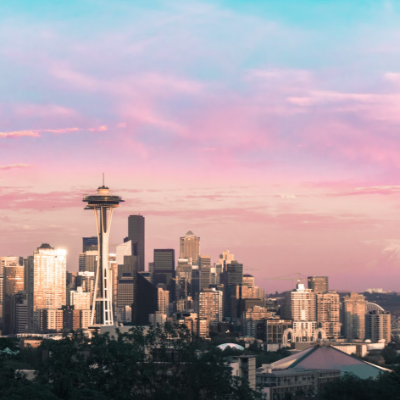 Seattle Unveiled: Tourist Edition
Embark on an immersive adventure, uncovering Seattle's iconic landmarks, vibrant culture, and hidden gems in this unforgettable tourist experience.
Get your own copy!
1. To copy an Experience to your account, first, make sure you are logged into your Goosechase account. If you don't have an account, you can create one.
2. Once logged in, go to the Experience you wish to copy (this one!) and select the blue Copy this Template button in the upper left-hand corner of your page.
3.  After you've clicked Copy this Template, the Experience will import into your account, and you will receive a confirmation screen once the Experience has been fully copied.
4. Now that the Experience is added to your account, you can make changes and edit the Experience to make it your own, or you can use the Missions in a different Experience by accessing the Mission in your Previous Missions bank. For more detailed instructions, click here.
5. It's GOose time!
What is Goosechase?
At Goosechase, experience is everything. Originally inspired by scavenger hunts, Goosechase is an online platform that enables organizations and schools to engage, activate, and educate their communities through delightful interactive experiences. Sign up and try creating a free recreational Experience, or check out our Pricing!