San Francisco Scavenger Hunt Template
Ready for a one-of-a-kind journey through the heart of the City by the Bay? With our Goosechase San Francisco template, we've got a passport to adventure waiting just for you.
Uncover the magic of this iconic city, diving into its colorful history, vibrant neighborhoods, and iconic landmarks. It's a fun, interactive, and engaging way to experience San Francisco like never before!
🏃
Just want the template?
Skip to the end
of the article for a copy that's ready to go.
What Is A San Francisco Scavenger Hunt?
A San Francisco Scavenger Hunt is a fun, engaging activity that involves participants completing a series of interactive tasks, or Missions, throughout the city of San Francisco. This is facilitated through the Goosechase platform. The Missions can involve a range of activities such as identifying landmarks, finding specific items, or answering trivia related to San Francisco's rich history and culture.
Participants can be individuals or teams, adding a competitive element as each completed Mission earns points. The aim is not just to score the most points, but also to explore and learn more about the city. It takes you on a journey through San Francisco, visiting both iconic locations, like the Golden Gate Bridge and Alcatraz, and hidden gems in the city's diverse neighborhoods.
This Scavenger Hunt offers an alternative, interactive way to experience San Francisco, making it an excellent option for tourists, locals, educators, and corporate groups alike. It's not just about the competition - it's about discovery, adventure, and seeing San Francisco in a new light.
Who Is This San Francisco Scavenger Hunt Template For?
A wide variety of individuals and groups could benefit from using a Goosechase San Francisco Scavenger Hunt template:
Travelers and Tourists: Those visiting San Francisco could use the Scavenger Hunt as a fun and unique way to see the city, discovering both popular attractions and hidden gems.
Event and Party Planners: People planning events such as birthday parties, bachelor/bachelorette parties, or family reunions could use the Scavenger Hunt as a fun, interactive group activity that encourages bonding and creates memorable experiences.
Corporate Teams: Businesses looking for team-building activities could use the Scavenger Hunt to foster teamwork, communication, and problem-solving skills among employees while exploring the city.
Educators: Teachers or educational groups can use the Scavenger Hunt to create an interactive learning experience about San Francisco's history, culture, and geography.
Local Residents: Even San Francisco locals can use the Scavenger Hunt to see their city in a new light, discovering new places, and learning new facts.
In short, anyone interested in an engaging, fun, and interactive way to explore San Francisco could benefit from the San Francisco Scavenger Hunt template.
Tips For Creating Your Own San Francisco Scavenger Hunt Experience:
Ready to embark on your journey through the City by the Bay? Here's how to ensure your San Francisco Scavenger Hunt is as fun as a seal barking in the sunshine at Pier 39:
Plan Your Missions Around Key Landmarks: From the Golden Gate Bridge to Alcatraz, San Francisco is teeming with iconic landmarks. Make the most of them by planning your Missions around these spots.
Include Local Lore: San Francisco is a city with rich history and unique local culture. Incorporate these elements into your Missions for a truly immersive experience.
Make Use of the Scenic Beauty: San Francisco is known for its breathtaking views. Design photo challenge Missions that capture the city's natural beauty and iconic cityscapes.
Take Advantage of the City's Cuisine: The city is famous for its food. Create Missions that include local culinary delights like clam chowder in a sourdough bowl or fortune cookies from Chinatown.
Test the Hunt: Do a dry run of the Scavenger Hunt to make sure all clues make sense, all locations are reachable, and the overall flow of the game is fun and engaging.
Inject Some Fun: Last but not least, don't forget to add a dash of Goosechase's signature humor! A pun or a fun fact can turn an ordinary Mission into an extraordinary adventure.
Remember, creating a Scavenger Hunt is all about fostering fun, exploration, and discovery. Happy Goosechasing!
How To Put This San Francisco Scavenger Hunt Template To Use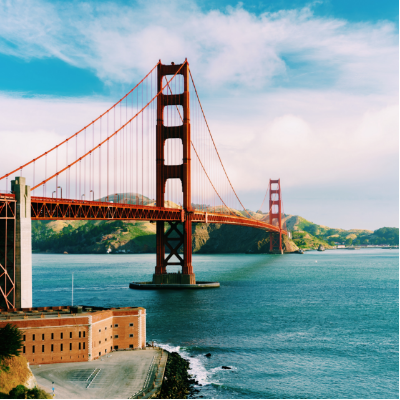 San Francisco Scavenger Hunt
Get your own copy!
1. To copy an Experience to your account, first, make sure you are logged into your Goosechase account. If you don't have an account, you can create one.
2. Once logged in, go to the Experience you wish to copy (this one!) and select the blue Copy this Template button in the upper left-hand corner of your page.
3.  After you've clicked Copy this Template, the Experience will import into your account, and you will receive a confirmation screen once the Experience has been fully copied.
4. Now that the Experience is added to your account, you can make changes and edit the Experience to make it your own, or you can use the Missions in a different Experience by accessing the Mission in your Previous Missions bank. For more detailed instructions, click here.
5. It's GOose time!
What is Goosechase?
At Goosechase, experience is everything. Originally inspired by scavenger hunts, Goosechase is an online platform that enables organizations and schools to engage, activate, and educate their communities through delightful interactive experiences. Sign up and try creating a free recreational Experience, or check out our Pricing!