Remote Team Icebreaker Template
Ready to crack the frosty silences and un-melt the icy barriers in your remote team?
Transform your team's dynamics into a flurry of fun, camaraderie, and collaborative energy with this Remote Team Icebreaker template.
🏃
Just want the template?
Skip ahead
to the end of the article for a copy that's ready to go.
What Is A Remote Team Icebreaker?
A Remote Team Icebreaker is an engaging and interactive activity designed to facilitate introductions and foster connections among members of a remote team. These activities are often fun, light-hearted games or discussions that help team members to learn about each other's backgrounds, interests, and personalities. They're meant to break down any initial awkwardness or barriers that can come with remote work, encouraging team members to interact and collaborate more comfortably and effectively.
The beauty of a remote team icebreaker lies in its ability to bring a team closer together, despite physical distance. It's like an informal, virtual meet-and-greet, which can help create a more enjoyable and productive work environment. By facilitating better understanding and rapport among team members, icebreakers can boost overall team cohesion and performance.
This Remote Team Icebreaker template takes this concept and amplifies it with interactive and engaging elements, aimed at creating a lively and memorable experience that leaves every team member feeling more connected and ready to collaborate. It's an easy, fun, and effective way to warm up your remote team's dynamics.
Who Is This Remote Team Icebreaker Template For?
A wide variety of groups can benefit from using a Remote Team Icebreaker template:
Newly formed remote teams: When a new team is formed, it's essential to build strong connections and foster a sense of unity. This template can help create a relaxed, fun atmosphere that encourages team members to learn about each other and build trust.
Existing remote teams: Even established teams can sometimes fall into communication ruts or deal with occasional tensions. Using an icebreaker activity can reintroduce a sense of fun, lighten the mood, and improve overall team dynamics.
Companies in transition to remote work: For organizations that are shifting from a physical workspace to a virtual one, this template can help smooth the transition by helping employees adjust to the new way of interacting and working together.
Teams across different time zones: When team members are scattered across various time zones, it can be challenging to feel connected. An asynchronous icebreaker activity can create shared experiences that enhance the feeling of togetherness, despite geographical distances.
Educational groups: For online classes or study groups, the template can serve as a fun way to get students to know each other better, boosting engagement and participation levels.
In a nutshell, any group seeking to improve rapport, cooperation, and a sense of community in a remote setting could find the Goosechase Remote Team Icebreaker template valuable. It's all about fostering connections, having fun, and generating honk-loads of team spirit!
Tips For Creating Your Own Remote Team Icebreaker Experience
We've got you covered!
Make it Fun: Remember, icebreakers are meant to be light-hearted and enjoyable. Try incorporating elements of humor or surprising trivia to keep everyone engaged and laughing. Make it a honk-a-thon!
Encourage Participation: Ensure that the icebreaker is inclusive and encourages everyone to participate. A quiet team member could be a secret treasure trove of fun and creativity.
Mixing it Up Matters: Consider the diverse backgrounds and personalities of your team members when designing your icebreaker. A mix of activities will cater to everyone's comfort zones.
Keep it Short: Time is golden, especially in remote settings. Aim for icebreakers that are fun, meaningful, but not too lengthy. Swift as a goose!
Follow up: After the icebreaker, encourage team members to share their experiences and thoughts - part of the fun will be in re-hashing some hilarious submissions!
Keep it Fresh: Don't be afraid to switch up your icebreakers regularly. Just like our feathered friends, teams love exploring new terrains!
How To Put This Remote Team Icebreaker Template To Use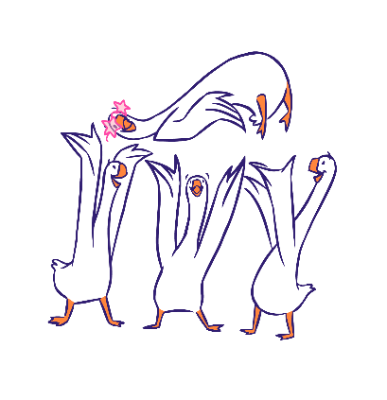 Let's get to know each other!
Get your team members mixing and mingling with this getting-to-know-you Goosechase!
Get your own copy!
1. To copy an Experience to your account, first, make sure you are logged into your Goosechase account. If you don't have an account, you can create one.
2. Once logged in, go to the Experience you wish to copy (this one!) and select the blue Copy this Template button in the upper left-hand corner of your page.
3.  After you've clicked Copy this Template, the Experience will import into your account, and you will receive a confirmation screen once the Experience has been fully copied.
4. Now that the Experience is added to your account, you can make changes and edit the Experience to make it your own, or you can use the Missions in a different Experience by accessing the Mission in your Previous Missions bank. For more detailed instructions, click here.
5. It's GOose time!
What is Goosechase?
At Goosechase, experience is everything. Originally inspired by scavenger hunts, Goosechase is an online platform that enables organizations and schools to engage, activate, and educate their communities through delightful interactive experiences. Sign up and try creating a free recreational Experience, or check out our Pricing!