New York City Scavenger Hunt Template
Welcome to the ultimate adventure in the concrete jungle – New York City! Get ready to immerse yourself in the vibrant energy, iconic landmarks, and bustling streets of the Big Apple like never before.
Our interactive experience is designed to ignite your sense of exploration, challenge your wits, and unlock the hidden gems of this mesmerizing metropolis. Whether you're a local seeking a fresh perspective or a visitor eager to dive into the heart of the city, our New York City template is your passport to unforgettable moments and a thrilling journey through one of the world's most captivating destinations. Get ready to embark on an urban quest that will leave you with unforgettable memories and a deeper appreciation for the magic of NYC!
🏃
Just want the template?
Skip ahead
to the end of the article for a copy that's ready to go.
What Is A New York City Scavenger Hunt?
Imagine a thrilling adventure in the heart of New York City, where you become an urban explorer on a mission to uncover hidden treasures, solve clues, and discover the city's most iconic landmarks. A New York City Scavenger Hunt is an interactive experience that combines the excitement of a treasure hunt with the rich history, culture, and vibrant atmosphere of the Big Apple. It's like stepping into a real-life game where you and your team navigate the bustling streets, capturing the essence of the city while engaging in exciting challenges.
You'll embark on a quest to unravel mysteries, unlock secrets, and immerse yourself in the energy and charm of New York City. It's an opportunity to see famous sights from a fresh perspective, uncover lesser-known gems, and create unforgettable memories in one of the world's most dynamic and captivating cities.
Get ready to embark on an adventure that will ignite your curiosity, test your skills, and leave you with a newfound appreciation for the enchanting allure of NYC.
Who Is This New York City Scavenger Hunt Template For?
A New York City Scavenger Hunt template offers a wide range of benefits and can be enjoyed by various individuals and groups. Here are some examples of who could benefit from using the template:
Tourists and Visitors: If you're exploring New York City for the first time or even if you've been there before, a scavenger hunt template can enhance your experience by providing a unique and interactive way to discover the city's iconic landmarks, hidden gems, and vibrant neighborhoods.
Families and Friends: Scavenger hunts are perfect for family outings or group gatherings. It's an opportunity to engage in friendly competition, bond with loved ones, and create lasting memories while exploring the city together.
Team Building Events: Companies and organizations can use the New York City Scavenger Hunt template as a team-building activity. It promotes collaboration, communication, and problem-solving skills among employees, fostering a sense of camaraderie and boosting morale.
School and Educational Groups: Teachers and educators can incorporate the Scavenger Hunt template as an exciting educational tool. It enables students to learn about the city's history, architecture, and culture while actively participating in a fun and immersive activity.
Event Organizers: If you're planning a special event or a gathering in New York City, incorporating a Scavenger Hunt can add an extra element of excitement and engagement. It keeps participants entertained, encourages exploration, and provides a memorable experience.
Travel Enthusiasts: For those passionate about travel and adventure, a New York City Scavenger Hunt template offers an exciting opportunity to delve into the city's vibrant atmosphere, uncover hidden spots, and experience the thrill of discovery.
Whether you're a tourist, a local, a corporate team, a student, or simply someone seeking a unique and entertaining way to explore New York City, the Scavenger Hunt template provides a dynamic and engaging experience for all.
Tips For Creating Your Own New York City Scavenger Hunt Experience:
Ready to create your own epic New York City Scavenger Hunt? Here are some tips to kick-start your adventure:
Start with a solid theme: Whether it's "Glamour and Grit: Exploring NYC's Contrasts" or "Foodie Frenzy: Tasting Your Way through the City," choose a theme that reflects the unique aspects of the city and adds an extra layer of excitement to your hunt.
Mix famous landmarks with hidden gems: Include popular attractions like Times Square and Central Park, but don't forget to sprinkle in lesser-known spots like quirky street art in SoHo or charming cafes in Greenwich Village. It's all about discovering the unexpected!
Craft clever clues: Get those creative juices flowing and come up with pun-tastic riddles or wordplay-filled hints that will challenge and entertain your participants. Remember, the more goosebumps of excitement you can elicit, the better!
Incorporate interactive challenges: Break up the hunt with interactive challenges like taking a selfie with a street performer or finding a specific food item from a local vendor. It adds an extra layer of engagement and makes the experience even more memorable.
Embrace the unexpected: New York City is known for its vibrant and ever-changing atmosphere. Stay flexible and be open to incorporating last-minute surprises or bonus missions that capture the essence of the city's unique energy.
Now, grab your metaphorical detective hat, channel your inner Sherlock, and let the New York City Scavenger Hunt creation begin! It's time to make some honk-tastic memories and explore the city that never sleeps.
How To Put This New York City Scavenger Hunt Template To Use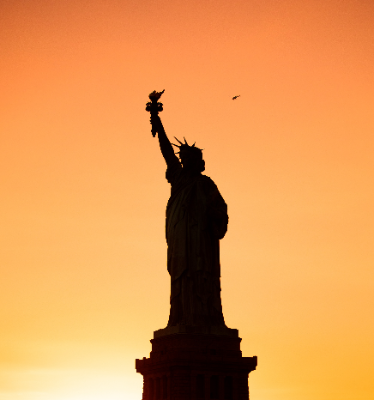 New York City Scavenger Hunt Ideas
Get your own copy!
1. To copy an Experience to your account, first, make sure you are logged into your Goosechase account. If you don't have an account, you can create one.
2. Once logged in, go to the Experience you wish to copy (this one!) and select the blue Copy this Template button in the upper left-hand corner of your page.
3.  After you've clicked Copy this Template, the Experience will import into your account, and you will receive a confirmation screen once the Experience has been fully copied.
4. Now that the Experience is added to your account, you can make changes and edit the Experience to make it your own, or you can use the Missions in a different Experience by accessing the Mission in your Previous Missions bank. For more detailed instructions, click here.
5. It's GOose time!
What is Goosechase?
At Goosechase, experience is everything. Originally inspired by scavenger hunts, Goosechase is an online platform that enables organizations and schools to engage, activate, and educate their communities through delightful interactive experiences. Sign up and try creating a free recreational Experience, or check out our Pricing!