Put the "Fun" in Fundraising and Make Your Next Fun Run Unforgettable
There are dozens of ways to raise awareness for a cause that's important to your organization, and few are as effective as events that participants can actively join. By involving people in a more integral way, they'll feel even more determined to raise money for the charity and spread the word about the event itself.
Among the activities people most enjoy is the fun run - in all its classic and inventive iterations. As you gear up to pound the pavement, here's some helpful information that will help make yours a soaring success.
What is a fun run?
A fun run is essentially a foot race—with a twist. Instead of pitting runners against one another, the run simply involves raising as much money as possible for the charitable cause of your choice. Participants don't even have to run! Participants are encouraged to jog at a leisurely pace, walk the entire time, roll in their wheelchair, push a stroller, rollerblade, cycle in on tandem bike…. In short, fun runs are an inclusive event where everyone is welcome to get moving and contributing to worthwhile causes.
Sometimes, organizations choose to make their fun runs themed. A popular option is a Color Run, a "paint race" that was inspired by Holi, the Hindu festival of color. As the name suggests, this is a fun and vibrant alternative to a traditional fun run. All participants wear white to start the run. As they mark one kilometer, they're doused in a colorful powder. The process repeats at every kilometer marker, so by the time they reach the finish line they're awash in a rainbow of hues. Gorgeous!
What is the difference between a 5K vs a fun run?
The main difference between a 5K and a fun run is the overall objective. When you think about epic runs, odds are you're imagining a slew of fit and energetic people breaking a sweat as they navigate a crowded track. That's basically the antithesis of a fun run, which isn't a physical competition at its core. The purpose of this event is to raise money for the charity of your choice while encouraging healthy habits. All the endorphins and none of the pressure.
By contrast, a 5K is a straightforward running event spanning 3.1 miles. It's a popular choice because of its versatility. Whether they're novices or veterans, runners of any skill level can comfortably (OK, maybe not comfortably) participate. Of course, some more experienced road warriors might consider a 5K a "fun run" just because it's simple for them to complete. Where racing for all skill levels is concerned, though, a 5K is a universally welcome start—and it's not a "fun run" from a fundraising perspective unless it's designated as such.
🏃
Fun run or 5K, make your experience even more memorable with Goosechase. Use Goosechase as the
racer check-in for your next event
, or schedule Missions to release throughout the event to keep your participants motivated and entertained.
How Can You Make Your Fun Run Unforgettable?
You may call your upcoming event a fun run—but is it really worthy of the honor? Make yours an event to remember, complete with a starring role on social media and plenty of excitement built in to draw as many people as possible and rake in the dollars. Here are some ideas to make the next fundraising run completely unforgettable:
Give It a Theme: Many people opt for a themed fun run to elevate the excitement with a fun, celebratory element. There's the aforementioned Color Run, which is fun for everyone and makes for some fantastic social media moments. You can also host a costume run, encouraging everyone to show up in their best gear revolving around a certain occasion or cause.
Make sure to use colored powder that's non-toxic, and free of heavy metals. The powder is a combination of cornstarch, baking soda and FD&C (food safe) dyes.
Create an Obstacle Course: What's a fun run without, well, the "fun" aspect? Enter the obstacle course, which transforms an ordinary run/walk session into something unforgettable. Use Goosechase to create a series of challenges for participants to complete. Participants will check each one off as they complete them, earning points in the process. You can offer a prize to those who collect the most, like a T-shirt or another type of promotional item that ties into your fundraising efforts. Consider incorporating a variety of different tasks so that everyone has a chance to take part:
A mud pit can be a fun option for the thrill-seekers in the group who don't mind getting a little dirty — like a Tough Mudder race but without the heavy-duty competitiveness
Tunnels are great for children to crawl through and add something fun to break up the simplicity of a run or a walk
Little rock-climbing walls (for the kids) and more complex climbing walls (for the big kids) add an element of adventure
Ball pits are fun for kids to navigate through (and make for great social media moments, too)
Celebrate a Holiday: Have you ever see 500 sweaty, jogging Santas? It's a sight to behold. As you plan your holiday celebrations, you can make them an even bigger success by incorporating your fundraiser. Encourage participants and sponsors alike to trot for a Thanksgiving walk or dress up in their best festive apparel for a Christmas-themed walk. Use Goosechase to incorporate a variety of Missions, like photographing a participant dressed as a turkey or a window decked in lights, on the way to the finish line.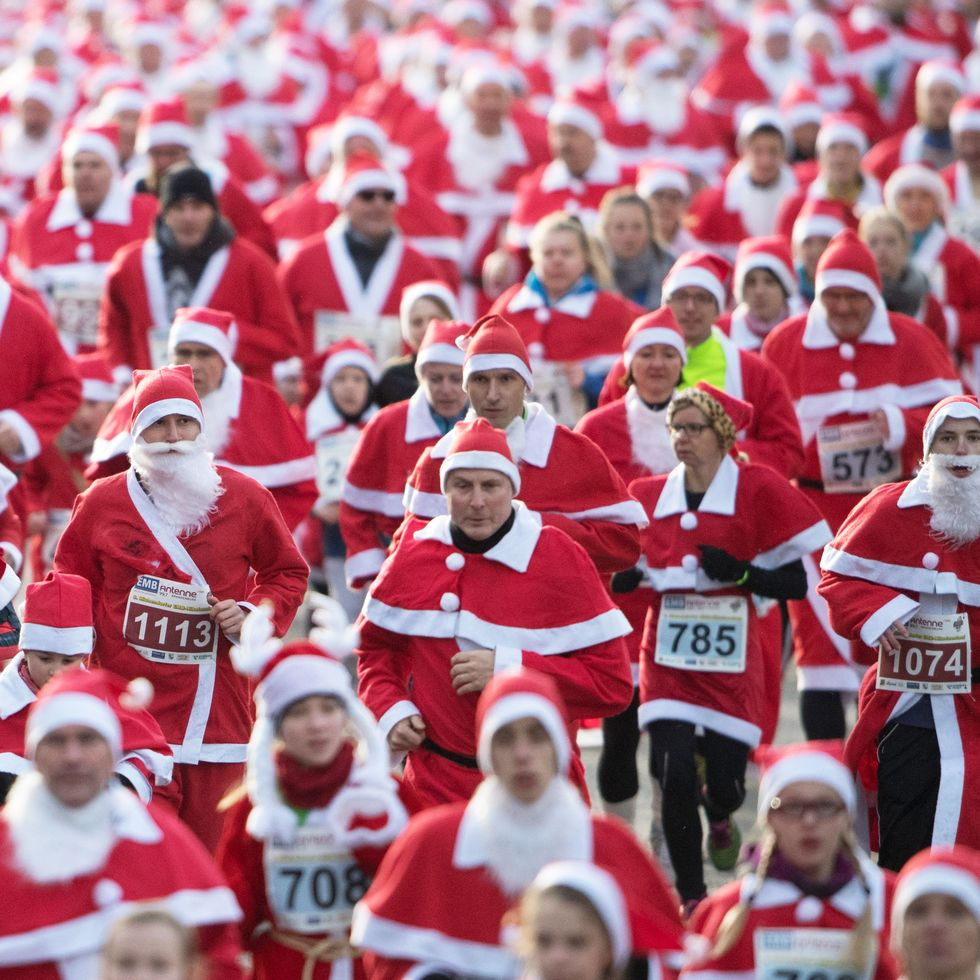 A fun run can be a fantastic addition to your fundraising efforts, especially when you put the time and energy into curating an event that draws people of all ages — and that includes some fun challenges along the way. Participants will feel a sense of pride in their accomplishments, and you can feel great knowing you've arranged something worthwhile that does a world of good for the charity of your choice.
What is Goosechase?
At Goosechase, experience is everything. Originally inspired by scavenger hunts, Goosechase is an online platform that enables organizations and schools to engage, activate, and educate their communities through delightful interactive experiences. Sign up and try creating a free recreational game, or contact us to learn more about our enterprise solutions!