How to Run a Virtual/Remote Scavenger Hunt Using Goosechase
Virtual and remote scavenger hunts are a great way to keep members of a community connected with each other when face-to-face gatherings aren't possible. Whether as a team-building activity for remote workers located in different parts of the world, a unique way to keep students occupied while home from school, or a contest platform for followers of an online community, Goosechase organizers have been successfully adapting our digital scavenger hunt platform for virtual and remote games.
While Goosechase has always been able to facilitate virtual and remote experiences, our team has observed the platform's use dramatically shift from being primarily for in-person events, to almost exclusively virtual games over the last few weeks due to social distancing being observed around the world. We've been hard at work learning from this experience to better assist future organizers, and we share in this blog post a few tips for running virtual/remote games.
Benefits of Running Virtual/Remote Scavenger Hunt Games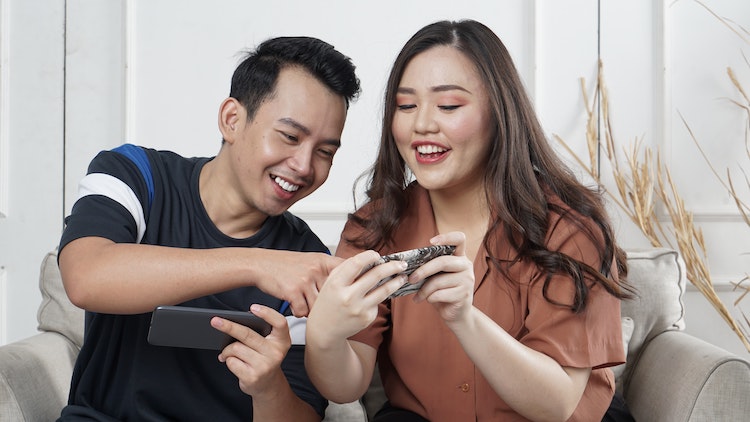 Save on venue and catering expenses.
Online scavenger hunts take away a lot of the stress involved in event planning, and allow organizers to run an engaging experience with a smaller budget. Players also save on travel expenses and are able to participate from the comfort of their own homes.
Highlight originality and individual expression.
In-person scavenger hunts encourage players to utilize the same resources they have on hand at a shared location, resulting in similar mission submissions from player to player. A virtual/remote game allows players to think outside-of-the-box and utilize items found in their own homes and neighborhoods, and even complete missions with different cultural perspectives.
Reach a worldwide audience.
Virtual/remote game formats are perfect for online content creators to run contests and competitions for a worldwide audience, whereas it would normally be close to impossible to bring all members of an online audience together in one place. This generally results in a more interesting submission feed as spectators get a glimpse into environments other than their own.
Tips for Running Virtual/Remote Goosechase Games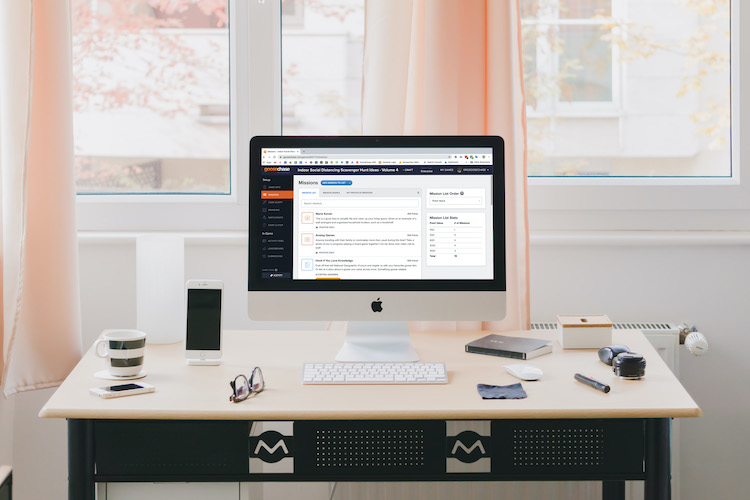 Include plenty of video missions.
Part of the excitement of in-person scavenger hunts is being among the chaos of players running around, all trying to achieve the same list of mission objectives.
For remote games, most of the time players will only be able to see what others are up to through the activity feed. Including plenty of video missions will ensure that the spectator element of the game isn't lost, and that participants have just as much fun scrolling through others' submissions as they do completing their own.
As players tend to complete missions in the order they see them listed on their missions list, we recommend sorting mission lists by "Random" to ensure a variety of interesting missions being completed and shown through the Activity Feed.
Engage shy players and gauge feedback with text missions.
For shy players that need a few baby-steps before submitting full improv-routines through video, text missions allow for players to participate and gets points on the board without having to be on camera. With an increased focus on the activity feed in a virtual/remote game, text missions become an underrated medium for creative engagement.
For organizations and groups with notable organizational histories and culture, text missions are also a great way to quiz community members on facts and knowledge about the organization's past and present.
Common themes bring the community together.
Even though the Goosechase mission bank contains over 100 pre-written generic missions available to use, customizing mission requirements to suit your audience can make the game feel more like a catered experience for the players. Inside jokes and shared memories offer themes to draw on when coming up with custom missions, and are all the more important in virtual/remote games to give players a sense of belonging.
Allow room for creative expression to shine through.
While in-person scavenger hunts excel at getting players on their feet, exploring a shared environment, and searching for specific landmarks or destinations; a virtual/remote scavenger hunt excels at getting players to get resourceful with household items, shoot video clips of physical feats and skits, or dress up in costumes using found items. With many virtual/remote scavenger hunts played indoors or at home, including missions that showcase players' improvisation and performative skills can results in some of the most entertaining submissions.
Use teams mode to facilitate a social experience.
Teams mode is still available for virtual/remote Goosechase games. Having players participate in teams, even if their individual members are in different physical locations, can help players feel like the points they earn are contributing to the efforts of a greater whole. Teaming up members of an online community can even kick start or strengthen social bonds during the experience.
Keep in mind that each mission can still only be submitted once per team in a team game, and players would have to contribute their efforts to different missions in order to gain points toward their team's total.
Pre-schedule messages and mission releases with Game Script.
Especially for longer experiences that are running for multiple days, it may be more difficult to keep all players engaged in a virtual/remote game than an in-person one where they are physically present and focused on the experience. Goosechase's game script feature allows organizers to schedule missions, messages, and accompanying notifications for a certain time. Releasing missions in periodic intervals can help prevent the initial list from appearing too daunting, and allow organizers some flexibility in what to add in based on initial feedback.
Scheduled messages can be used to remind players of important announcements, or call attention to spectacular submissions from the previous period.
Reward bonus points and provide feedback.
The importance of organizers providing feedback to players is also amplified in a virtual/remote setting. It reassures players that somebody is monitoring the game on the other end, and validates the effort they put into outstanding submissions. Bonus points that are awarded by organizers, along with attached comments, are seen in the activity feed. This helps to signal what types of submissions are appreciated by the organizers, and motivates other players to top those efforts to gain even more bonus points.
Organizers can also deduct points from low-effort submissions, resulting in the offender's submission being tagged with the dreaded red bar of shame as a warning of the consequences of sandbagging.
Announce prizes for top performers.
We've noticed that game organizers tend to do a better job of maintaining player engagement when a prize is announced for the winners. Prizes provide players with an external incentive stronger than bragging right alone; and organizers in the past have given away anything from merchandise, to online gift cards, to all-flights-paid trips as part of larger games. Since the Goosechase leaderboard is updated live, any players putting in extra effort to work their way up usually stir the waters to motivate other competitors to do the same to keep up. This creates a feedback loop that results in a more active game overall.
Distance doesn't have to be put a damper on end-of-game wrap-up celebrations either. Platforms like Zoom, Google Meet, Facebook, Instagram, or Periscope all allow live webcasting for organizers to announce winners, give out spirit prizes, or share a highlight video of the best submissions.
---
We wish you the best of luck in organizing your virtual/remote scavenger hunt experience, please feel welcome to reach out to us at hi@goosechase.com with any questions along the way. Check out the Goosechase blog for additional event planning and scavenger hunt resources.
What is Goosechase?
Goosechase is an online platform that helps organizers create and run digital scavenger hunt experiences for team building, learning, public engagement, or a variety of other events. Sign up and try creating a free recreational game, or contact us to learn more about our enterprise solutions!