The Toe Bro is the online personality and YouTube channel of Jonathan Tomines, a Chiropodist (Foot Specialist) based in Toronto, Canada. Despite the channel featuring unconventional, and often graphic content of the foot conditions Jonathan treats in his clinic, it has attracted an audience of over 750,000 followers, and has become an educational resource for those afflicted by often difficult-to-discuss foot and toenail conditions. The Toe Bro utilized a virtual GooseChase scavenger hunt to run an online contest engaging with his audience over the pandemic period, giving away the grand prize of a flight to Toronto and a free consultation with Jonathan himself.

Jonathan entered the Chiropodist profession following in the footsteps of his father, who was among the first class of foot specialists in Ontario and a pioneer in the field. Being an avid gym-goer and fitness fan, he earned the Toe Bro nickname from friends and colleagues, with whom the topic of conversation would often linger on his field of work.
"It's a weird profession to talk about, treating feet all day. Any time I'd go out in any social setting the same question comes up: "What do you do for a living?" And right away when people hear that I'm a foot specialist they're either so grossed and shocked or they just want to whip out their feet and show me what's going on with theirs."
-Jonathan Tomines, "The Toe Bro"
Knowing that many people have a general hesitation in discussing matters of foot health, and seeing other medical professionals such as Dr. Sandra Lee (Dr. Pimple Popper) successfully offer resourceful content through social media, Jonathan took Toe Bro online in March of 2017, with social media and technical support from Marketing Consultant Emily Decordova.
With the permission of his patients, The Toe Bro started filming and uploading footage of procedures done in Jonathan's clinic, sparing no graphic detail and presenting them as authentically as possible.
"There was no one really doing foot stuff on social media – so I wanted to combine education awareness of foot health with the gross stuff. I try to make my videos really educational but at the same time capture the goriness."
-Jonathan Tomines, "The Toe Bro"
The channel quickly racked up views and gained an unexpected following. In late 2018, it even attracted the attention of a production company, who developed a show centered around Jonathan and his patients. The Toe Bro premiered on A&E in March of 2019 for a six-episode season, helping boost Jonathan's exposure with an even wider audience, and landing him an appearance on Dr. Oz.
Engaging With an Online Fan Base During a Pandemic

While Chiropodists were still considered essential workers during the period of social distancing in April 2020, Jonathan's clinic switched to mostly online consultations, only seeing patients in-person for emergencies. Knowing that the Toe Bro audience was, like the rest of North America, likely spending more time online and seeking ways to stave off boredom, Jonathan and Emily decided to organize an online event using GooseChase. The vision for the Toe Bro: Quest to Vic-toe-ry virtual scavenger hunt was born, with the grand prize of a flight to Toronto and a free consultation with the Toe Bro himself.
"We were thinking about just conquering a lot of boredom. The YouTube views weren't affected by the pandemic because people were looking for something to do, so it was about just connecting people. People LOVE Jon. He won't say this as much as I will, but all the comments on his videos are all really positive people who just love to connect with him and really appreciate the positivity that he puts out. So that was really the first thought – can we give something back to all these viewers who just want to hang out and have fun? On the business side, it's of course also a great way to build a stronger fan base and get people more interested in the brand and everything it has to offer."
-Emily Decordova, Marketing Consultant for The Toe Bro
To get the word out about the game, Jonathan first released videos through his social media channels announcing a live stream through YouTube, Facebook, and Instagram set for later on in the week. He was then able to personally announce the scavenger hunt contest details and the enormous prize to over 12,000 unique live stream viewers, while responding to comments and questions live.
The Toe Bro – Quest to Vic-toe-ry by the Numbers

When: April 18, 2020
Duration: 5 hours
Missions: 82
Participating Teams: 681
Photo Submissions: 4194
Video Submissions: 2860
Text Submissions: 7398
Organizing a GooseChase Game – The Toe Bro Way

Jonathan and Emily aimed to have the Toe Bro brand and personality permeate from all aspects of the scavenger hunt, while making the missions fun and educational at the same time.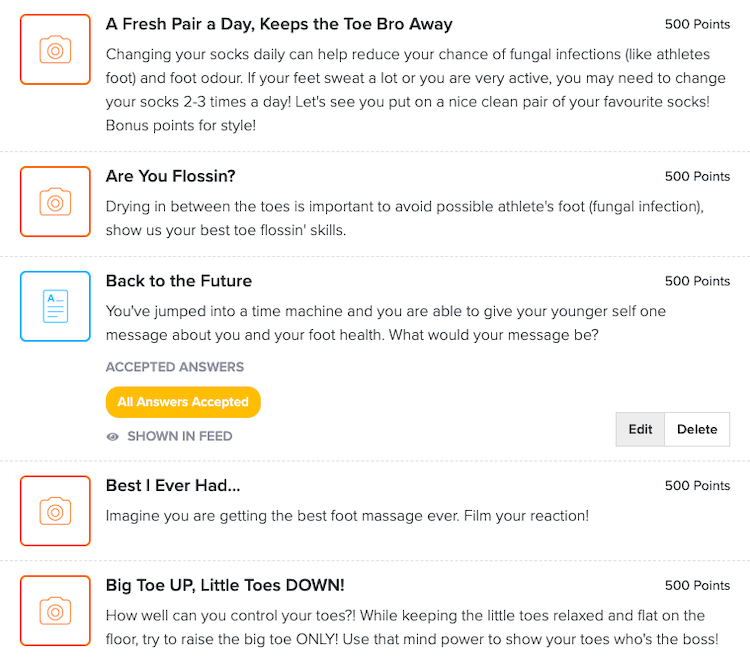 "Jon wanted to focus a lot on education, so it was like 'Send us a video of what a routine foot care session looks like for you', and then we add 'Here are important things to keep in mind: drying in between the toes, cutting a certain way, and all these little steps along the way', that would result in a healthy foot care routine. Then we did just some fun goofy things, like making people dance, or like 'Show all the wonderful things that your feet can do', you know, if people are double-jointed in their feet, like show that off."
-Emily Decordova, Marketing Consultant for The Toe Bro
The passionate Toe Bro audience did not disappoint. As soon as the game started, creativity was out in full-force and the submissions feed was filled with outrageous and hilarious takes on the mission list requirements. With a once-in-a-lifetime trip to meet the Toe Bro in person on the line, players were eager to put their best feet in.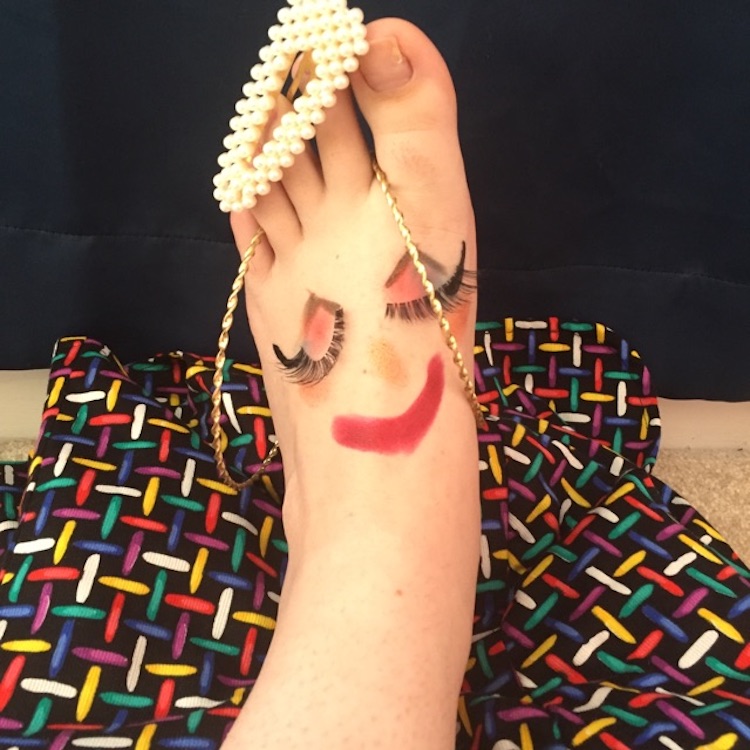 Fancy Feet
Dress up your feet for their selfie, use make up, draw on them, whatever it takes to make them selfie worthy!
+1000 Points
Leonardo Da Footci
Create your next magnificent painting or drawing using only your feet! Make Leonardo Da Footci proud!
+1000 Points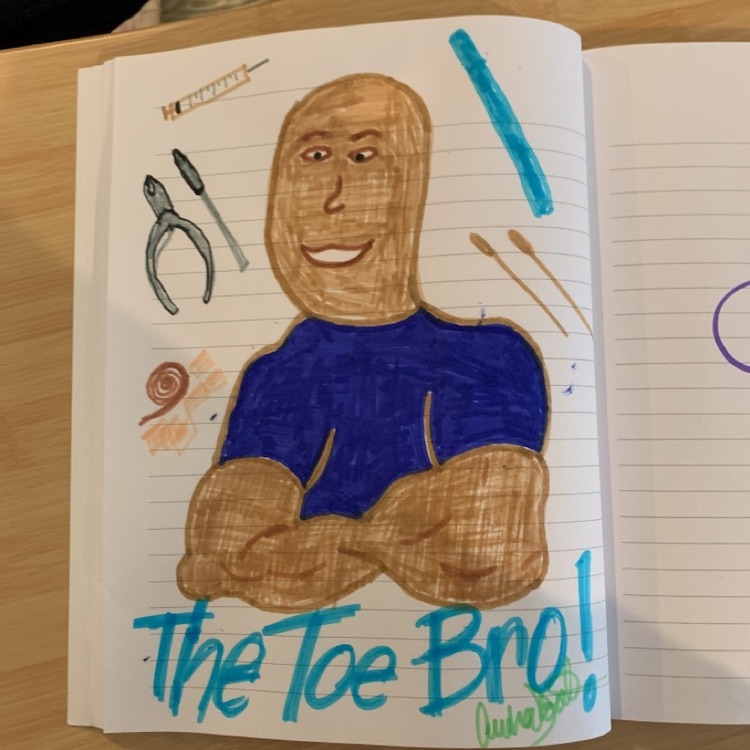 Portrait Mode!
Some people think he looks like a toe himself... what do you think??? Draw your best portrait of the Toe Bro. Try your best to capture his true "toe-ness"
+1000 Points
To maximize engagement and get the players excited, Jonathan was present for a live stream (wearing a signature foot costume) throughout the entire game, personally answering questions and sending shout-outs to individual players. It wasn't long before some of the more competitive players had already breezed through the entire list, and were even asking for more missions to be added.
"There was a lot of competition between the people who were really gung-ho about it, which was probably about 20 people, who were completing every single challenge and then writing on the live things like "Hey, we need more challenges to do!" We were trying to think of things along the way to add in because people were really going for it."
-Emily Decordova, Marketing Consultant for The Toe Bro
Jonathan and Emily utilized GooseChase's new Game Script feature to schedule the simultaneous release of ten additional missions every hour to keep the players busy. They were also interested in learning more about the Toe Bro audience, and qualifying players who were old enough to be eligible for the prize; they added text missions that welcomed players to share fun details about themselves, and sent out notifications linking to a survey that gauged the players' demographics.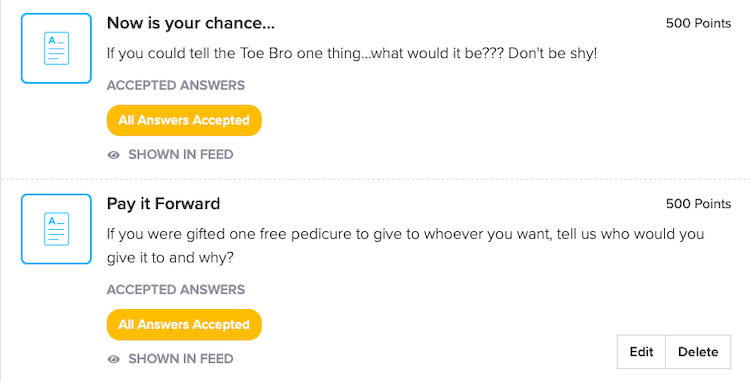 Tips for Future Virtual GooseChase Scavenger Hunt Organizers
"I know one thing that I took from the game was to make the missions more like a story. Something like "Jon always does this when he's doing this in foot surgeries, how do you do this?" That just made it way more fun to write and a lot more engaging for people as well, to connect with something a little more than just "Stand on your foot for 10 seconds."
-Emily Decordova, Marketing Consultant for The Toe Bro
While Jonathan and Emily both enjoyed organizing Toe Bro's first GooseChase game, they both agree they overestimated how long it would take for their audience to complete the missions. The audience engagement was overwhelmingly positive, with competitive players even asking for additional missions to make up for points other teams were earning in bonus points. Especially when you have a dedicated fanbase, Jonathan advises organizers to never underestimate the power of GooseChase in being able to engage a community and bring out the excitement in people.
"I remember the first time hearing about GooseChase. I thought it was just ridiculous. I thought there was no way that this is going to be a viable business, and I didn't really understand it until I played in my first GooseChase game. It's unbelievable how simple the whole app is, but amazing how you can have that whirlwind of engagement, fun, building community, and getting people connected. Very thankful for Al and everyone at GooseChase for letting us do this, overall it was an amazing experience and I definitely want to do it again."
-Jonathan Tomines, "The Toe Bro"
---
You can head over to The Toe Bro's YouTube channel to watch Jonathan's online content (Warning: the footage might not be for the faint of heart), You can also head to Jonathan's main website in order to book a virtual consultation with the Toe Bro himself.
Check out the Virtual/Remote Scavenger Hunts section of the GooseChase blog for mission ideas and other resources to get you started on organizing a virtual scavenger hunt game of your own!
What is GooseChase?
GooseChase is an online platform that helps organizers create and run virtual scavenger hunt experiences. Sign up and try creating a free recreational game, or contact us to learn more about our enterprise solutions!