Case Study: The Great Bexley Scavenger Hunt
The Great Bexley Scavenger Hunt was a three-part community fundraiser organized by Tim Pitts. The game drew in over 60 families in the Bexley and Columbus, Ohio area, and over the course of the game raised over $3400 in support of the Leukemia and Lymphoma Society.
Uniting Community Members Toward a Charitable Cause
The Great Bexley Scavenger Hunt By the Numbers

Missions: 50
Participating Teams: 96
Photo Submissions: 672
Video Submissions: 364
Text Submissions: 371
Funds Raised for the Leukemia and Lymphoma Society: $3400
Tim and his wife Ashley are parents to five children, and were inspired by their sense of civic duty to organize an event that not only benefited a charitable cause, but also encouraged the families in their community to participate in a fun activity while still respecting social distancing measures.
"We wanted to raise money for the Leukemia and Lymphoma Society, and we wanted to provide some smiles, get people out of the house, and allow people to do something with their families in a safe and responsible way while taking their minds off the pandemic."
-Tim Pitts, Organizer, The Great Bexley Scavenger Hunt
Broadway Bound
Take a video of two or more of your team members recreating a scene from your favorite musical in front of the Drexel Theater
+10 Points
Using GooseChase to Solve a Unique Problem

Tim and Ashley had a vision of getting over a hundred families signed up. But the logistics of running such an event, especially without being able to physically gather the participants together in one location, quickly became a challenge. Coming up with a way to collect everyone's submissions to a scavenger hunt was going to involve a lot of communication either through email or text message.
"We're talking about thousands of submissions if it's a scavenger hunt with 15 items, and that's when I bumped into Goosechase from clicking around online. It was almost too good to be true."
-Tim Pitts, Organizer, The Great Bexley Scavenger Hunt
Wilson! I'm Sorry!
Find a ball. Film a clip of a family member shouting the famous Cast Away "Wilson! I'm sorry!" line to it.
+15 Points
In addition to raising funds from families participating in the scavenger hunt, Tim also offered local businesses sponsorship opportunities in return for exposure through the GooseChase platform. Businesses realized that the event was a great way to connect their brand with participating families, and together contributed over $2000 in prizes and gift cards for winners of the game. The addition of prizes brought out the competitive spirit among players, and helped to maintain engagement throughout the game's sessions.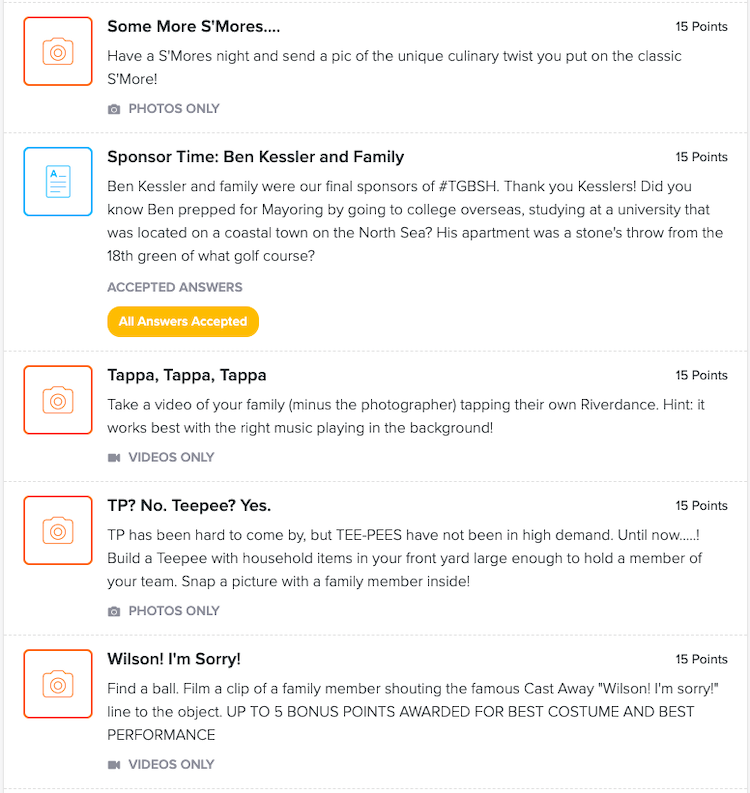 Using both custom missions and those adapted from GooseChase' built-in Mission Bank, Tim was able to fully cater the experience to the family-friendly audience, many of whom were playing with children and teenagers stuck at home due to social distancing measures.
Simplifying the Organizer Experience

Tim stresses that he's not an events planner by nature, but that thanks to GooseChase, he was able to simplify what would have been a complicated organizer experience and make it an enjoyable challenge that saved him plenty of hours, a welcoming plus for a father of five who was working from home and putting on the event in his spare time.
"It was flawless. It was super simple to use, and it was intuitive how the submissions were shared and I just got the mission pictures on our end. We definitely borrowed a few missions from the mission bank, and came up with a bunch of our own too… This is something the City of Bexley, or any City for that Matter, or the Parks and Rec Department could dust off and do annually. It's such a great way to get people out and about."
-Tim Pitts, Organizer, The Great Bexley Scavenger Hunt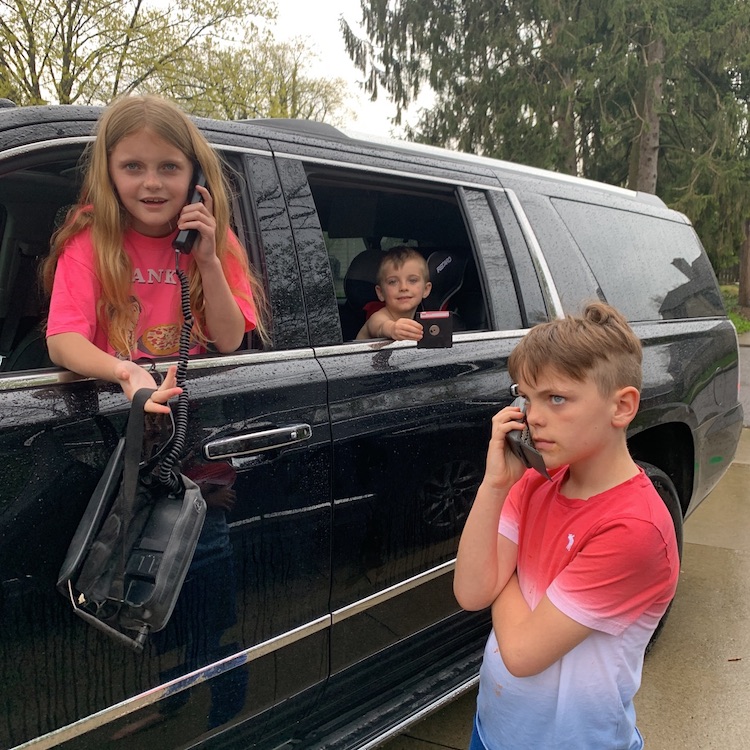 Hello Moto
Take a photo of a team member holding a folding cell phone. (+1 Bonus point available if you're also holding a floppy disc!)
+10 Points
---
Thanks to Tim for taking the time to chat with us and providing us with his testimonial for this Case Study.
Check out the Virtual/Remote Scavenger Hunts section of the GooseChase blog for mission ideas and other resources to get you started on organizing a virtual scavenger hunt game of your own!
What is GooseChase?
GooseChase is an online platform that helps organizers create and run digital scavenger hunt experiences for team building, learning, public engagement, or a variety of other events. Sign up and try creating a free recreational game, or contact us to learn more about our enterprise solutions!