Adopting a UX approach to Employee Experience
🌀
In Lessons from the Chase, we take you behind the scenes of building the world's first interactive experience platform. Members of the Goosechase flock let you in on business problems we're tackling, how we're thinking about them, and what solutions we put to the test.
Companies that adopt agile, employee-led cultures are changing their perspective on "People." HR and People professionals are shifting away from seeing People as a support function, and instead embracing a UX mindset. This mindset emphasizes the concept of the Employee Experience as a Product to be researched, intentionally designed, and iterated.
I'm Natasha, or Tasha to people who know me well. I'm Head of People at Goosechase, which means I oversee the flock's experience from top to tail. I joined Goosechase in 2022, and one of the first things I did was sit down with our Execs to learn more about the company and people goals. One of our founding values is "People before Profit", so it's not surprising that they were unanimous about raising the bar on workplace culture and creating a differentiated employee experience. This is very much the foundation of life at Goosechase and forms the basis of everything I do as Head of People.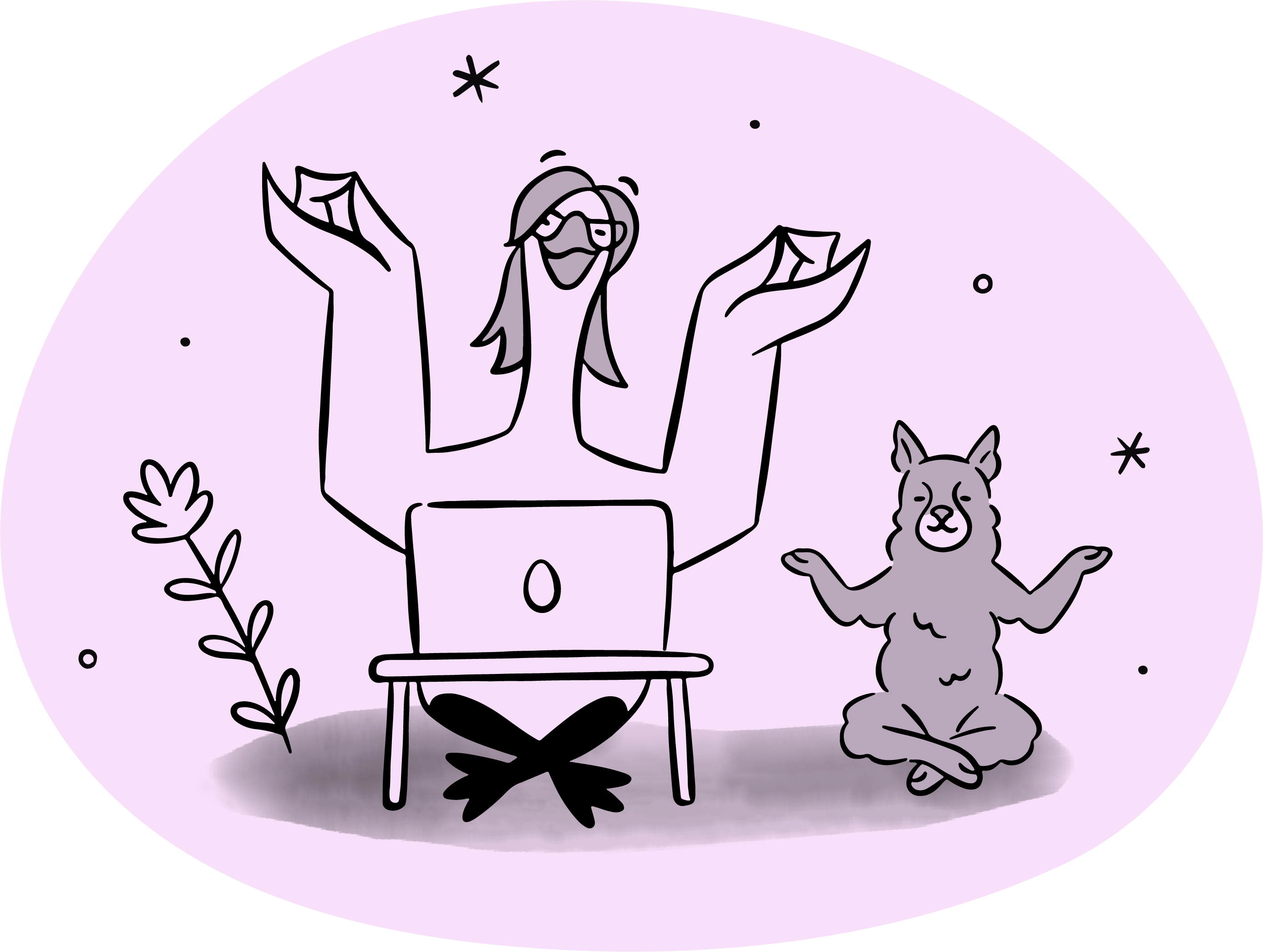 Whether I'm designing development reviews, re-thinking the onboarding journey or creating a continuous learning framework, the employee experience and innovating for our unique culture (remote, asynchronous, 4-day week!) are at the forefront of my mind.

It's important for us to have a clearly defined employee experience framework to support a strategy that looks at both the growth of the company alongside the experience of any one individual.

At Goosechase, we want to create a culture that is sustainably high-performing, that speaks to why we exist (making the world more fun, playful, and human!), and that comes down to fostering a really great employee experience.
Designing our Employee Experience Framework: Why?
I approached building out our employee experience framework from a product design perspective to ensure we were keeping the end user's experience (in this case, the team member) top of mind.

There is often a natural tension between streamlining HR & People processes for efficiency vs offering an individually tailored, adaptable people experience.
The Service vs Product Mindset
Traditionally, companies have seen HR as a process or a service. The temptation to streamline and optimise for greater efficiency can often take over, creating a one-size-fits-all approach when instead we should be looking at the employee as our "user". How our team members interact and engage in key touchpoints during their lifecycle and then enhancing that experience for maximum engagement should be our main focus.

I've been thinking about this for years, but this idea wasn't really crystallised until Andrew, our CEO, asked me to design our people strategy:
Tash, what does People Excellence look like when we're 100 people strong?
How do we achieve People Excellence that is scalable?
Oh, and can you create a visual too?
💡
Let's get some definitions down:

Operational Excellence: Refers to the processes and systems, compliance, regulations, finance, budget, and legal required to smoothly run a business. Aspects of which contribute to people excellence.

People Excellence: Desired states as a company hits its growth milestones

These two work together: Operational excellence feeds into people excellence.

And let's not forget,

People Experience: The emotional connection to working and the employer
The question then is: How do you achieve Operational Excellence, People Excellence, individualization at both the company and individual level, AND make it scalable?
Designing our Employee Experience Framework: How?
Our user-led approach
We decided that delving into Service Design blueprints - the kind of thing that UX and Product designers regularly use to visualise the customer journey - was a good place to start. I also reached out to several of my People Communities, but finding something that replicated the framework I wanted to create wasn't possible which meant that I was designing this from scratch. Lucky me!

Employee Journey Maps (like this one) are everywhere, but finding a model, framework or visual that binds the company strategy with the employee journey to put "People Experience & Strategy"- and not just "Operational Excellence" - front and centre of our scale up journey wasn't easy.
Mapping out our short and long term goals: Employer Desired States
This particular task felt pretty straightforward (famous last words), but I decided to break it down into even more detail. This meant identifying the key stages of the journey and then pairing them with the pain-points and challenges that Goosechase would face at each stage. I then mapped out the scale-up journey and "attributed" the challenges that are typically faced by scaling companies.

I decided to focus on specific employee touchpoints: in this case,
Talent Acquisition
Onboarding
Performance Enablement (Growth and L&D)
Infrastructure
Infrastructure isn't typically considered an employee touchpoint, but I decided to include it because of its impact on People Excellence and People Experience. I thought it was important to include our internal infrastructure: being a globally distributed and a remote first company, our processes, systems, policies, organisational design & structure play a vital role in Employee Experience (EX) and have an impact on our culture which I believe shouldn't be ignored.
I haven't specifically called out EX given the net impact of the above touchpoints on EX and Engagement.
The result was this matrix that maps out our flock's Desired States (I've zoomed into our onboarding touchpoint here). This was the starting point, but there was still a long way to go.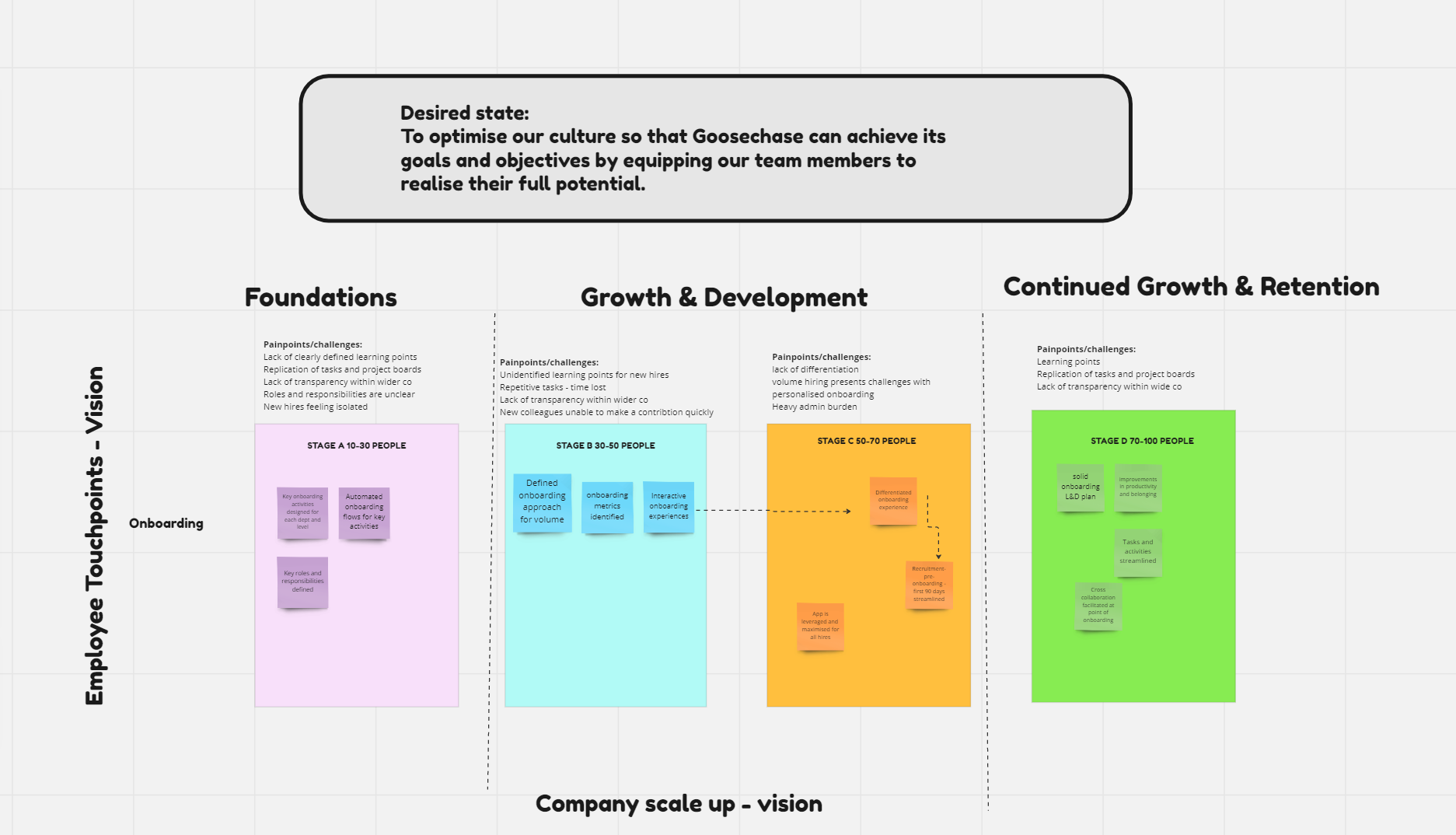 From there, I added the "Desired States" - the things we need to do well at each stage. The challenge here is not to offer explicit tactics (eg: "partner with schools & colleges"), but instead to describe the state we want to reach (eg: "Our international Employer Branding Strategy is defined and communicated"). These desired states are our "North Star" and help us to move in the right direction whilst giving us the flexibility to iterate or course correct.
Putting the team's experience first: The Employee Journey Map
Now that the blueprint is (90%) complete (phew), I can move on to the next step which is ensuring that the data I have collated over recent months is also mapped out to create the Employee Journey Map.

"Data" includes all the insights from employee surveys, development reviews, exit interviews, onboarding feedback, and even watching how everyone interacts with our resources. It's collated and mapped out into a journey map.

An Employee Journey Map is a series of flows that identify the steps in the employee journey, which also means I can uncover our bottlenecks and blockers to progress.

Understanding the data meant that I could define the Employee Journey Map.

I then played around with different formats. Mind Mapping the Employee Journey meant that I could zoom in and out of the key touchpoints that were most impacting our Employee Experience (such as onboarding).
The next version of this will include the how-we-get-there.
Making sense of it all through the matrix
I have my touchpoints and I've mapped my Employee Journey, now all I have to do is bring the two together. Easier said than done…which is why I decided to call on an expert. Let's call her "Alice".

Alice is a Lead Product Designer at Goosechase, who, within the space of 30 minutes, helped me to not only understand the power of user stories but also helped me to discover a way of bridging the Employer Desired States with the Employee Journey Map. The result was this rather brilliant matrix:
Natasha Explains Goosechases Employee Experience Matrix
Complicated by nature, this is the result of breaking down our desired states into more digestible objectives. This is just a snapshot of a larger matrix that covers everything from talent acquisition to ongoing learning and development.
As a first draft, it was good but not quite there. There is still more to do and my exploration of adopting the UX mindset continues.
There is still more to do in defining our journey before I can even begin to design the touchpoints that are unique, weird and essentially everything that we stand for at Goosechase and provide our Flock with the experiences that they value and enjoy the most.
Key Learnings

This was an interesting project with lots of learning curves along the way. I'm used to creating a strategy in a document or a roadmap but actually formatting and developing our People Excellence journey as a User Story was a new approach.

There were several challenges along the way, and it's probably fair to say that I'm not yet finished. There have been many, many iterations and for every two steps forward, there has been at least one backward step.

This wasn't about finding a solution to the employee journey but was instead about articulating what we wanted to do well as a company and clarifying what our team members needed us to do well, using Design Thinking to get there.

The Design Thinking process was key to ensuring that we continue to push the boundaries of culture at Goosechase by re-evaluating the problem, defining the desired state, and mapping the employee journey.
What lies ahead is the "how we do it" stage which I'm sure will be just as much fun to define.