The Four Day Week: Pros, Cons, and the Plan for GooseChase
🌀
In Lessons from the Chase, we take you behind the scenes of building the world's first interactive experience platform. Members of the Goosechase flock let you in on business problems we're tackling, how we're thinking about them, and what solutions we put to the test.
The Four Day Work Week is growing in popularity and has shown happier employees and sustained productivity. Here are its pros and cons for our distributed team.
The summer of 2021, in many ways, felt like a real "first": The first summer after the lockdowns that impacted the globe, the first hugs with friends and family after a hard year, flying again for the first time, exploring new destinations for the first time. We felt grateful, inspired, and emboldened to try something else for the first time: a 4 Day Week! You can read all about our optimistic experiment HERE.
From June - August 2021, we introduced Flock Fridays, GooseChase's spin on the steadily growing 4 Day Week movement, where all team members had the opportunity to operate on a shortened weekly schedule. We strongly believed that we could sustain (or even improve) our productivity levels while reducing our working hours, a real testament to everyone on our distributed team and the commitment we have to fly together.
So...how did it go?
PROS
How did Flock Fridays impact our productivity?
Everyone felt that their productivity at least stayed the same, with 78.6% of people indicating that their productivity actually increased.
Everyone felt that their team's productivity at least stayed the same, with 64.3% of people indicating that their team's productivity actually increased.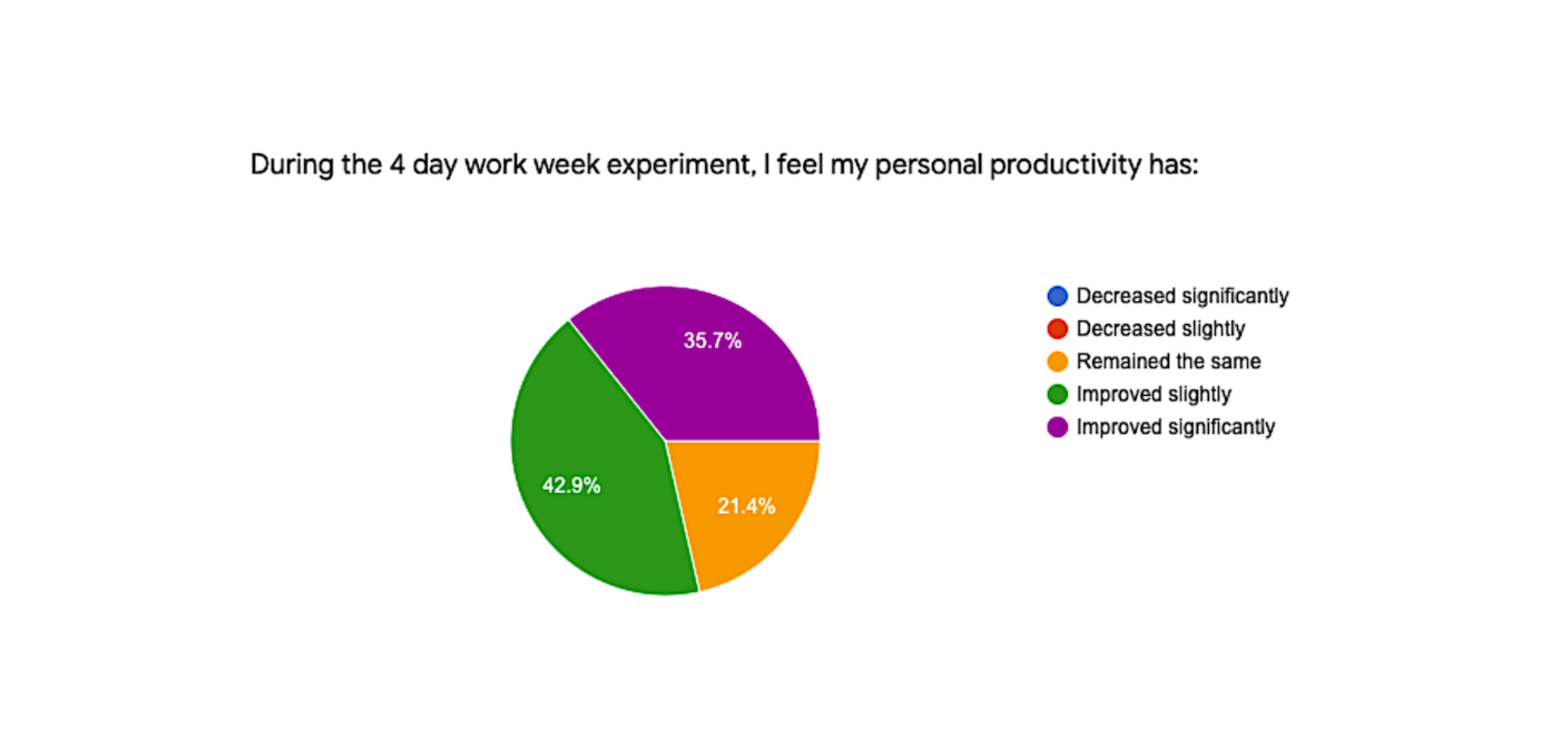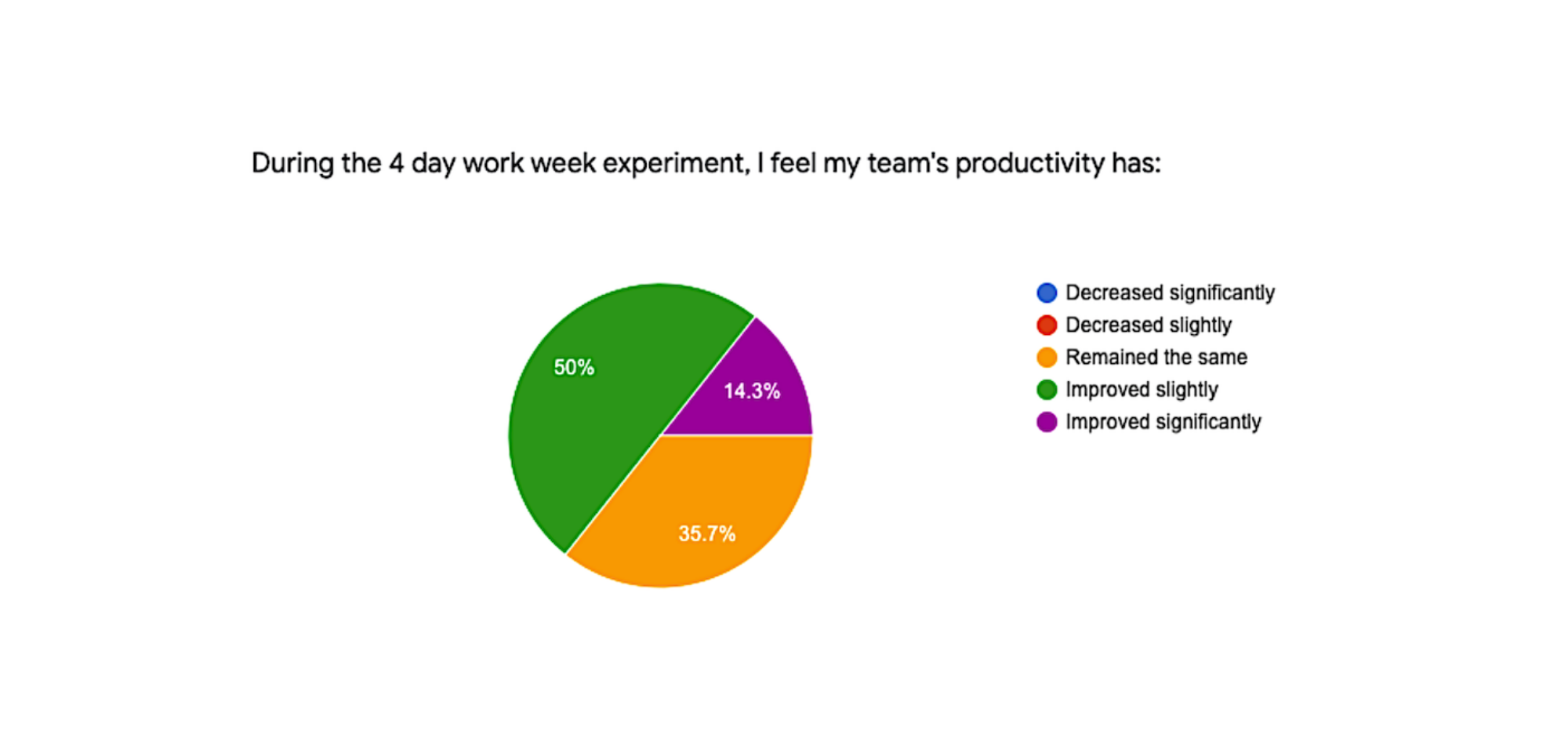 What about hitting our targets and goals?
Everyone felt that our ability to reach our goals at least stayed the same, with a whopping 92.9% of people indicating that there was a net positive impact on our ability to reach our goals.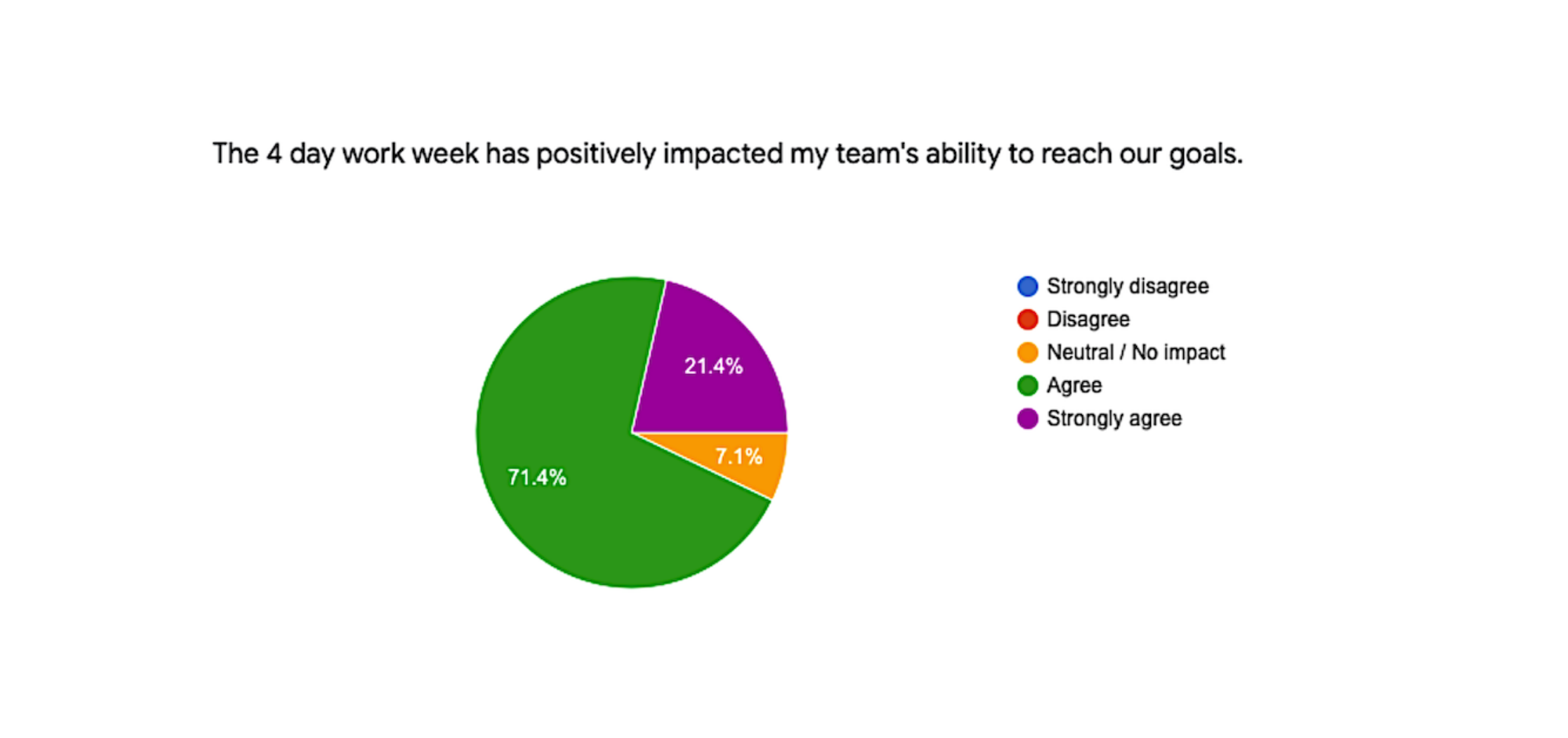 Realistically, how much were we working?
Everyone felt that at least a bit of overtime was required to stay on track, with the majority (64.3%) saying they only needed to work overtime occasionally.
With that said, a non-trivial amount of people (35.7%) felt that they had to work overtime a bit more frequently than that to stay on track.
On a scale of 1 (Never) - 5 (Always):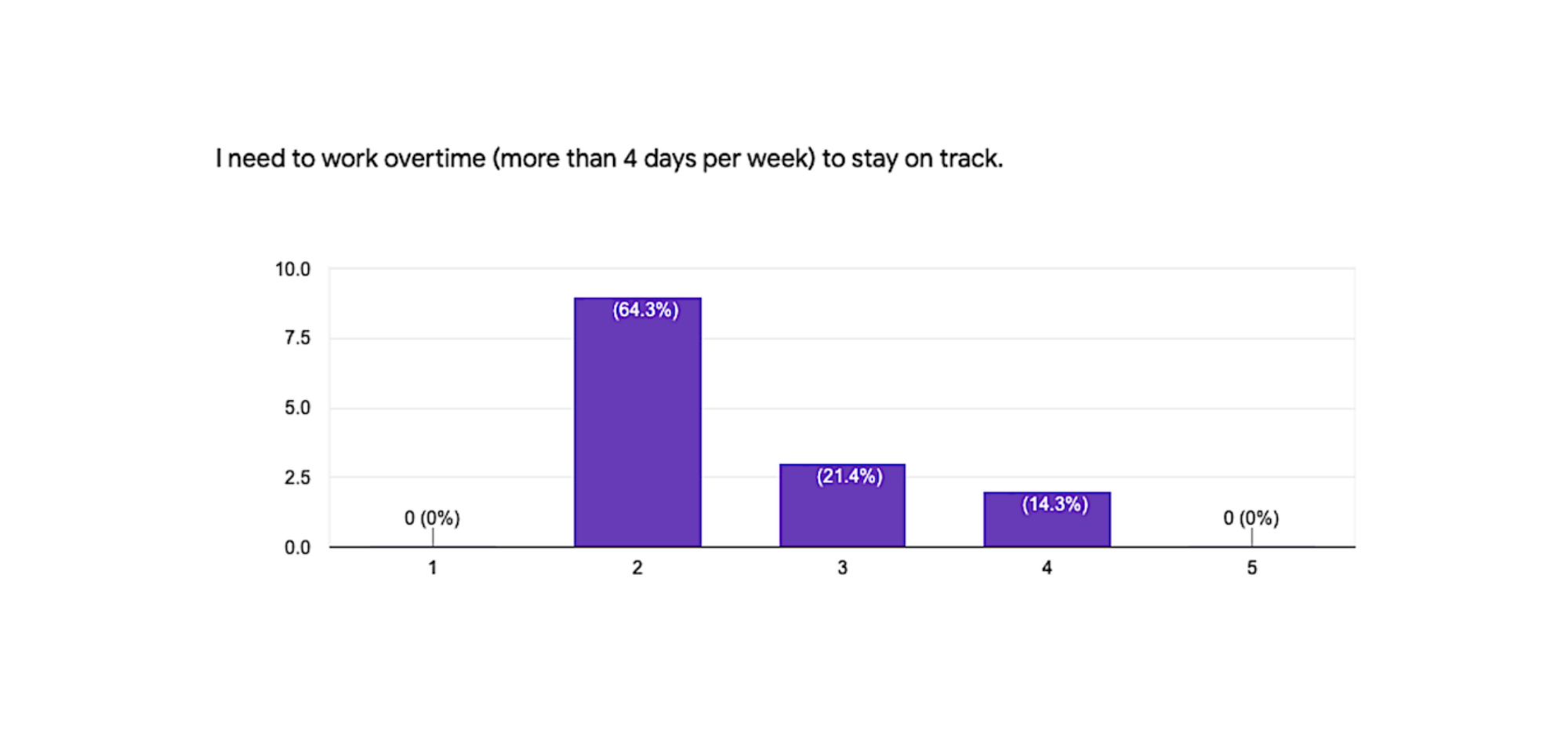 A surprising amount of people mentioned they didn't always take the full Flock Friday away from their computer; some people took this as an opportunity to dabble in areas of interest for them, others saw it as a "low stress" day to get organized or brainstorm ideas that they wanted to dig into another time. Put simply, having more flexibility on the fifth day allowed the team to fuel the passion that powered work on the other four.
"The transition to a 4 day work week schedule is the natural next step for our distributed team. We are able to be just as productive, while also having more time to recharge. I believe it's the future of work." - Rebecca Y
Of course, it wasn't always easy or intuitive to shift from the 5 to 4 day model.
CONS
There were definitely some challenges, particularly for those in customer facing roles, as the world functions on a 5-day schedule. In order to keep productivity high with fewer hours, time management and efficiency skills needed to be leveled up. This was further compounded by team vacations and an increasing workload due to the volume of business in Q3. We made big strides here by the end, but it was definitely tough at times. To help boost everyone's workflows, we're doing peer-led learning sessions on Time Management and Productivity tools like Flow, Todoist, Text Expander, Pastebot, and Notion.
"I absolutely love the 4 day work week! I find it promotes a really healthy and energetic work life balance. I've had to make adjustments along the way to enhance my time management, but it's all been really beneficial for me." - Erin
What's Next?
Despite the feeling that overtime was sometimes required to stay on track, the team was unanimous that we should continue operating on a 4 day work week schedule, with 78.6% indicating that they strongly agree that we should keep it.
On a scale of 1 (Strongly Disagree) - 5 (Strongly Agree):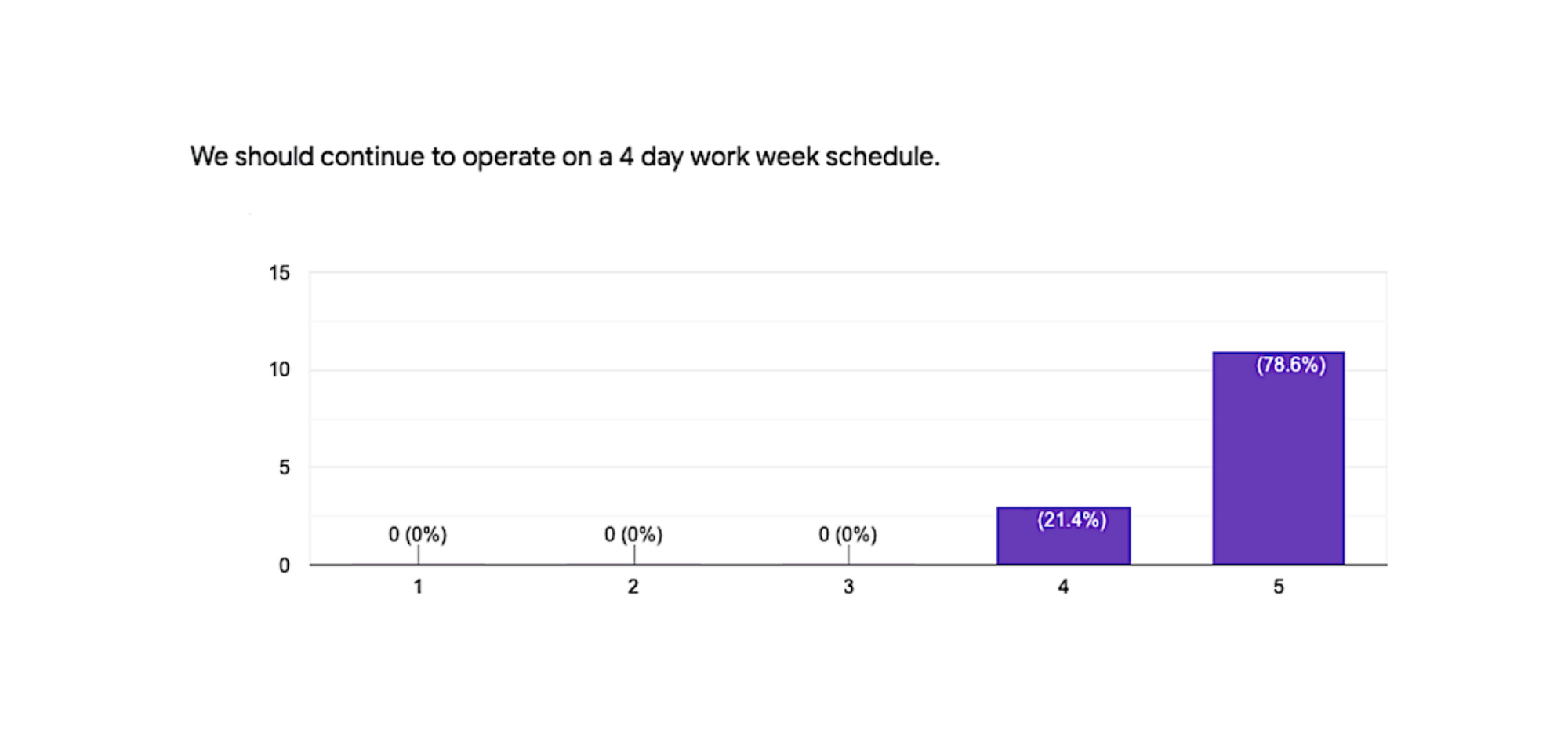 Apart from the positive impact on our productivity and goals, the feeling of refreshment after the weekend is a game changer. There's no "Sunday Scaries" or "Monday Dread" anymore. Feeling "refreshed", "relaxed" and "energized" were by far the most consistent theme of feedback, aligning well with the unanimous data on continuing with the 4 day work week.
"It gives me a chance to pause and reset for the following week and helps me to focus during the 4 days." - Hannah
"Being a part of a 4DWW workplace gives me assurance that I am on a team that trusts each other's capabilities, with leadership that doesn't just measure productivity by hours, and that prioritizes the team's well-being. Having time in my week free for personal development and self-care has been great for both my personal and professional relationships." - Eric
Our current plan is to check back in six months to see how things are going. Everything we've seen indicates that this is something permanent that will be part of GooseChase going forward, but we also want to be transparent that it depends on our ability to keep our productivity high and the team happy.
We have full confidence in our ability to do this and are excited to join the companies (and countries!) around the globe pioneering this exciting new way of work life balance. GooseChase has always been rooted in the desire to experience and share life to the fullest, and the 4 day week gives us a few more hours back to do exactly that.
Interested in the team and company culture we're fostering? See open remote positions HERE! Questions about our 4 Day Week experiment? Say hi!