Actionable Work-from-home Tips from an Experienced Remote Team
The Goosechase team has been fully-remote since day one, with our team members made up of those who live nomadic, as well as work-from-home lifestyles. In this guide, we are happy to share some of our top advice with individuals and teams who are in the process of adapting to a new remote work arrangement.
The rise of remote work culture has experienced a rollercoaster of mixed feedback over the past few years. It seems like for every source that praises remote workers for increasing their productivity,[1] another is revealing the stressful negative effects resulting from this new lifestyle.[2] With the transmission risks of COVID-19 high on everyone's mind at the time of the writing of this blog post, seasoned office workers around the globe are finding themselves thrust into remote-working arrangements whether or not they welcomed it.[3]
We won't be re-hashing the long-term stats and broad, general advice on this topic that you can easily find well-documented online,[4] but instead will be focusing on actionable steps that can be readily implemented by new remote workers.
Looking for more tips to engage your remote team?
This post was originally shared in March 2020, and has since been updated with new links.
Workspace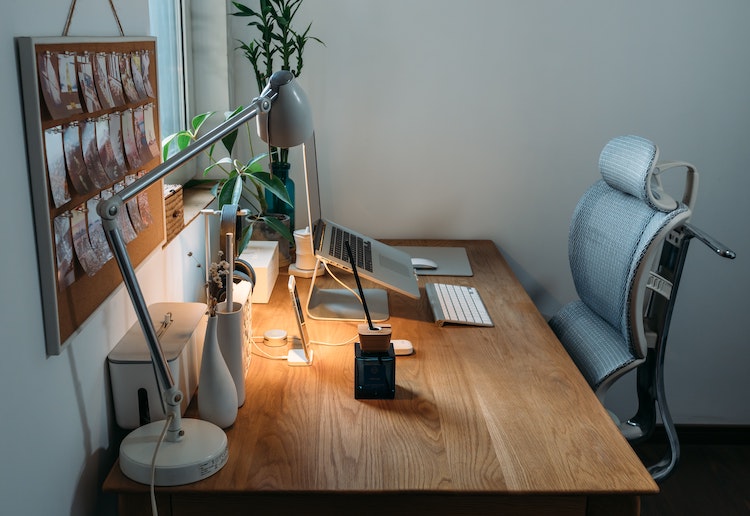 Find a Comfortable Chair
Let's start with some good old-fashioned dad-advice. You might have heard of the phrase "Invest in things that keep you separate from the ground." This saying has traditionally been applicable to shoes, tires, and mattresses; the gist being that it's usually a good idea to not skimp on often-used items, where a large initial investment will benefit you more in the long run. Your choice of desk chair is no different in this regard; with prolonged sitting in sub-optimal workstations linked to musculoskeletal dysfunctions in desk workers,[5] it's estimated that ergonomics-related injuries cost U.S. businesses between $15 to $20 Billion dollars each year.[6]
For most remote workers, who even away from the office will likely be in a sitting position for much of the day, a comfortable and ergonomic chair can save you from the heightened risk of chronic complications later on in life.
Use a Laptop Stand with External Keyboard + Mouse
While we're on the subject of ergonomics – a laptop stand, external keyboard, and bluetooth mouse are all common objects found in the day packs of many remote workers. If you are unconvinced that these additional gadgets are worthwhile, know that even the nomadic travelers of our team – who are usually tediously obsessive about packing light – find room in their packs to fit the necessary gear that facilitate an elevated screen.
The Nexstand is our collapsible stand of choice, preventing long-term physical problems that can arise from a hunched back and lowered head posture when laptops are used on their own. Many less-portable, but just as effective budget options can also be found online. If you only have access to the external keyboard and mouse – and are into resourceful solutions – the improvised "stack of books" stand is another great option.
Maximize Sunlight
If you have ever been unlucky enough to be assigned a cubicle positioned away from natural sunlight, you likely understand the negative physical and psychological effects this situation can bring about over time. In or out of the office, lack of exposure to natural light can lead to a significant toll & detriment to a sound body and mind. While the digital nomad "influencers" of Instagram rarely do their actual work from hammocks, their increased exposure to sunlight from chasing down beach-side photo opportunities is a genuine lifestyle factor to be envious of. Surveys of office workers find upwards of 40% struggling at workstations lacking enough exposure to natural light.[7]
With your newfound remote worker status allowing you to dictate your own workspace, indulge in the freedom of being able to claim your own window desk. Better yet, switch it up and try taking your work outside once in a while. You will start to notice the positive effects on your mental and physical well-being.
Personal Habits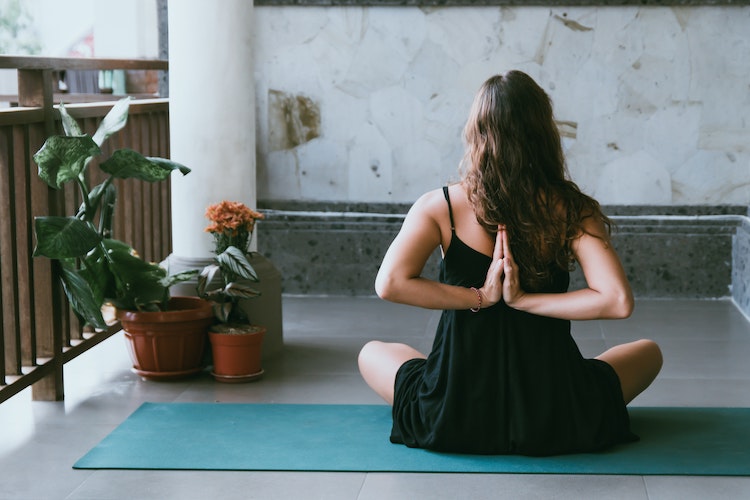 Make It Clear That You Are in "Work Mode"
Many remote workers can attest to the distractions that can come about from being in an environment where others don't realize you're working. Family, friends, and even strangers – if you're in a public space – can often mistake your work for web-surfing and feel invited to become a casual distraction. Being able to find your own private space with a closed door is a blessing in most cases. Failing that, a set of headphones has generally been established as a universal "do-not-disturb" sign, even better if it includes noise-isolation capabilities that help you get in flow to your favorite instrumental playlist.
"Work Mode" needs to be a mental mindset for yourself as well. While you don't necessarily need to dress to impress if you're working from your own home, just the act of changing into a set of work clothes different from your typical at-home attire can help get you into gear. Other feats of discipline, such as continuing to stick to your regular morning routines, or keeping food separated from your workstation can also help to prevent distraction and procrastination.
Take Breaks from Your Screen
For most roles that are able to move into remote arrangements, productivity doesn't necessarily directly correspond to more time seated at your workstation, and you'd struggle to find a truly productive modern workplace where management still believes so. If you have the personal discipline to manage your time; then small chores like walking the dog, prepping for meals, or cleaning, can all be easily intertwined into your workday to give your mind space to reset between tasks.
Exercise
Being able to cut out a time-sucking commute out of your day is one of the main benefits of remote work, so any excuses relating to not being able to find time to exercise really aren't valid anymore. A full commitment to the gym isn't necessary either; yoga or bodyweight workouts can both be done in your own home with minimal space requirements. Populating your schedule with several short exercise breaks can make it easier to get started if you aren't used to longer, intensive workout sessions.
Team Management and Team Communication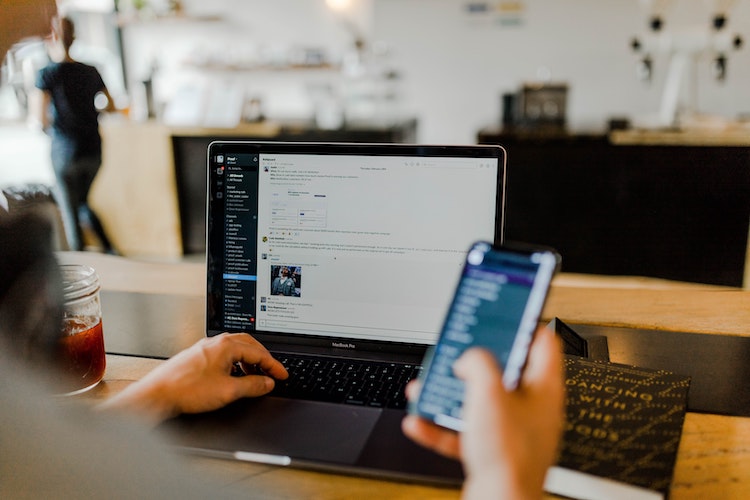 It's Better to Over-communicate
When making the move to a remote work arrangement, your team will also likely be increasing the use of written communication over digital platforms. We can't stress enough the importance of being overly clear in the intent of your messages. Don Draper might have been a charismatic model of a man skilled in linguistic subtlety, but he also had the advantage of being a fictional character with his lines penned by a room of professional television writers – so please set aside the wit and simply write what you mean. This is not the time for excessive sarcasm or nuance, neither of which translate well to business-oriented written communication.
On the receiving end of messages, don't be afraid to ask for clarification when necessary, ego needs to be the last priority on your mind when trying to align with what somebody is trying to get you to understand through a screen. The under-appreciated beauty of team communication over a written medium is that you are rarely put on the spot for quick responses, so take the time to look over your words and ensure they will be clear to your readers before you hit the send button.
Turn On The Video Camera During Meetings
Inevitably, your remote team will still likely need a way to hold meetings. While audio-only conference calls are still the norm in many traditional offices, we encourage new remote teams to leap into the world of video calls as soon as possible. With multi-person meetings, the addition of video helps to prevent attendees from talking over each other or getting distracted by their phones. Even with 1-on-1 meetings, audio-only callers are missing out on several important elements of non-verbal communication.[8]
Over time, video calls can also also play an important role in increasing personal familiarity. Within GooseChase and other remote teams we've encountered, it's not uncommon for team members who meet in real-life for the first time to feel like they are already long-term acquaintances, simply from previously having frequent interactions through video calls. Zoom, Skype, and Google Hangouts are industry-leading software products built for this purpose.
Maintain Online Spaces for Social Interaction
If you're used to working as part of an in-person team, a sudden transition to remote work, especially if you're doing it from home, can be a surprisingly lonely experience. For teams who have sided closer to a "keep things professional" philosophy in terms of digital communication, we highly urge you to re-examine this mindset when moving your members to a fully-remote arrangement.
The Goosechase Slack board is filled with the usual channels dedicated to business functions; such as #product-updates, #operations, and #revenue. In addition, we maintain a variety of off-topic ones simply for the purpose of keeping ourselves socially connected to each other. #travel is teeming with photo and video updates from around the globe, courtesy of those on our team who live a nomadic lifestyle enabled by their remote positions; #food is self-explanatory; and #random is one of our busiest channels, acting as our space to share great music with each other, vent about the latest fads, or post videos of cute animals we encounter. As of the writing of this post, #random-polls has become Goosechase HQ's hottest new venue. It features a snazzy new integration added by one of our developers, enabling us to survey our team's respective Hogwarts house preferences, discuss superpower choices if granted one by a genie, and even settle the age-old tacos vs. burritos debate. The Giphy for Slack integration is our favorite on these channels, powering endlessly entertaining games of Giphy Roulette.[9]
For distributed teams that aren't afforded the opportunity to interact face-to-face in office settings, these online spaces are near-essential for staying functional as well as providing a virtual community. The growth in the market for personal messaging software products like Slack, Hangouts Chat, and Ryver signal the ever-increasing demand for them by professional teams to supplement their usual email and project management tools. For those nervous about getting distracted by notifications, all of these tools also include do-not-disturb options and customizable settings.
Celebrate Wins as a Team
Once the online spaces mentioned above are established, it's also important for teams to build an atmosphere where members are encouraged to celebrate wins with each other. Without this, it can be easy for an online channel to become stagnant, or become dominated by messages initiated by only a few users.
Goosechase' own #good-things channel is directly connected to our Salesforce account, where successful deals closed by members of the sales team are automatically announced and celebrated. A Bonusly integration also allows anyone to publicly send a "kudos" to another team member for carrying a project over the finish line, helping with a difficult task, or anything else worthy of mention. Awarded points can be exchanged for gift cards from various online and offline retailers, putting tangible value to the appreciation from coworkers.[10]
In addition to providing team members with gift cards, open outlets for positively recognizing coworkers also play an important role in promoting transparency within the entire organization, preventing separate project teams from becoming even more siloed once they transition to working remotely.
Consider Making it Permanent
We at Goosechase have heard it all when it comes to opinions on our remote work lifestyles. Some think it's a dream-come-true and can't wait for even more businesses worldwide to embrace the growing work style, while others see it as an ineffectual millennial invention.[11] For better or worse, many companies in 2020 have been forced to take the plunge without a chance to dip their toes in first.
From one happy team of remote-work advocates to yours, we truly hope all the newly-minted remote workers reading this article can find a few useful takeaways – even if your remote term will only be temporary. For those who have been waiting for a chance to make remote work a permanent reality, consider this the audition to demonstrate to your boss the viability of a long-term arrangement. We wish you the best of luck!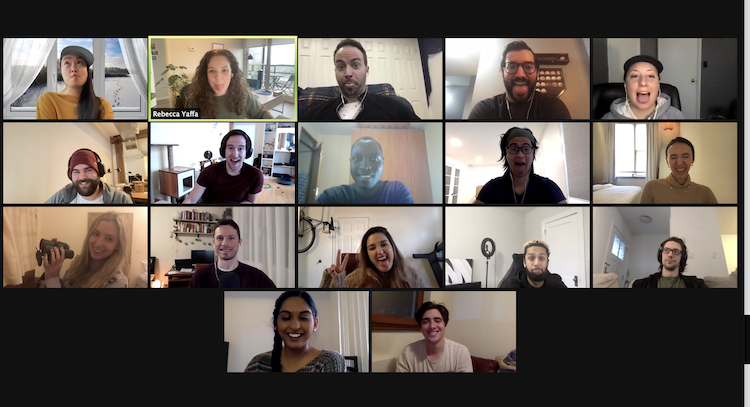 What is Goosechase?
Goosechase is an online platform that helps organizers create and run digital scavenger hunt experiences for team building, learning, public engagement, or a variety of other events. Sign up and try creating a free recreational game, or contact us to learn more about our enterprise solutions!
---