End-of-year Teacher Celebration Template
Who says farewells have to be sad?
With this End-of-Year Teacher Celebration template, we're making it all about fun and memorable goodbyes! This interactive, easy-to-use template helps you create an exciting, immersive experience that truly celebrates our educational heroes.
🏃
Just want the template?
Skip ahead
to the end of the article for a copy that's ready to go.
What Is an End-of-Year Teacher Celebration?
An End-of-Year Teacher Celebration is a special event organized to honor and appreciate teachers for their dedication and hard work throughout the school year. As the academic year draws to a close, this celebration aims to express gratitude and admiration for the tireless efforts teachers put into educating their students.
In the context of Goosechase, the End-of-Year Teacher Celebration is an interactive, digitally facilitated event that uses a fun and engaging template. This template offers a variety of Missions or activities designed to celebrate teachers in an entertaining and memorable way. These Missions can include trivia about the school year, appreciation messages, and fun challenges.
The key aim is to create an enjoyable, community-driven experience that brings students, parents, and teachers together, allowing them to connect, express gratitude, and have a great time as they bid farewell to the academic year.
Who Is This End-of-year Teacher Celebration Template For?
A wide range of individuals and organizations can benefit from using an End-of-Year Teacher Celebration template on Goosechase:
School Administrators: Principals and other school administrators can use this template to organize an interactive and fun event that celebrates the efforts of their teachers and brings the school community closer together.
Parents and Parent-Teacher Associations (PTAs): Parents and PTAs can use this template to show their gratitude towards the teachers who have been instrumental in their child's education over the past year.
Teachers: Teachers themselves can benefit from using this template to create a fun and interactive celebration that fosters a sense of camaraderie and mutual appreciation among the faculty.
Students: Older students, such as those in high school, can use this template to organize a fun and interactive celebration to thank their teachers.
Community Organizations: Organizations that work closely with schools can use this template to show their appreciation for teachers and their pivotal role in the community.
By using the Goosechase End-of-Year Teacher Celebration template, these groups can effortlessly organize an engaging, memorable, and heartfelt celebration that shows teachers just how much their hard work and dedication are appreciated.
Tips For Creating Your Own End-of-year Teacher Celebration Experience
Planning your very first End-of-Year Teacher Celebration with Goosechase? Fear not! You're about to embark on a journey full of laughter, gratitude, and a honking good time. Here are some tips to get you started:
Missions Possible: Start by planning out your Missions. Remember, the goal is to celebrate teachers, so make sure your Missions include fun, teacher-centric activities. How about a "Name That Lesson" trivia or a "Teacher Appreciation Selfie Challenge"?
Involve Everyone: Ensure students, parents, and other staff members are all involved in the celebration. The more, the merrier – or should we say, the more, the "GOosier"?
Get Creative with Awards: Along with bonus points for outstanding submissions, why not offer some unique awards? Titles like "Most Creative Mission Completion" or "Best Teacher Tribute" can make things even more exciting!
Communicate Clearly: Use Goosechase's messaging feature to keep everyone informed about the event's progress. Send out regular updates, reminders, or even just a friendly "honk" to keep the excitement up!
Have Fun!: Above all, remember this is a celebration. Encourage laughter, fun, and a positive atmosphere. After all, everyone's here for a GOose time!
So gear up for a celebration that's sure to be the talk of the "nest" academic year. Happy planning!
How To Put This End-of-year Teacher Celebration Template To Use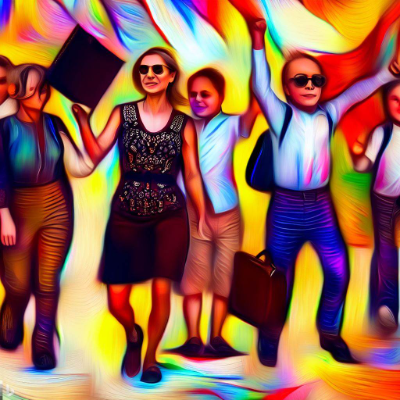 The Great Teacher Escape
A fun Experience to run with your fellow teachers and school staff to keep spirits high as we power through the last 2 weeks of the school year! We're so close!
Get your own copy!
1. To copy an Experience to your account, first, make sure you are logged into your Goosechase account. If you don't have an account, you can create one.
2. Once logged in, go to the Experience you wish to copy (this one!) and select the blue Copy this Template button in the upper left-hand corner of your page.
3.  After you've clicked Copy this Template, the Experience will import into your account, and you will receive a confirmation screen once the Experience has been fully copied.
4. Now that the Experience is added to your account, you can make changes and edit the Experience to make it your own, or you can use the Missions in a different Experience by accessing the Mission in your Previous Missions bank. For more detailed instructions, click here.
5. It's GOose time!
What is Goosechase EDU?
Goosechase is an online platform that helps educators create and run interactive learning experiences in their classrooms and beyond. Sign up and try creating an Experience, or contact us to learn more about our school and district-wide solutions!