Christmas Activity for Students Experience Template
Get ready to sprinkle some seasonal enchantment into your classroom with our dynamic Christmas Activity for Students template! 🎅
Ignite the festive spirit as your students embark on an interactive journey like no other. This isn't just another activity – it's a holiday adventure that blends fun with learning, fostering teamwork and creativity. With a flurry of captivating Missions that captivate young minds, get ready to unwrap the magic of Christmas in an entirely new way!
🏃
Just want the template?
Skip ahead
to the end of the article for a copy that's ready to go!
What Is A Christmas Activity for Students?
Imagine infusing the holiday season with a dash of educational excitement – that's precisely what a Christmas Activity for Students entails.
It's not your typical classroom affair; it's a festive adventure designed to engage and captivate students. Think of it as a collection of interactive challenges and tasks that students undertake, all wrapped up in the spirit of Christmas.
These challenges, called Missions, are geared towards promoting teamwork, creativity, and problem-solving, all while embracing the joy of the holiday season. It's a fantastic way to make learning fun and memorable, as students dive into various creative quests while celebrating the magic of Christmas together.
Who Is This Christmas Activity for Students Template For?
Here are the top 5 groups who can benefit from using a Christmas Activity for Students template:
Educators and Teachers: Transform classrooms into festive learning hubs, making lessons engaging and memorable during the holiday season.
School Administrators: Organize captivating holiday events that bring students together, fostering a sense of community and celebration.
Youth Group Leaders: Plan interactive Christmas-themed activities that combine fun and learning, keeping young minds entertained.
Community Organizers: Create vibrant seasonal events that spread joy and knowledge, catering to participants of all ages.
Event Planners: Design holiday-themed experiences that add a unique touch to gatherings, infusing them with the magic of Christmas while promoting creativity.
Tips For Creating Your Own Christmas Activity for Students Experience
🎄 Embarking on your own Christmas Activity for Students adventure? Here are some tips to get your sleigh rolling:
Wrap Your Theme: Start by choosing a merry theme that resonates with the holiday spirit – it's like picking the shiniest ornament for your activity tree!
Jingle Missions: Craft Missions that blend fun with learning – they're the holiday treats that keep participants engaged and entertained!
Santa-fy Teams: Divide students into cheerful teams, each with a quirky name that rings with laughter. Remember, it's all about the ho-ho-hilarity!
Elves with Cameras: Encourage creativity with photo and video Missions – your students will be capturing memories as memorable as Rudolph's red nose!
Festive Challenges: Spice things up with holiday-themed challenges, ensuring everyone's having a "snow" much fun they won't even realize they're learning!
Frosty Competition: Add some friendly competition by awarding points for completed Missions. Remember, it's all about the journey, not just the sleigh ride!
Yule Love Rewards: Don't forget the rewards! A dash of surprise and a sprinkle of Goosechase humor can turn any accomplishment into a "yule" loveable moment.
Spread the Word-nament: Promote your event like the grandest tree in the town square – share it on social media, spread the word faster than Santa's sleigh!
Remember, creating a Christmas Activity for Students should be as joyful as unwrapping presents. With a touch of Goosechase fun, you'll sleigh this festive challenge in no time! 🎁🎉
How To Put this Christmas Activity for Students to Use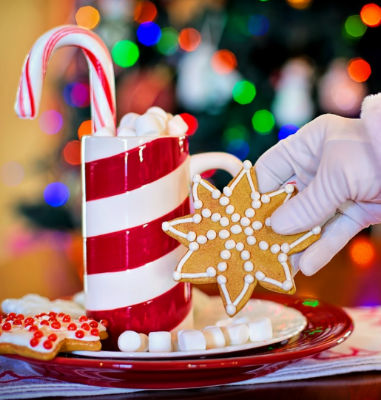 Christmas Week!
Complete these holiday themed Missions to get your students in the Christmas spirit!
Get your own copy!
1. To copy an Experience to your account, first, make sure you are logged into your Goosechase account. If you don't have an account, you can create one.
2. Once logged in, go to the Experience you wish to copy (this one!) and select the blue Copy this Template button in the upper left-hand corner of your page.
3.  After you've clicked Copy this Template, the Experience will import into your account, and you will receive a confirmation screen once the Experience has been fully copied.
4. Now that the Experience is added to your account, you can make changes and edit the Experience to make it your own, or you can use the Missions in a different Experience by accessing the Mission in your Previous Missions bank. For more detailed instructions, click here.
5. It's GOose time!
What is Goosechase EDU?
Goosechase is an online platform that helps educators create and run interactive learning experiences in their classrooms and beyond. Sign up and try creating an Experience, or contact us to learn more about our school and district-wide solutions!