Notes from the Nest: Celebrating International Women's Day 2022
I posed a single question on Slack and watched the heart emojis roll in: "What's something you're proud of?"
As soon as I started at GooseChase, I could immediately tell the team's energy was different from others I'd joined. Work and play are valued in equal measure, and these folks live seriously big lives off the clock (in addition to all the cool stuff we work on, of course 😇). Culture worth writing home about is something our flock's been carefully cultivating for years, and we're ridiculously proud of the intelligent, curious, and unique personalities that make up our team. 🧩
This International Women's Day, I wanted to take the opportunity to get to know the womxn on our team better...and then celebrate them by sharing their mosaic of experiences with you. Here's just a glimpse at what's made each of them tougher, happier, more fearless, and more alive. Lucky us. 🧡
What's something you're proud of?
Hannah, Head of Design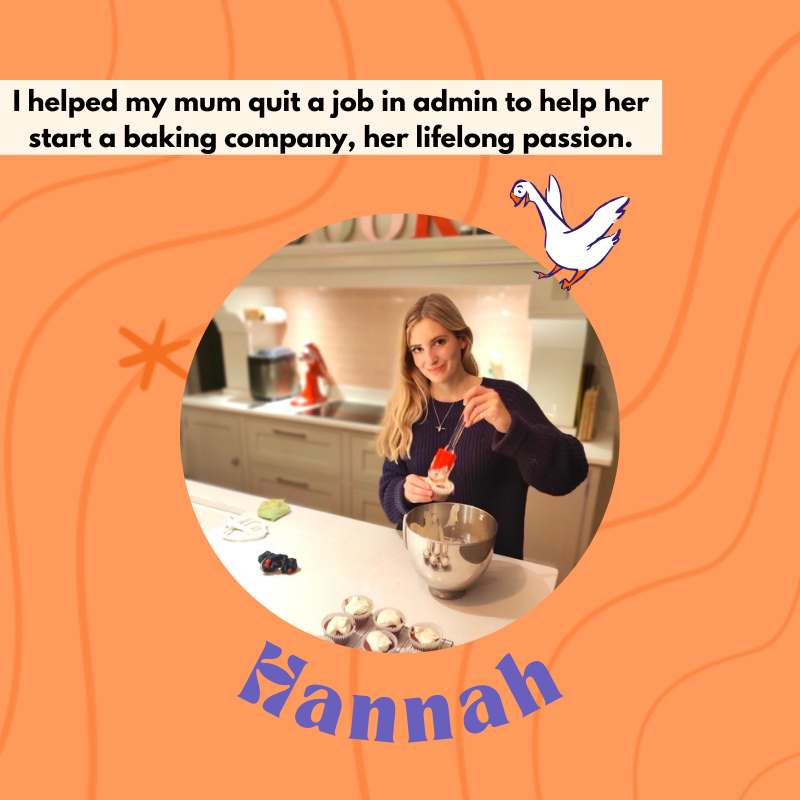 "I helped my mum quit a job in admin (an industry she was in for 20 years!) to help her start up a baking company (her lifelong passion) with my little sister. She's never had anything less than a 5-star review from her customers so far. 🧁"
Natasha, Head of People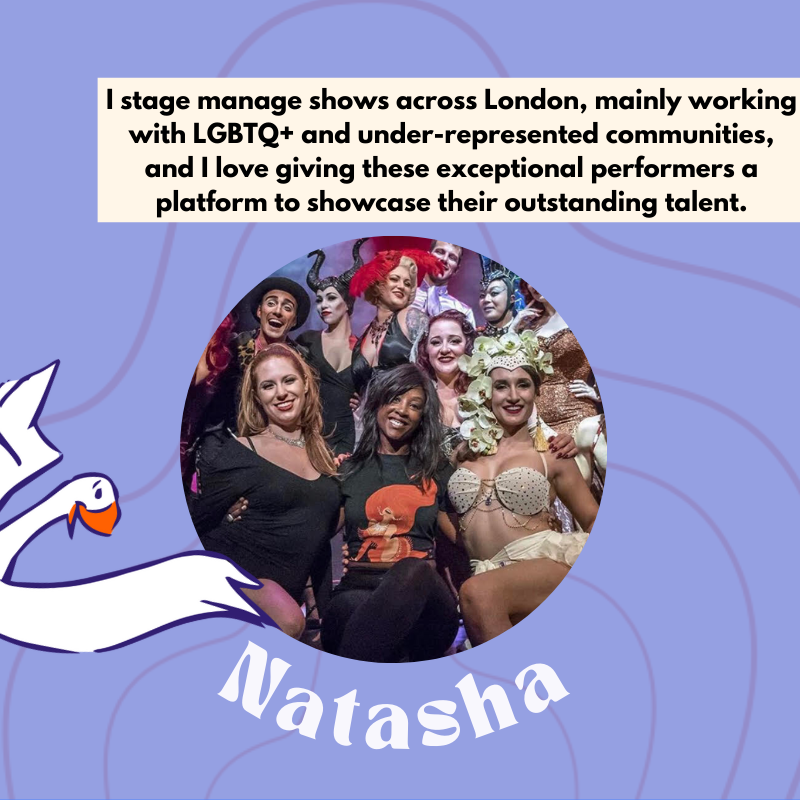 "Alongside my role, as Head of People, I stage manage shows across London. I mainly work with LGBTQ+ and under-represented communities and I love giving these exceptional performers a platform to showcase their outstanding talent.
This picture is taken from one of my first shows which was a huge production over 3 weeks celebrating cabaret talent from all over the world."
Amber, Customer Success Manager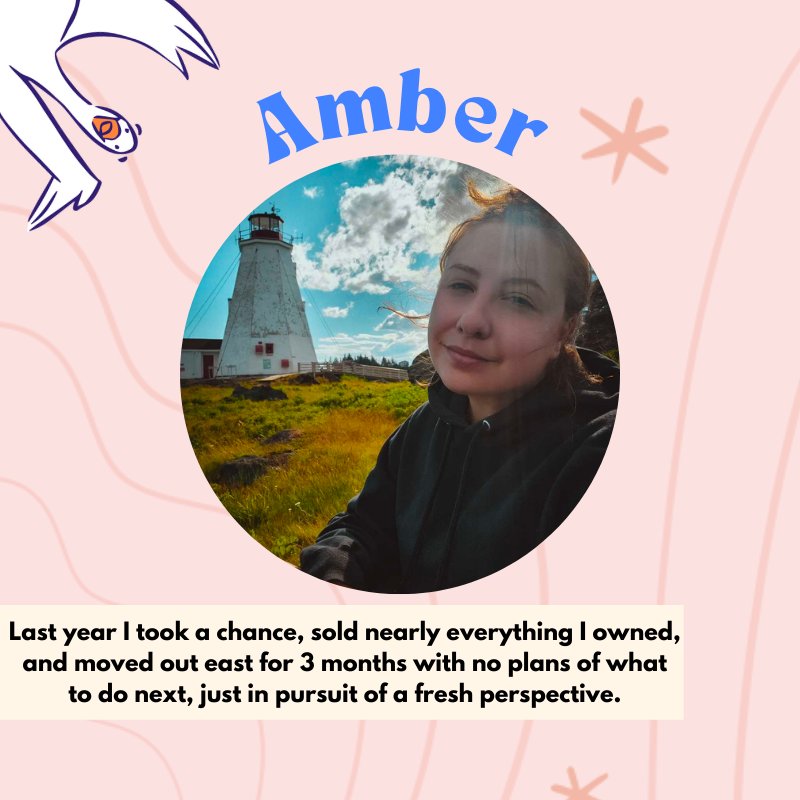 "Last year I took a chance, sold nearly everything I owned, and moved out east for 3 months with no plans of what to do next, just in pursuit of a fresh perspective. The experience was refreshing and freeing and allowed me to re-evaluate what things I valued in my life and how to nurture them to be more fulfilling.
The photo is of me (obviously) from one of my last days out east. It is now almost 10 months since I came home and I still don't have a set plan and it feels great to let my life lead me instead of trying to force paths that aren't meant for me."
Erin, Account Manager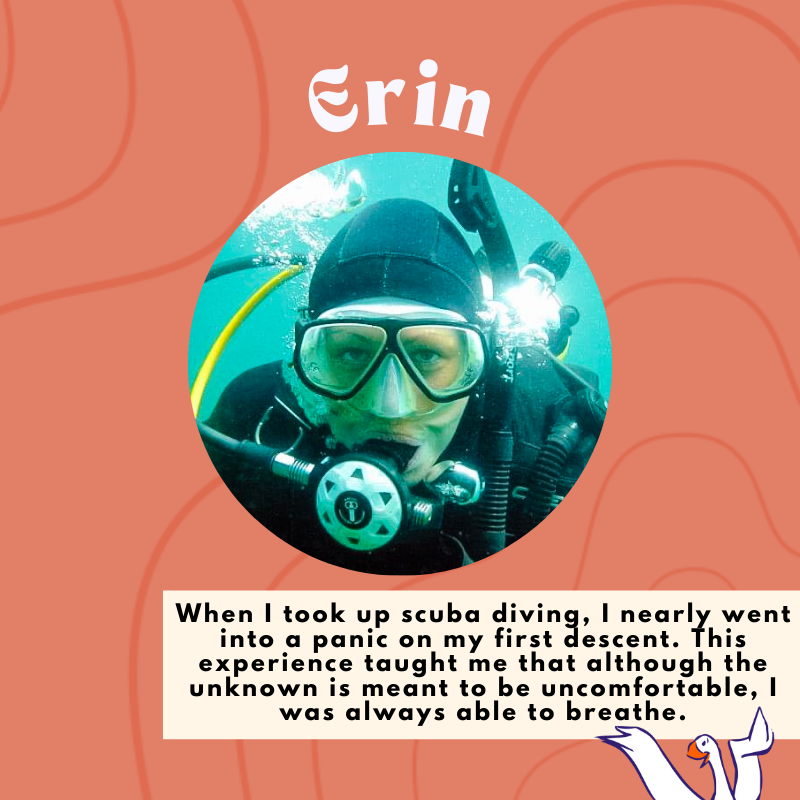 "I'm one to challenge fears and face them head on. When I took up scuba diving, I nearly went into a panic on my first descent. This empowering experience taught me that although the unknown is meant to be uncomfortable, I was always able to breathe—this carried over into life outside of the water, giving me strength to build my life in ways I never dreamed possible."
Shara, Account Executive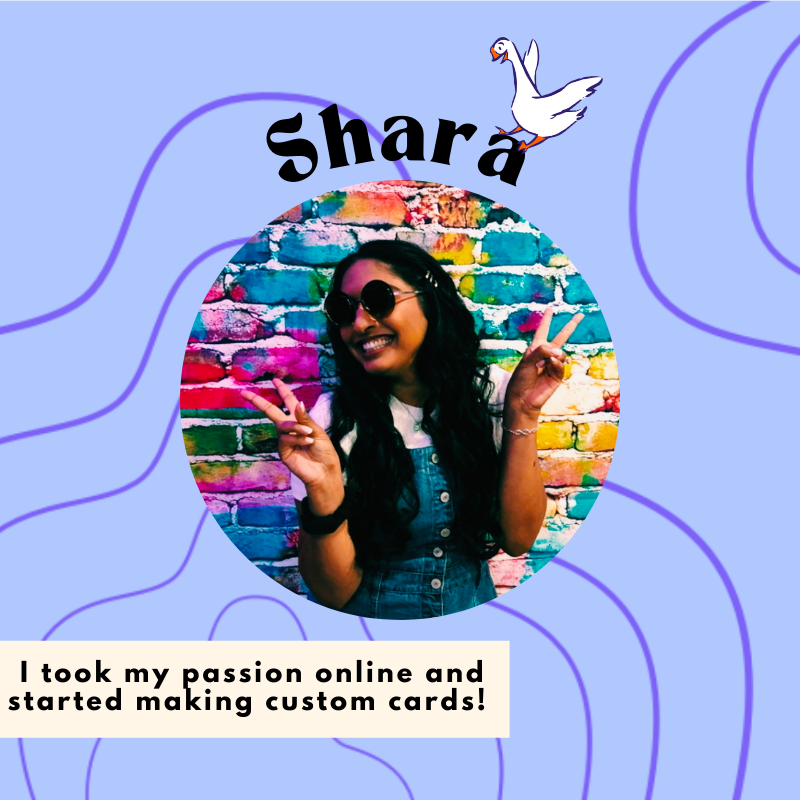 "I've always had a passion for crafting but never really had the resources or time to foster my interests. In 2019, my family bought me my first Cricut machine for Christmas… which opened a whole new endeavour I didn't see coming!
I took my passion online and started doing custom-made cards! Not only am I able to balance this passion project with my current job at GooseChase, but I am also greatly supported by my Flock Family as well!"
Ally, Customer Operations Specialist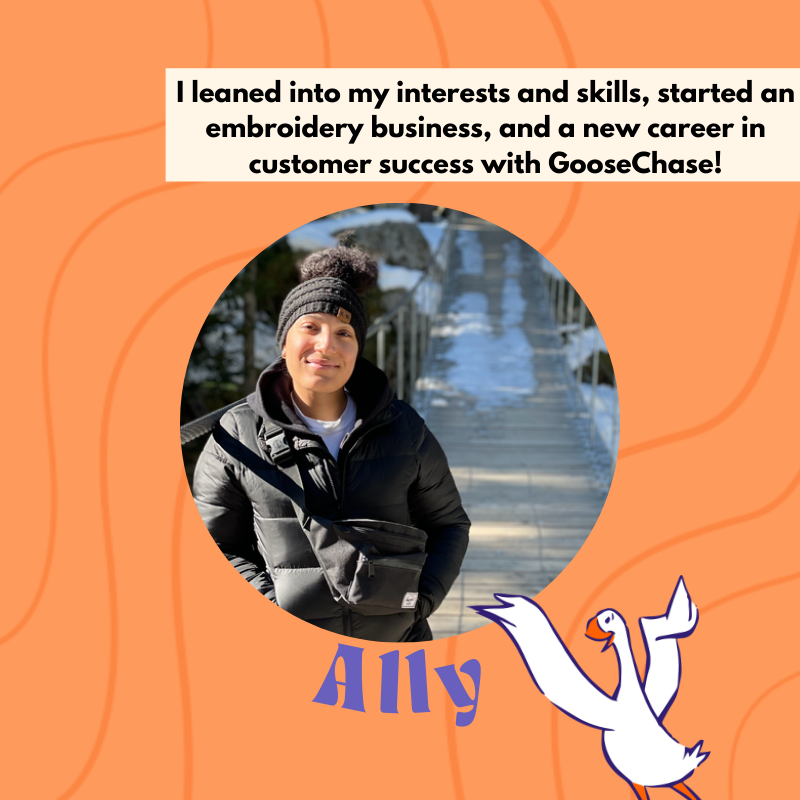 "I spent years of schooling and work pursuing a career in social services, however, realized I was not passionate about it. I leaned into my interests and skills, started an embroidery business and a new career in customer success with GooseChase!"
Mia, Content Marketer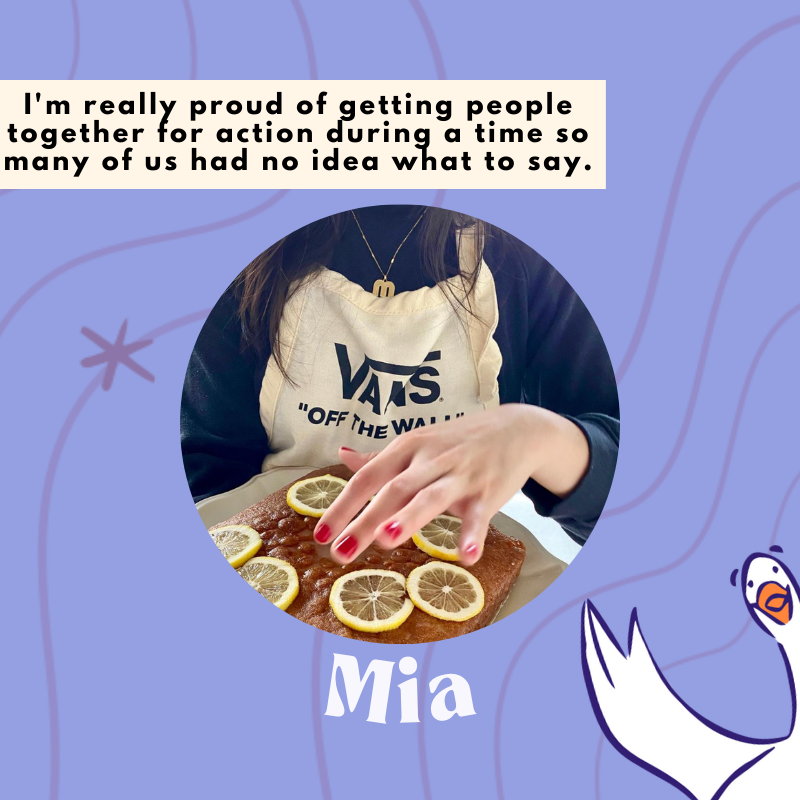 "In 2020, I got friends (and strangers) together for an initiative called @bakesaleforbetter - calling on home bakers to make treats for sale in exchange for charitable donations. I'm really proud of getting people together for action during a time so many of us had no idea what to say.
We raised essential funds and awareness for Canadian charities (and inspired a similar project in the Philippines, @bakesaleforbetterph), with the goal of normalizing regular donations and encouraging a culture of more social responsibility. I'm really hoping to get people baking and donating again soon! 🍪"
Kim, Product Designer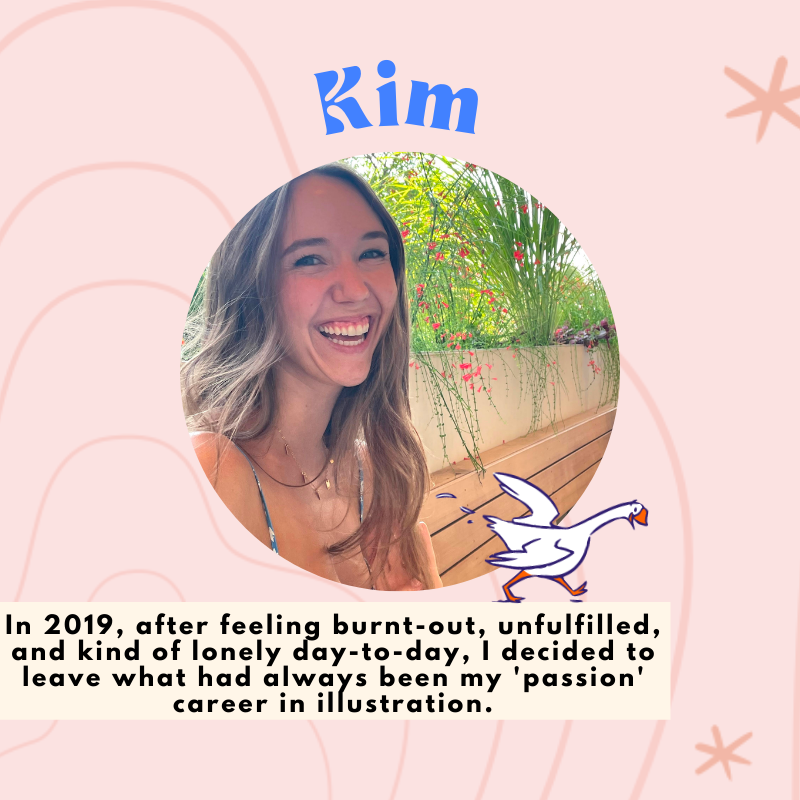 "In 2019, after feeling burnt-out, unfulfilled, and kind of lonely day-to-day, I decided to leave what had always been my 'passion' career in illustration.
I spent a lot of time taking online courses, reading design books, and doing self-directed projects, and a year later I got my first job in Product Design. The journey was so rewarding, and now I get to use so many different skills and collaborate with amazing people every day."
Rebecca, Community Coordinator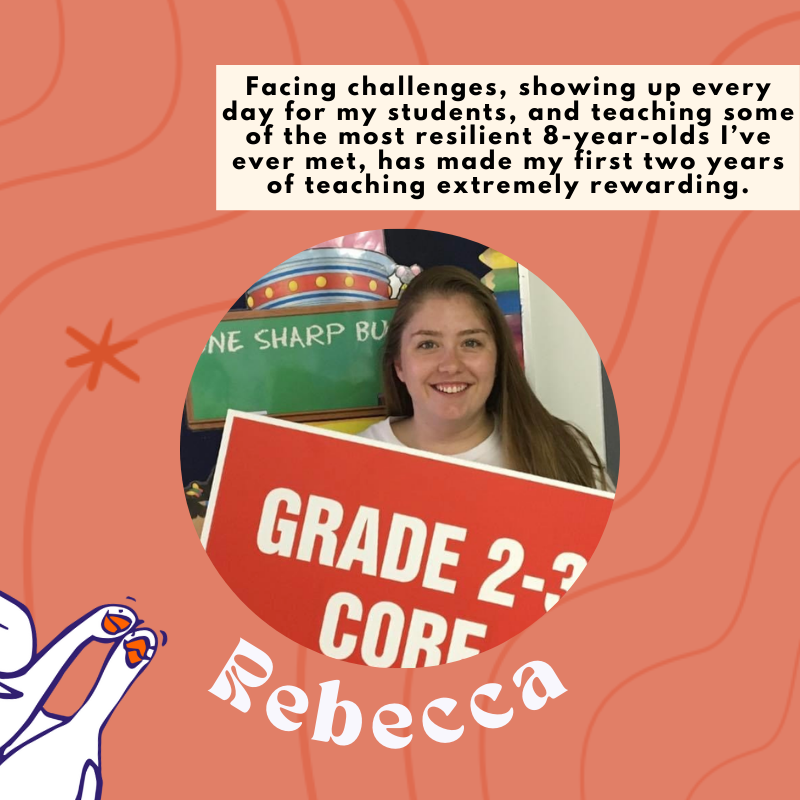 "Back in 2014 when I decided I really was going to follow in the footsteps of my mom and grandma, I headed off to University to become an elementary teacher. Never did it cross my mind that I would be entering an already difficult and time-consuming profession in the middle of a pandemic.
Facing challenges, showing up everyday for my students, and teaching some of the most resilient 8 year olds I've ever met, has made my first two years of teaching extremely rewarding."
Katie, Head of Marketing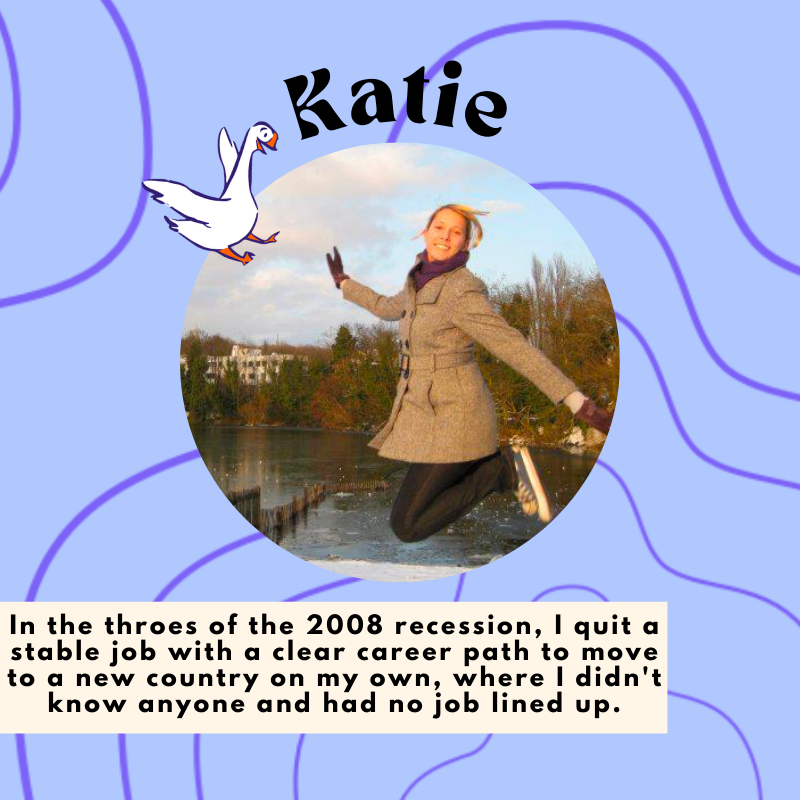 "In the throes of the 2008 recession, I quit a stable job with a clear career path to move to a new country on my own, where I didn't know anyone and had no job lined up.
I made friends. Built a life. Said yes to everything and developed a lasting career in a new industry that I actually enjoy!"
*Please note authentic jump shot from 2008
Interested in our team culture? Check us out...