Take Traditional Tours to the Next Level with Self-Guided Tours
Creating a tour for your visitors is a fine art in itself. You want to maximize their experience by showing the most interesting and important parts of your exhibition - and they're relying on you for this expert guidance! At places like museums, historical landmarks, and tourist attractions, these types of tours increase interaction with your guests. They also forge a unique bond between curator and visitor, allowing for valuable question-and-answer sessions when guests can really pick the brains of experts - you!
At the same time, there's just as much a hunger for self-guided exploration. Maybe it's the folks who prefer not to follow the flock—or who simply want to soak up the experience on their own after they partake in a conventional tour. Offering self-guided tours gives your visitors the opportunity to delve into your site at their own pace and in their own way. Here's how this option can take their experiences to the next level.
What is a Self-Guided Tour?
Many establishments create self-guided tours for their guests. While you may offer the option for people to simply wander the premises on their own, you can enhance the value of their experience by curating tour pathways and explorations that they can experience without the help of a physical tour guide.
During the self-guided tour experience, visitors follow these paths to learn more about specific subjects. For example, the American Museum of Natural History in New York offers a self-guided "highlights" tour that provides visitors with the chance to navigate the museum on their own, with suggestions to visit specific areas on different floors. This allows them to see some of the most iconic, popular, and historic displays and exhibits in a single visit. There are also more specific options, like self-guided dinosaur tours and self-guided earth and space tours.
If you don't already offer them, you could be missing out on a good thing. People who don't want to wait in line will appreciate the chance to delve right into a tour on their own. You're also more likely to draw more visitors when you offer them multiple options for exploring the premises.
What is the difference between a Self-Guided Tour vs a Group Tour?
The main different between a self-guided tour and a group tour is your, the organizer's, level of active involvement. Don't worry, self-guided tours aren't about to replace your conventional tours - there's room for both options! Guided tours are as much a part of visiting a museum or historical landmark as paintings on the wall or a recreated room from a bygone era. After all, not everyone can be an expert in ceramics from the Ming dynasty or on surrealist art - visitors rely on tour guides to give them intel beyond the museum label.
Add value to your programming by offering visitors some customization. Self-guided tours encourage independent exploration. Your visitors can freely peruse your establishment on their own time. They aren't limited to starting every hour, on the hour. They can rove from exhibit to exhibit at their own pace, reading the informational museum plaques and listening to the audio guides without rushing. A self-guided tour can dramatically enhance your visitors' time by letting them choose exactly how to spend it.
A self-guided tour can dramatically enhance your visitors' time by letting them choose exactly how to spend it.
Members of a group tour, by contrast, march very much to the beat of the leader's drum. Tour guides are responsible for guiding the group from one exhibit or attraction to the next, educating visitors along the way. The guides serve as ambassadors, whose primary role is to support engagement between the visitor and the institution.
Solid advice for self-guided tours and life in general. Thanks, Peloton!
Who Could Benefit from Offering a Self-Guided Tour?
Virtually all businesses that offer tours can benefit in some way from a self-guided tour option. Think of them as a way to supplement what you already offer by allowing guests to "choose their own adventure". They offer a number of benefits, too. They're a time and cost-effective offering, since you don't need volunteers to run them. There's an intimacy about self-guided tours that can make visits more enjoyable overall. People value their independence, and this option allows them to navigate the space flexibly and on their own terms and schedule. They can also be a valuable safety measure if you're trying to encourage social-distancing.
Museums are prime spots for self-guided tours. Visitors of all kinds stop by for a cultural boost, after all. There's the gaggle of kids accompanied by chaperones during a school field trip. There's the flock of tourists. There are the locals who just want to enjoy a little bit of what their own city has to offer. All of these groups can benefit from self-guided tours. Yes, even the kiddos—many institutions equip teachers with comprehensive guides so they can pull off successful field trips.
Many cities are home to renowned historical landmarks and tourist attractions. People come from far and wide to see these. You can reward them with a self-guided tour option, which can make it easier for both locals and visitors to navigate each stop along the way without worrying about keeping up with strangers. Trying to make sense of directions while enjoying the landmarks can be tricky, and takes your visitor away from being present.
👀
Who could benefit from offering self-guided tours?

- Museums of all kinds
- Amusement parks
- Art galleries
- Science centers
- Cultural centers
- Historical sites and landmarks
- National parks
- Hiking trails
- Main streets
How Can You Make Your Own Self-Guided Tour?

No matter what type of experience you want to cultivate for your guests, you can use Goosechase to make the vision a reality. Create a self-guided tour complete with Missions for visitors to complete, offering a fun prize at the culmination of the Goosechase Experience. Think outside the box: have people touring the historic downtown area locate the most famous statue in the area and the most buzzed-about pizza joint in town. There's no limit to what you can do with Goosechase, as the businesses below prove:
The Detroit Institute of Arts (DIA) offers special Goosechase Experiences that spotlight certain exhibits, and they have specific Experiences for kids groups and field trips.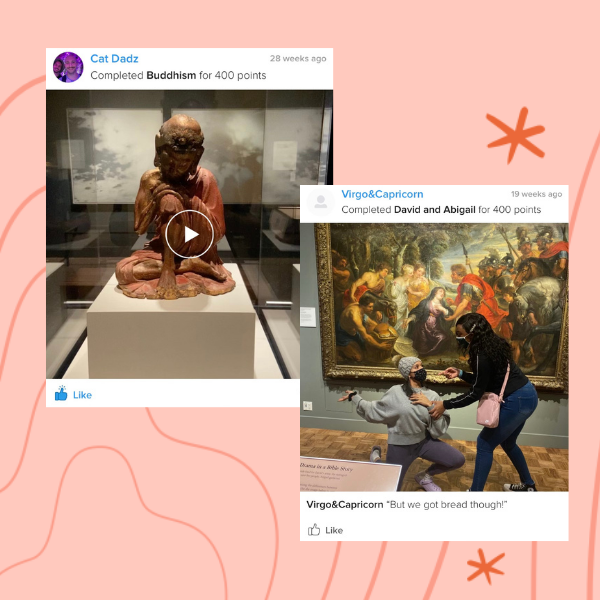 The Fairmount Park Conservancy in Philadelphia creates interactive experiences with Goosechase to encourage visitors to take self-guided tours of the park. Participants have a chance to win a great prize: complimentary membership to the conservancy.
The National Air and Space Museum has scavenger hunt-inspired Experiences that are always ready to join. They're flexible enough to be done on-site during a visit to the Museum or can be completely remote, which is a great way to make your programming more inclusive (and drum up excitement for future visits!)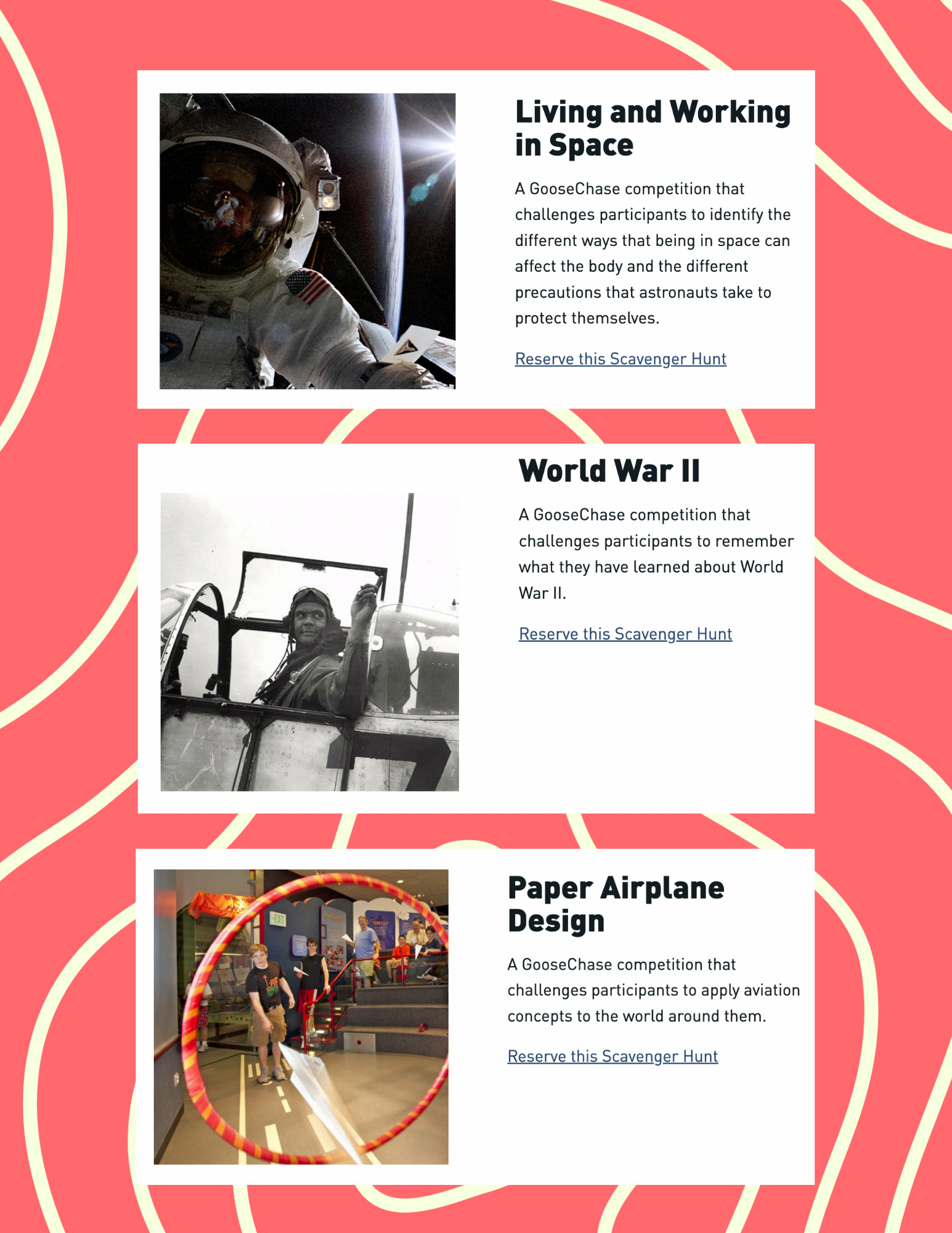 Educators entertain and educate all grade levels with Goosechase Experiences on field trips. Take a look at some of the awesome adventures they've created for inspiration on how you can create one for your location.
Tips for Enhancing your Self-Guided Tours
Self-guided tours have traditionally followed a tried-and-true technique. People expect to follow a map around town and navigate it per your instructions. That's an old-school approach, though, and nowadays, it's a lot more fun to give people interactive experiences that really get them thinking. Using self-guided tour technology to enhance the experience can make all the difference to the quality of your tour and the way that your visitors engage with your establishment. Here are a few ways you can transform the experience for them.
Organize with Themes: Depending on your establishment, you might choose to design themed tours to create more curated experiences for your guests. Museums are often large and expansive, with a looooot of subject matter to cover. You can give each one the attention it deserves by dedicating a self-guided tour entirely to it. Make a list of exhibits or stops along the way for each themed tour.
Rely on Routes: Make it simple and straightforward by providing clear directions about where they need to go. Color code routes, for example, and create clear paths that are easy to navigate.
Mission Possible: Proof that a self-guided tour can be more than fun! Use Goosechase to create interactive experiences for visitors to complete through the duration of their time at your attraction. Maybe they need to check in via GPS or send a photograph or a video of a certain exhibit or item in the facility. Maybe they need to pose like a famous statue, or find a clue hidden amongst the bricks at your main entrance - get creative and go BIG! Immerse people in what you have to offer and they'll appreciate their experience tenfold. You can even offer a prize to everyone who completes all Missions successfully, like a certificate to the gift shop or bumper sticker, or coupon for reduced admission on their next visit.
QR Codes: QR codes are literally everywhere—is there anything more 21st century? You can use QR codes to guide your visitors from attraction to attraction during their independent tour. They'll scan one when they arrive to download the Goosechase Experience, which will then direct them to their next stop. At that stop will be another QR code featuring information about the exhibit and what's next on the itinerary.
Devil's in the Details: Content matters, especially for those who aren't on a guided tour. Pack museum labels with detail. Offer a mix of serious information and quirky trivia—people learn best when they're having fun, and this is a thoughtful way to make a self-guided tour more engaging and memorable. Incorporate scannable links and Goosechase Experiences, both of which can make the experience more interactive by encouraging self-discovery. Make it extra fun by working a few Easter eggs into the experience to unlock special surprises and FYIs for your guests - for example, hide a QR code under the stairwell and add in a fun fact about your building's history. Complete the experience with a Goosechase Mission that requires them to count how many steps there are in the staircase.
There are so many reasons to make self-guided tours an integral part of your business. Limiting group sizes and easing the workload for docents is a big one in the modern world, along with establishing a stronger link with your patrons and drawing even more people to your historical site or attraction. Using self-guided tour technology can transform your approach, giving both locals and out-of-towners a fun, interesting, personalized way to explore the premises and make their visit more meaningful and memorable.
A visitor experience they *actually* want to write home about? Nailed it.
What is Goosechase?
At Goosechase, experience is everything. Originally inspired by scavenger hunts, Goosechase is an online platform that enables organizations and attractions to engage, activate, and educate their communities through delightful interactive experiences. Sign up and try creating a free recreational game, or contact us to learn more about our enterprise solutions!