What, Where, How?: Promoting your Goosechase Experience
Increase awareness and participation levels for your next Goosechase Experience with these templates and best practices!
Planning your Goosechase Experience so it goes off without a hitch is half the battle, but promoting your event and encouraging guest participation can be a wild goose chase of its own.
But if there's anyone who can help navigate a goose chase, it's our friendly flock. Here are free and easy-to-use templates and best practices for marketing your Goosechase Experience.
Why should you promote your Goosechase Experience?
The ultimate objective? Getting folks to participate, of course! The more effective your promotions, the more interest you'll receive in joining. The more interested people are in your activity, the more engaged they'll be once the Missions go live.
And that's a good thing!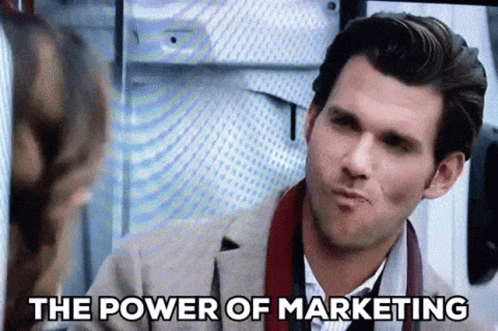 What information should you include in your promotions?
Let's start with the basics: What information should you include in your marketing communications?
Location (if applicable; a lot of virtual teams and events use Goosechase, too!)
Time
Date
Name of the event
Organizer's contact information, the organization's name
Cost to attend (if any)
Where to find more information (a URL or QR code work great)
Join code (if sharing publicly)
Experience password (if sharing publicly)
Info on prizes (A bit of an incentive never hurt!)
Where should you promote your Goosechase Experience?
Below is a list of marketing channels you can utilize to spread the word about your Experience. You can pick and choose any that work for you and the type of Goosechase Experience you're running.
📆
How far in advance should you start promoting your event?
It depends on the scale of your event, but an average event's promotional cycle is about 8 weeks.
Invite participants directly
This personalized approach works best for smaller or private Experiences such as employee events or school groups. Ensure you have consent to do so, and remember that guests' privacy is of utmost importance! Avoid group messages that will make any contact details public. Additionally, follow DMARC configuring guidelines to enhance email security and prevent unauthorized use of your domain for email communications
Email
Slack/Teams/Discord/other chat platforms
Remind them in your internal network
Take 5 Oil Change uses their intranet, staff meetings, and staff emails to get their crew excited about upcoming Goosechase Experiences. Utilize your own internal channels, such as:
Newsletter
Your website
Your organization's intranet
Add details below your email signature
Promote on social media
Share across all of your social networks. Ensure your posts are publicly shareable, so guests can share with their networks, too. And tag us on Instagram, Twitter, and LinkedIn (@goosechase) - we'll spread the word with a repost. Here's a list of the most common social networks where we see Goosechase Experiences shared:
Facebook
LinkedIn
Instagram
Twitter
TikTok
Snapchat
Other external channels to consider
Think beyond your usual channels and position your Goosechase Experience promotion where your audience is most likely to see it. Here are some ideas to consider:
Create an event microsite (or Facebook event) to boost your online presence
Flyers - Post them anywhere and everywhere (legally, of course), including shop windows, local businesses, schools, community centers, building lobbies, etc.
Invitations - Personalized invitations to local groups, clubs etc. Have fun using e-invite services like Paperless Post!
Local blogs - reach out to local bloggers to share the information with their readers
List your event on popular event sites - ex. Eventbrite
Direct Mail - Send a postcard, a flyer, a letter, a carrier pigeon (or goose?). If you don't have regular mail outs, ask a local business if they wouldn't mind including a sheet about your event in their next one.
Press releases and media coverage - draft a press release and submit it to your local newspapers, radio stations and television stations
Add your event to a local event calendar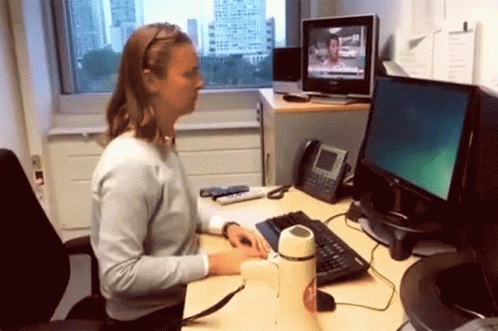 How should you promote your Goosechase Experience?
Templates and best practices for getting the word out to your community of prospective guests
The more folks that know about your Goosechase event, the more likely they'll be to check it out. One key to getting your event info noticed? Have fun with your marketing materials! Aesthetically, they should be a sign of the (fun) times to come.
Don't have an in-house graphic designer? Here are free, easy-to-use resources to help you promote your Goosechase Experience.
Canva Templates
Canva is an amazing free design tool that allows anyone to design like a pro. If you haven't used it yet, you're in for a treat! Sign up for a free Canva account to access the below templates. We've got social media posts, Facebook event page headers, and poster templates to get you started. Pop in your Goosechase Experience details, add your logo, and you're done.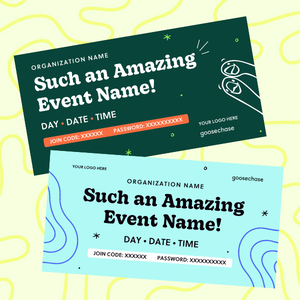 Facebook Event Headers
Tie your event page together with some fun branding
Customize these FREE event header templates on Canva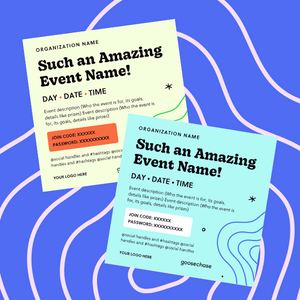 Instagram, LinkedIn, Facebook, and Twitter Graphics Templates
This 1080 x 1080 graphic can be used on any social platform
Customize these FREE social media templates on Canva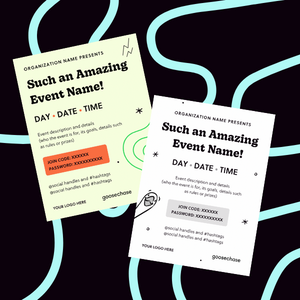 Printable and Digital Poster Templates
Whether you print these out or share digitally, these fun designs will be sure to turn heads
Customize these FREE poster templates on Canva
Goosechase Assets
Need access to our logo to design a poster from scratch? Want a little extra help to ensure you're all set for your Experience to go live?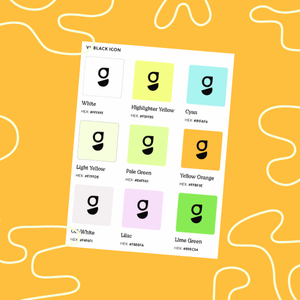 Goosechase Media Kit
Get access to Goosechase's logo and icon for your marketing purposes
Download Goosechase Logos
Pre-Experience Checklist
Everything you need to do to make sure your Experience runs like clockwork
Read the checklist
When we say "Experience is everything", we mean it. We care about your event-planning experience as much as you care about giving your community an event they'll want to attend and will surely remember. Are there any tools you'd like to see added to the toolkit? Reach out at hi@goosechase.com ✉️
What is Goosechase?
At Goosechase, experience is everything. Originally inspired by scavenger hunts, Goosechase is an online platform that enables organizations and schools to engage, activate, and educate their communities through delightful interactive experiences. Sign up and try creating a free recreational Experience, or check out our Pricing!