Detroit Institute of Arts x Goosechase: Amplifying Guest Engagement
The Detroit Institute of Arts welcomes hundreds of thousands of guests a year, and Goosechase helps provide visitors with customizable and memorable experiences.
Looking for more GooseCase Studies? CLICK HERE!
All images courtesy of DIA

WHO:
The
Detroit Institute of Arts (DIA)
, located in Detroit, Michigan, houses one of the largest collections of art in the United States. Their collection features everything from ancient artifacts to contemporary work, and spans more than 100 galleries. It is regarded among the top art museums in North America.
WHAT:
Guest engagement, Education
WHEN:
Year-round
PARTICIPANT #:
More than 385 teams
IN-PERSON/VIRTUAL/HYBRID?
In-person
GOALS: The Education Programs department at DIA oversees developmental programming for students and educators. Part of their function is to implement programming that keeps guests interested, engaged, and educated in the collections, making visits memorable and meaningful.

Visiting a museum is a highly immersive experience - being within its walls is an experience in itself! DIA had mastered in-person visitor engagement, welcoming hundreds of thousands of guests a year and immersing them in the museum's collections.

When the COVID-19 pandemic paused DIA's in-person group programming (which included tours and special activities), this got their team thinking: How could they get creative with how they engaged guests in the museum?
Manual effort: They had offered pen-and-paper scavenger hunts for individual groups in the past, which were time-consuming to set up and hard to track for engagement.
Specialized experience: Visiting the museum is a fully immersive experience; recreating the educational component of a typical guided tour, and producing the same level of guest engagement, was tricky.

The solution DIA implemented during the pandemic meant visitors were able to enjoy the museum without guided, in-person programming. Now, with all programming back up and running, visitors have more options for how they engage with the collection. In addition to viewing the galleries and joining guided tours, they can immerse themselves in scavenger hunt-inspired experiences that prompt meaningful interaction with the art (still - no touching, please!)
An extension of DIA's programming includes interactive, gamified experiences, accommodating and better engaging guests of all learning styles and inclinations.
Streamlined training and communications.
100s of visitor submissions to every Mission, which prompt guests to hunt down particular pieces of art, observe them more keenly, and dig deeper to make their own personal connections. Guests experience the collection in a much more personal and intimate way as a result.
"Goosechase gives visitors more options for engaging in the art…some Missions serious, some silly, whatever feels natural to them."  
- Jason Gillespie, DIA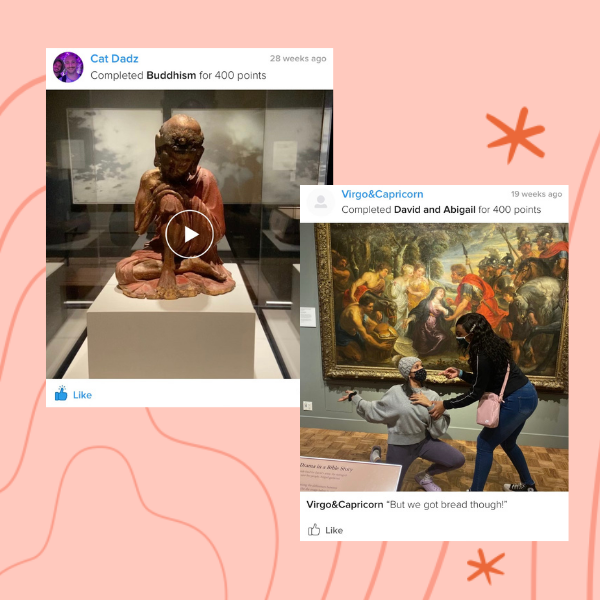 DIA turned to Goosechase to create immersive experiences that guests can play without the need for direct staff interaction at the museum.
"Since the pandemic, we've had to rethink how to engage visitors, and this felt like a really natural fit. We had already been using Goosechase to create custom games for organizations like the Girl Scouts, so we took the pen-and-paper activities we already designed and translated them into Goosechases for the public."
- Jason Gillespie, DIA
Easy set-up and automation: Once DIA sets up a Goosechase, it's always available for guests to join.
Enhanced visitor experience: Guests can explore the collection at their own pace and to their own tastes, leaving them with a more fun and customizable experience.
Spotlights on special exhibits: DIA offers Goosechases for different groups, seasonal exhibits, and themes, such as Religious Themes in Art, African American Art, and Art of the Suffragettes.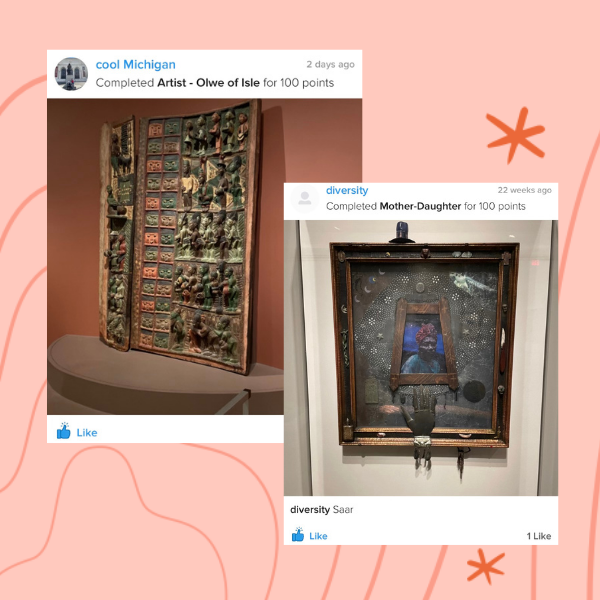 From one GooseChase creator to the next, here are tips for how you can create the most brilliant experiences for your communities.
"It started as a platform for a dedicated audience [of students] and a specific experience [in-museum tours], and it's grown into something else that addresses totally different needs for us."
- Jason Gillespie, DIA
Make it easy to join
DIA has signage onsite (and a dedicated page on the website!) that makes it easy to join each Goosechase. The adoption curve is low, and guests can play right away!
Make it fun for the creators
Volunteer members of the docent program, who typically conduct the tours, created the new Goosechases. This process made it as much of an experience for them as it is for guests, as they got to see the exhibits with fresh eyes.
Have fun with it
Blend the silly Missions with the educational - more often than not, it's the open-ended prompts that coax the most creativity and joy out of participants, making your experience that much more memorable.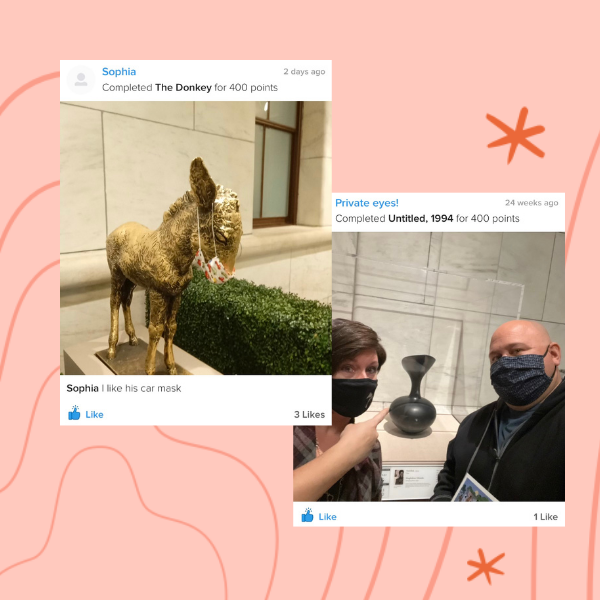 Thank you so much to Detroit Institute of Arts for sharing their Goosechase experience. DIA's dynamic, iconic collection is a must-visit when in Motown, and very much worth the trip.
Think GooseChase could be a fit for your organization? If you haven't already, start by creating your first game. You can upgrade it at any time.