Creative Employee Onboarding Activities to Welcome New Team Members
There's nothing quite like that first day on the job. Your employees are probably feeling a - very normal - combination of excitement and anxiety. What sets this experience apart from, say, the first day of school? It's all about the onboarding process. The onboarding strategy you employ to welcome them to the fold sets the tone for their first days and weeks in the workplace, and they can make all the difference in the way your new hires integrate into your company culture.
This connection is vital from an engagement perspective. You expect your employees to show up and show out. You count on their consistency and their drive. It's up to you, though, to ensure they're excited about the company and ready to deliver. They arrive ready to bring their A+ game—now it's just a matter of welcoming them with a successful onboarding strategy that lets them know you can't wait to have them on board.
What are New Employee Onboarding Activities?
That sense of enthusiasm is why employee onboarding activities matter so much. Nobody wants to navigate their first day on their own, after all. These interactive experiences help integrate your new hires with the company and its culture. Activities can range from the basic (and downright boring), such as filling out the necessary documentation before their first day, to the thoughtful, like sending epic company swag to their home, so they can set up their remote office. Take every opportunity to differentiate your company throughout the onboarding experience.
A thoughtful onboarding strategy involves the new hires, their immediate team, and their manager. From a wider perspective, it helps your newest team members better understand the unique role they play in supporting the company's culture, values, and mission. Similarly, it helps the current crew understand their place in the shifting dynamic. Clarity is key in getting folks comfortable in their role. The right activities and employee engagement ideas can also foster positive outcomes, like high employee satisfaction rates, consistent engagement, and low turnover rates. It's SO worth it to cultivate a program that's as fun and creative as it is effective to set the tone right away.
11 Creative Onboarding Activities and Ideas Your New Hires Will Love
So how exactly do you make onboarding fun? A process that may have once been dry and mundane now has the potential to be… drumroll… downright exciting! Try these creative employee onboarding ideas to build excitement, boost confidence, and set a new precedent in your workplace.
Hometown Bound
Forget the usual humdrum icebreakers. For something a little more interesting, try a "where's your hometown?" introduction. In a physical workplace, set down a world map and have everyone mark or initial their place of birth. In a remote workplace, you can use a Google Map and have everyone drop a pin directly on the spot instead. The idea here is to foster some fun conversations—maybe a couple people were born in the same area, or one has family in the area, or one goes there often for family vacations. It's engaging and can help add a personal touch to the onboarding process.
Special Delivery
Everyone wants to feel special—and you can really set the tone by giving them something to smile about on their first day. Engagement begins with a feeling of belonging! Why not set a potted plant (succulents and orchids are nice, and will survive even the most forgetful green thumbs) on their desk? Welcome them to the company on your social media channels and give them a chance to show off on theirs. You can even set up the screensaver on their computer to greet them when they arrive. Work remotely? Change the Zoom background to something festive, or send them a special "first day" delivery with coffee and a company mug.
Missions Possible
Everybody needs a laugh—especially on day one when people might be feeling just a little bit nervous. Create an interactive experience on Goosechase and invite the newcomer and their immediate team to join. Create playful Missions that foster team bonding from the start. An easy example? Using a goofy (and may we suggest goosy?) video filter during that first meeting. Cue the giggles!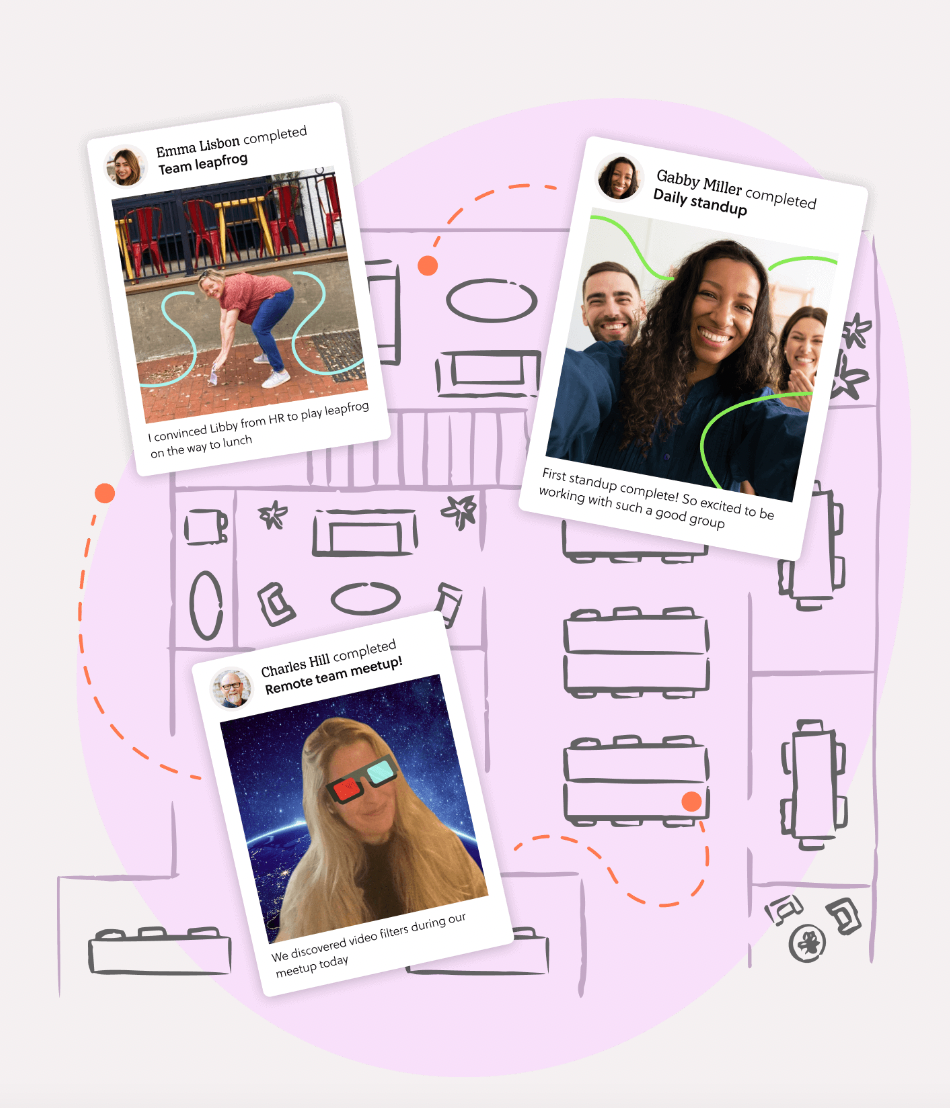 Rules to live by
No one exactly looks forward to reading the employee handbook, but it's a necessary part of the integration process. Make this vital onboarding activity more enjoyable by creating a streamlined, digital guide to the company instead. Make it vibrant, colorful, and to-the-point instead of filling their minds with overwhelming amounts of information. Focus on important aspects, like company culture, policies, and history, along with current rules. Consider adding information about fun events and activities from both inside and outside of the office: the office bowling or softball team, the annual company picnic or golf outing, charity events the company sponsors, and don't forget to introduce them to the virtual water cooler. Simple, low-fluff, low-jargon handbooks are best! Our Goosechase team lives by our internal guide, which is updated all the time - we like Coda and Notion to host our company policies.
The Marshmallow Challenge
This is seriously one of the most fun onboarding games for new hires. This might work best if you're welcoming a new cohort of teammates, like summer interns. Creative? Interactive? Fun? Sweet? Sign us up! Don't be fooled by the seeming simplicity of the marshmallow challenge. The goal here is for teams to build the tallest possible structure using nothing more than 20 spaghetti sticks, a yard of string, masking tape, and a single marshmallow. To win, the entire marshmallow must be situated on top, and the structure can't be supported or propped in any way. Set the clock for 18 minutes and let them go wild. This challenge fosters teamwork and collaboration while defying expectations and questioning assumptions—in this case, that the marshmallow would be light, and the challenge wouldn't be a problem. Boy, were you wrong. Congratulate everyone on a job well done after with a s'mores break.
B-I-N-G-O
Send your new hires on a wild goose chase during a fun game of human bingo! The goal here is to drum up a few conversations, inspire future interactions, and loosen first-day jitters. Use Goosechase to create your human bingo Missions. Each one requires your new hires to find an employee with a specific trait—a different birth country, the same birth month as them, a certain number of siblings, or a particular hobby, for example. The person who completes every single Mission first is the winner! This energetic game encourages communication between new hires and employees and may spark some interesting conversations. This is one onboarding checklist they'll be excited to complete.
New Hire Bootcamp
It's not remotely as scary as it sounds. In fact, it's fun—because employees really learn the lay of the land when you initiate them through boot camp. This onboarding strategy calls for them to spend one or two weeks with their own team, then rotate through different teams during the following weeks. They'll enjoy the benefits of cross-training while connecting with employees they may not otherwise see as often. They'll also have a much better understanding of the company's operations as a whole.
Conduct an Entry Interview
They soared right in and landed the job—now it's time to conduct a friendly entry interview to really get to know them on a deeper level. The entry interview gives your new hires a chance to share their interests, values, talents, and expectations. You can quickly establish the informality of the conversation by asking a few goofy questions ("What's your superpower?" "Go-to fast food meal combo?"). Ask them about what kind of feedback they'd like to receive from you and even how often they expect it. Ask them about their future goals. Ask them how they learn best. These details can make all the difference to your new employees' experiences.
Flip the switch
Turn the tables on your team! Send your existing employees on a goose chase to find out all they can about your new hires. Using the Goosechase app, create fun Missions that revolve around the newest members of the company. It could be anything from snapping a photo with the newest addition to the IT team to bringing them a treat on their first day. The person with the most points at the end of the day wins—but the real winners are your new hires, who will feel like celebs! (Just make sure they're cool with it beforehand. Not everyone loves being the center of attention.)
Bring Those Cookies, Rookies
Yep, it's just as it sounds—an opportunity for the rookies on the team to share some cookies with the class. Have your new hires bring in their favorite sweet treats and place them on their desk at some point during their first month on the job. Everyone else will (naturally) gravitate to the desk for a bite and a chat. It's easy, simple, obviously, pretty sweet.
Onboarding programs shouldn't be boring—and with the right techniques in place, you can practically guarantee yours will be anything but that. By tailoring the new employee experience to be more interesting and engaging, you're setting them up for success, helping them become more familiar with their surroundings, building a sense of community among team members, and ensuring that they're ready to hit the ground running. There's nothing more valuable than building a strong bond with your new hires right off the bat!
The work won't always be easy, but the workplace should be fun and supportive. Show off you culture from day one!
What is Goosechase?
At Goosechase, experience is everything. Originally inspired by scavenger hunts, Goosechase is an online platform that enables organizations and schools to engage, activate, and educate their communities through delightful interactive experiences. Sign up and try creating a free recreational game, or contact us to learn more about our enterprise solutions!