Upload Mission Submissions from the Library/Camera Roll
Good news everyone! The latest Goosechase App and Game Manager update now allows players to upload photo and video submissions right from their device's library and camera roll!
This has been a much-requested feature ever since Goosechase first hatched as a gosling of a scavenger hunt app. Previously, we only allowed footage captured live during the game as photo/video mission uploads, in order to cater the game towards the live competition experience. But especially with more remote games being organized in 2020, and more players wanting to complete missions in creative ways that require footage from off-platform sources, we felt an update was required!
How does it work?

From now on, all photo/video missions added to Goosechase games will, by default, allow players to complete them with footage taken from live capture, as well as their device library/camera roll!
Organizers still wanting to add in missions that only accept photos and videos captured live – don't fret. You can still revert to live capture only in each photo/video mission's advanced settings menu to set the mission to work the way it did before!
(K12 educators, the reverse is the case in the Goosechase EDU platform. photo/video missions will accept only live capture footage by default, like before, but you can access the advanced settings menu for each mission to enable upload from library.)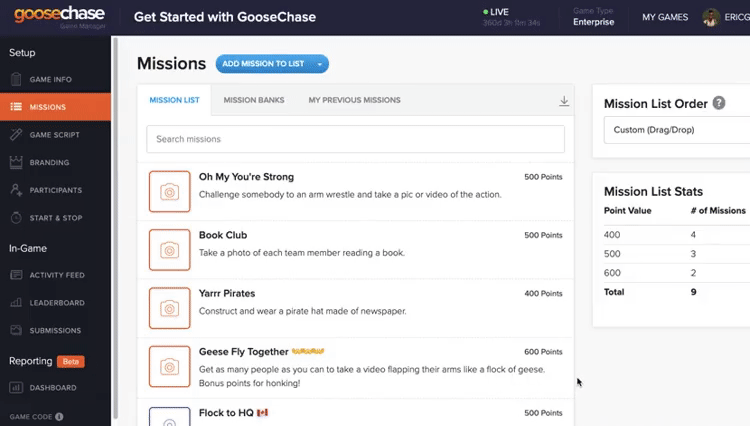 Ways that upload from library can enhance your game.
While the Goosechase app still requires an active internet connection for players to upload submissions and receive updates from the game, upload from library allows players to capture footage to fulfill certain missions while being temporarily offline. They can then upload the submissions when their device returns to mobile service.
Players are able to get more inventive with their photo and video submissions, including editing them with other apps and programs before uploading! Especially for more creative or performance-based missions, submissions have the potential to improve in quality all around.
For missions that involve fulfilling tasks tracked in another app, players can now upload a screenshot as their mission submission! This allows organizers more room to be clever with mission creation as well. For example, a mission where where players have to upload their run or bike route from Strava to prove they completed a long workout!
Double the video time, double the fun.

But wait… there's more! As part of this update, all Goosechase video submissions now have their maximum lengths increased to 30 seconds from the previous limit of 15, giving players more time to showcase their best efforts. When players upload a video from their library, they will also be able to trim their footage to any length under 30 seconds.
Additional info about this update, or other Goosechase features can be found in our FAQ!
What is Goosechase?
Goosechase is an online platform that helps organizers create and run digital scavenger hunt experiences for team building, learning, public engagement, or a variety of other events. Sign up and try creating a free recreational game, or contact us to learn more about our enterprise solutions!