Nipissing University Student Union x Goosechase: Supporting Every Student's Journey
Nipissing University's student union celebrates every student by developing interactive experiences for orientation week, homecoming, and ongoing campus engagement - including an epic Monopoly mashup.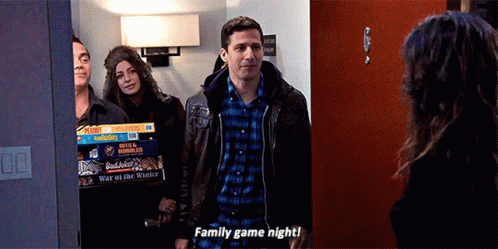 GOOSE CASE
Nipissing University Student Union x Goosechase
WHO:
Nipissing University
is a public university in North Bay, Ontario, Canada. It has a reputation for excellence in teacher education, arts, science, and professional programs.
The Nipissing University Student Union (NUSU)
advocates for resources and programming that support every student's NU journey.
WHAT:
Campus orientation, Campus engagement
WHEN:
Year-round
PARTICIPANT #:
5,600
IN-PERSON/VIRTUAL/HYBRID?:
In-person, Hybrid
GOALS: NUSU is responsible for student communications and engagement - that means hosting multiple student events each semester, including orientation week activities. The goal of their programming is two-fold: to make students aware of NUSU services, and to help students feel like valued members of the NU community.
CHALLENGES
They're tough to crack
NUSU wants to make sure their orientation week activities are as inclusive and approachable as possible, and their past programming wasn't cutting it. They'd see students show up for the first day of orientation, but attendance would drop after that. They needed to find new ways to keep students engaged.
Apart from orientation week, NUSU wanted to get the word out about the resources and support they offered students year 'round. They used their website and social media for announcements, but weren't getting the traction or engagement they needed.
Tied to tradition: NUSU's orientation week featured fun events that were a hit in years past - their "Muddy Olympics" needs no explanation! - but weren't quite resonating with incoming classes. They also weren't providing enough activities for off-campus and mature students to participate in.
Information overload: Website announcements, social media posts, and physical signage around campus let students know what was going on throughout the year, but participation IRL and engagement online were low.
RESULTS
Talk about flying colors!
NUSU's orientation week programming is more energetic and inclusive than before, with different ways to participate that serve the different personalities of the student body
Improved attendance records throughout orientation week
Improved student engagement throughout the school year, with more students attending NUSU events and using their resources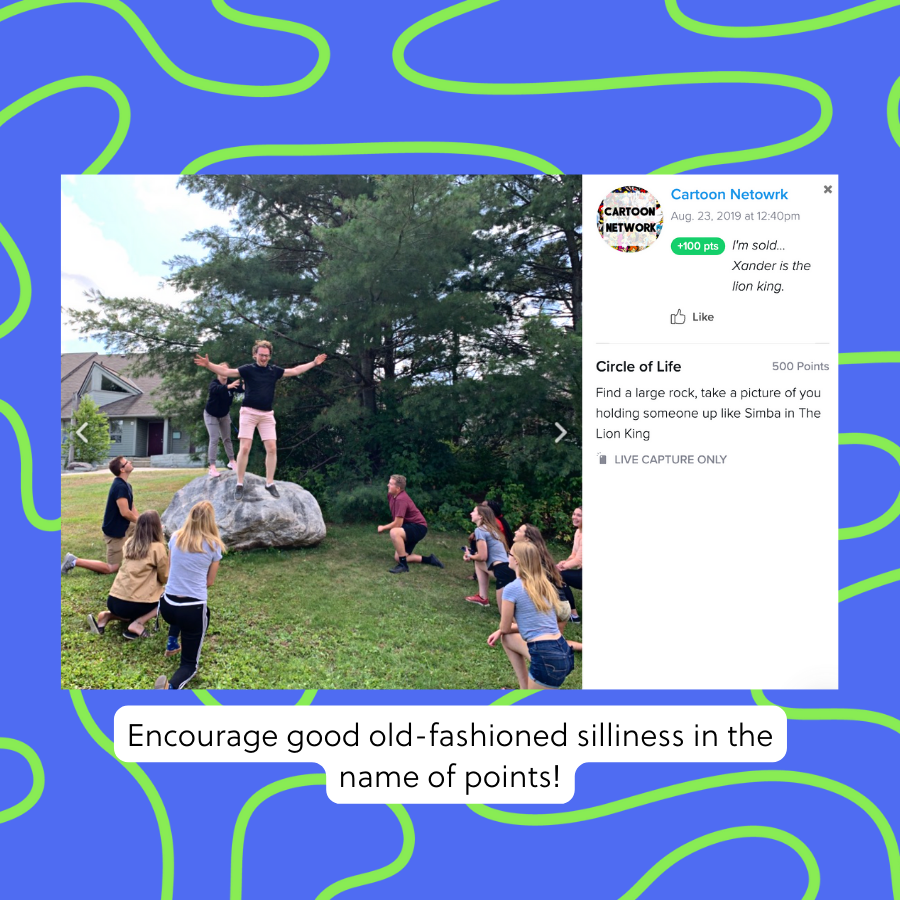 "We have yearly turnover on our team because new student executives are voted in, and of course, people graduate, but keeping Goosechase is something that's been agreed upon every year since we started."
- Sarah McGowan, Director of Communications - Student Engagement and Community Relations, NUSU
SOLUTIONS
If there's a wing, there's a way
NUSU heard rave reviews about Goosechase at COCA's Student Life Summit in 2018 and decided to test it out on campus. They gave themselves a year to prove that it worked.
Low adoption curve: NUSU struggled in previous frosh weeks to come up with activities that would appeal to every age of new student, but the Goosechase platform is so easy to use, people have no problem getting involved.
Instant satisfaction: Collecting points is very motivating. Students are invested in completing Missions to see how they move up the leaderboard.
Sustained school spirit: Fun and games don't stop after orientation week. NUSU uses Goosechase to host themed events throughout the year, whether that's introducing international students to the campus and Canadian culture, or encouraging students to support their varsity home games. NUSU runs dedicated Goosechase Experiences just for fun, too - with special Disney and Harry Potter-themed Missions - that students can participate in remotely.

"Some of our clubs and societies have recently approached us to ask if they could start using Goosechase for their events and fundraisers, so it's proven really popular with our students. It's something they ask for!"
- Sarah McGowan, NUSU
ADVICE FOR CREATORS
Helpful honks
From one Goosechase creator to the next, here are tips for how you can create the most brilliant experiences for your campus community.
"We do about four Goosechase [Experiences] per semester, but are definitely looking to expand the ways we use it - not just for students but teachers, too. There's a ton of innovative ways it just fits into our programming."
- Sarah McGowan, NUSU
Give people multiple ways to join
NUSU sees the highest participation rate when students can choose to join solo or as part of a team. There's less pressure for people to find teammates if they prefer to participate on their own, and you might end up with more participants as a result.
Let participants know about your marketing plans
Let students know ahead of time if you're going to be using their photo and video submissions for social media posts or marketing purposes. People can be shy about going all out with their submissions if they think they'll have a big audience (or some may be incentivized), so consider indicating which Missions you'll be looking to for marketing content. It helps put everyone at ease (and may even get you better submissions)!
Think about your definition of success
Being a smaller campus, NUSU's definition of success isn't necessarily massive turnouts and big numbers of submissions - it's about repeat sign-ups and sustained engagement across semesters.
Incentivize with prizes…and be transparent about awarding them!
Giftcards are very popular, especially those for gas and groceries. And because the prizes are so coveted, NUSU goes to great lengths to show everyone how winners are chosen. The NUSU team will go on Instagram Live to show them determining the winner in real-time.
Additionally, get extra creative with your prizing! For their spirit week, NUSU combined the functionality of Goosechase with the familiarity of everyone's favorite board game, Monopoly. Missions were color-coded, with each color corresponding to a prize. Participants could choose to complete Missions based on what prizes they wanted. The added layer of creativity and customization made it alllll the more fun!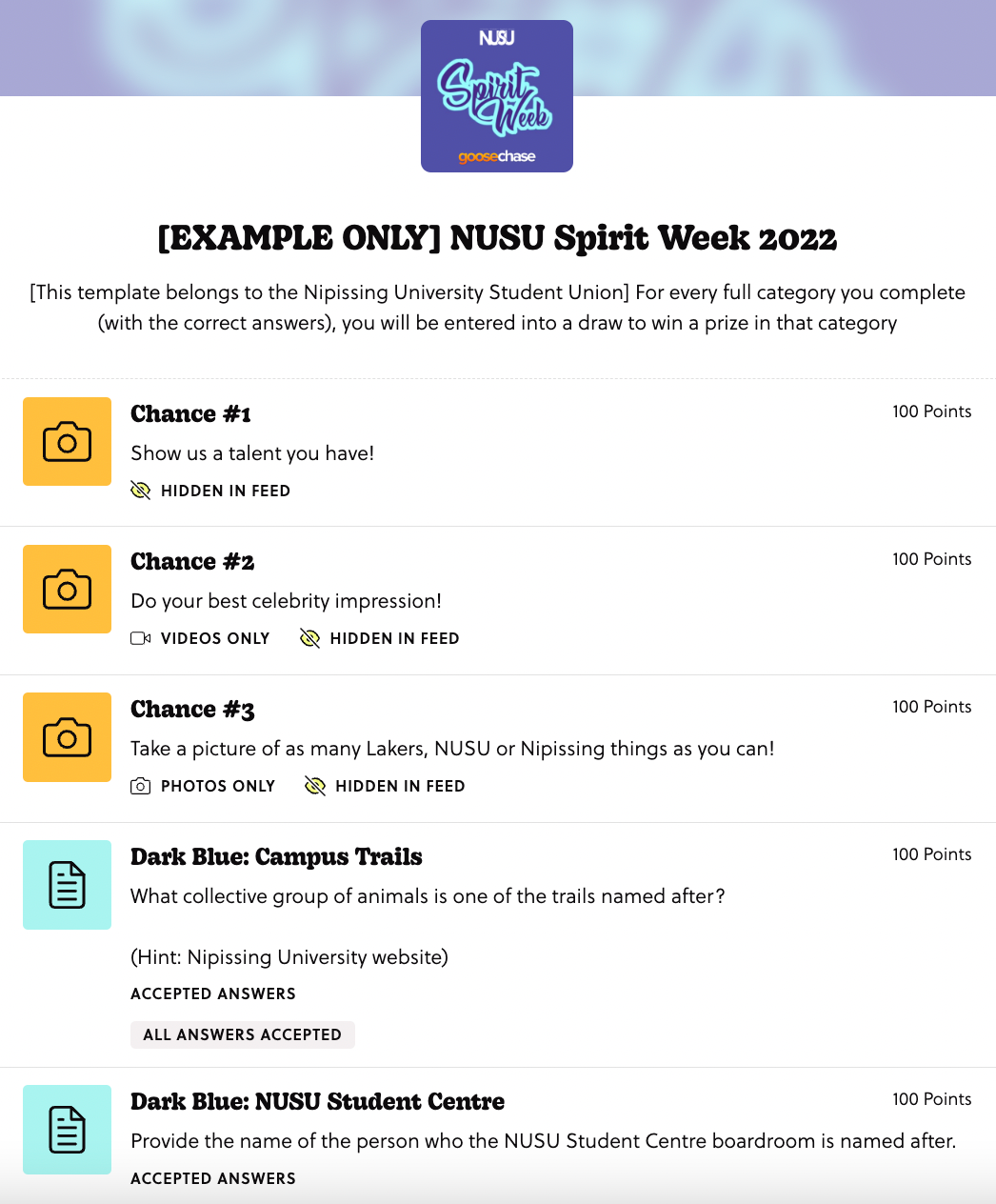 💡
Want to see exactly how NUSU did it? See their Spirit Week Goosechase Experience (with answers redacted, of course 😉)
HERE.

Thank you so much to Nipissing University Student Union for sharing their Goosechase experience. Their dynamic, student-focused approach to programming is what every campus should strive for.
What is Goosechase?
At Goosechase, experience is everything. Originally inspired by scavenger hunts, Goosechase is an online platform that enables organizations and schools to engage, activate, and educate their communities through delightful interactive experiences. Sign up and try creating a free recreational game, or contact us to learn more about our enterprise solutions!