Analyze Game Statistics with the GooseChase Dashboard Beta Release!
The organizers have spoken, and the GooseChase product team has delivered, fulfilling a long-requested feature addition to our platform. The latest update to the GooseChase Game Manager includes a brand new Reporting section and a beta release of the Dashboard, displaying in-depth game engagement data!
Game data and stats will only be visible for after that game has gone live, and will continue to be visible after the game ends. You can access the Dashboard from the left-hand navigation panel of every game created in the Game Manager.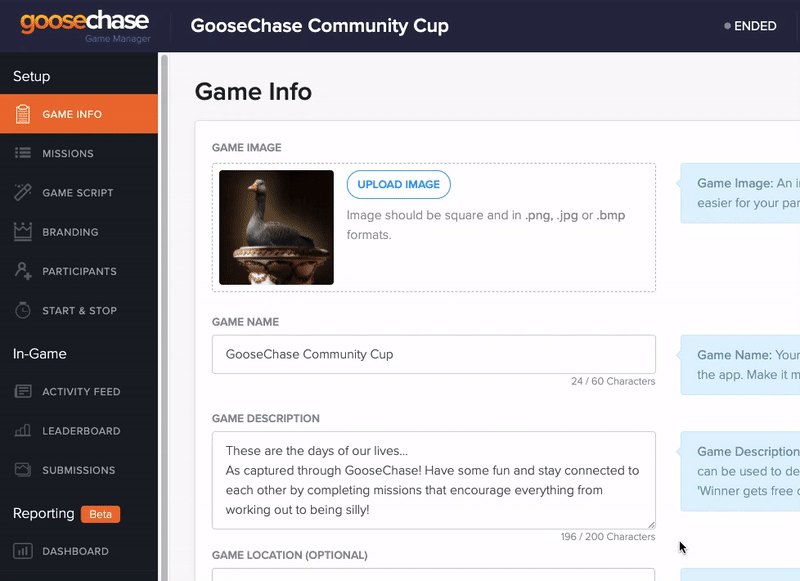 The Dashboard allows GooseChase game organizers to dig into their game statistics like never before, gaining insight into data such as mission completion rates and team/player engagement. Highlights of the Reporting Dashboard include:
Mission Popularity: Visually compare which missions are getting the most submissions and discover what types of missions are a hit with your participants.
Submission Timeline: Display when players are the most active, in order to assist you in accommodating other activities that might be running alongside the GooseChase game.
Participants Joined Timeline: Show when players join your game, allowing you to gain insight into what channels are working to attract participants.
Download Full Results: Export capability for all graphs and tables into .csv, .xlsx, and .json, allowing further analysis of game statistics in other platforms and software tools.
Visit the Reporting Dashboard FAQ page to learn more about the all the nitty-gritty of the Reporting Dashboard's features, or log in to your Game Manager and test drive it for yourself. The Dashboard is also live and reporting retroactive data on all games that were finished before the feature was added!
Improved reporting options was one of our most popular feature requests, and we want to continue to improve on this beta Dashboard release to better meet our organizers' needs. How did we do? We welcome you to share your thoughts with us by accessing any game from within your game manager account and clicking the "Give Feedback" button found at the top right corner of the Dashboard!
What is GooseChase?
GooseChase is an online platform that helps organizers create and run digital scavenger hunt experiences for team building, learning, public engagement, or a variety of other events. Sign up and try creating a free recreational game, or contact us to learn more about our enterprise solutions!