Take 5 Oil Change x Goosechase: Award-winning Team Engagement and Record-breaking Fundraising
Take 5 Oil Change uses Goosechase at over 600 locations nationwide for award-winning employee engagement, training, and fundraising.
GOOSE CASE
Take 5 Oil Change x Goosechase
WHO:
Established in 1984,
Take 5 Oil Change®
is a quick lube franchise under Driven Brands featuring a unique stay-in-your-car concept. The brand offers an on average 10-minute oil change service and ancillary services such as air filter replacement, wiper blade changes, and coolant exchanges. Take 5 has more than 600 company-owned and franchised service centers throughout the United States and Canada.
WHAT:
Internal Communications, Training, Fundraising, Employee Engagement, Team Building
WHEN:
Year-round
PARTICIPANT #:
Up to 3,500 participants
IN-PERSON/VIRTUAL/HYBRID?
Hybrid - used both in person and remotely
GOALS: Take 5's Operational Excellence team creates world-class hiring, training, employee engagement, team culture, and company-wide fundraising initiatives. When they were looking for an employee engagement platform to facilitate those activities, they knew they needed something that would be as fun for the team as it was functional for operations.
CHALLENGES
They're tough to crack
As the saying goes, the more, the merrier...mostly. Right? At an organization as large as Take 5's, with both corporate and in-shop divisions and thousands of employees, herding their flock was...a challenge.
Siloed Training and Communications: Take 5 used to run new employee initiatives and training through Learning Management Systems (LMS), newsletters, and webinars. The Operational Excellence team couldn't be sure that the information sent through these forums to all 3500+ employees actually lead to true behavior change.
Weakened Team Culture: Like many organizations, Take 5 needed to rebuild team culture after the unpredictable changes 2020 brought to the business, including bridging communications between corporate and field teams. The team was under pressure to perform with fewer staff, as well as quickly implement new procedural changes in light of the pandemic.
Fundraiser Support: Take 5 is dedicated to giving back. They host an annual fundraiser benefiting local children's hospitals and wanted to boost employee participation and competitiveness, harvest social media content, and also just make it all more fun.
RESULTS
Talk about flying colors
Today at Take 5, employee engagement and operational excellence is flying high. Here are a few things they accomplished...now that's something to honk about.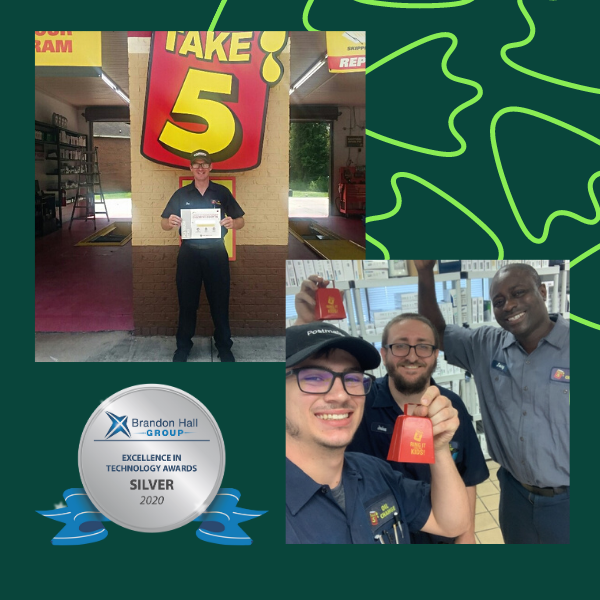 SOLUTIONS
If there's a wing, there's a way
Take 5 implemented Goosechase in 2019 with one objective in mind: to supercharge their fundraising efforts...and did they ever! Following that success, they've rolled the platform out to many other aspects of their employee operations and to all 600+ locations.
Since adopting Goosechase, we use it for everything from fun - like Ugly Christmas Sweater contests and happy hours, to practical training - where we ask for video submissions to show successfully completing new tasks. Keeping track of these initiatives in an organization as large as ours is tough, but Goosechase makes it easy.
Jazmin Brown, VP of Operational Excellence at Take 5 Oil Change
Dynamic Training and Communications: By creating Missions for each skill or process employees need to learn, Take 5 uses Goosechase to roll out training across their 600+ locations. By reviewing employee submissions, the Operational Excellence team is able to validate that all employees understand and are able to accurately execute the training.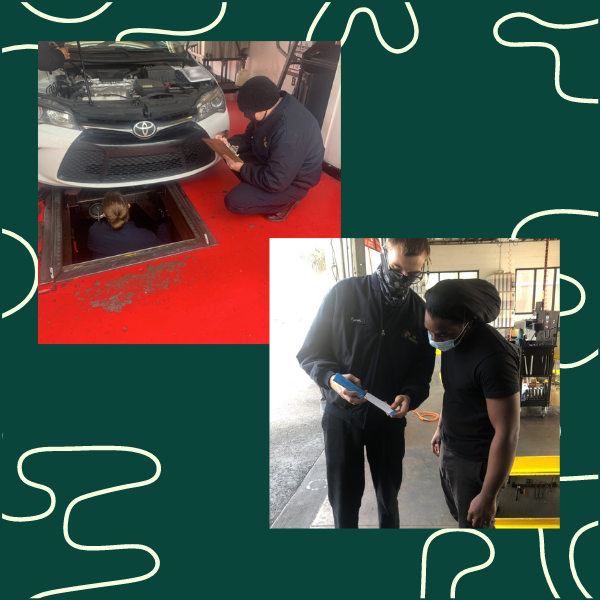 Putting the Team and Togetherness in the Spotlight: To inspire enjoyment in everyday work while the world was facing uncertain times, Take 5 launched a Goosechase that was both fun and functional: Missions included asking employees to share videos following Covid safety measures like washing their hands while dancing (the team turned Goosechase submissions into a hilarious video), practicing health and safety customer spiels, and even shouting out colleagues and frontliners, among others. Goosechase put employees' creativity and capabilities front and center, upping morale and camaraderie as a result. This engaging initiative earned them a Silver Brandon Hall Group award!
Sparking Friendly Competition for a Good Cause: Take 5 uses Goosechase to fuel excitement and engagement for fundraising initiatives. Every year, they strive to raise over $1M for more than 60 local children's hospitals. Teams and individuals set personal fundraising goals via Goosechase, monitor how much other locations are raising, and get into some friendly competition for a great cause.
Employees submit photos ringing a bell after a customer makes a donation, or we'll ask them to record practicing their spiel for customers. We're very proud of far surpassing our million dollar targets. We believe the engagement with the Goosechase app - the enthusiasm that was a result - really kept the team focused on the targets, and we were able to give back to the community by making it fun for our employees.
Jazmin Brown, VP of Operational Excellence at Take 5 Oil Change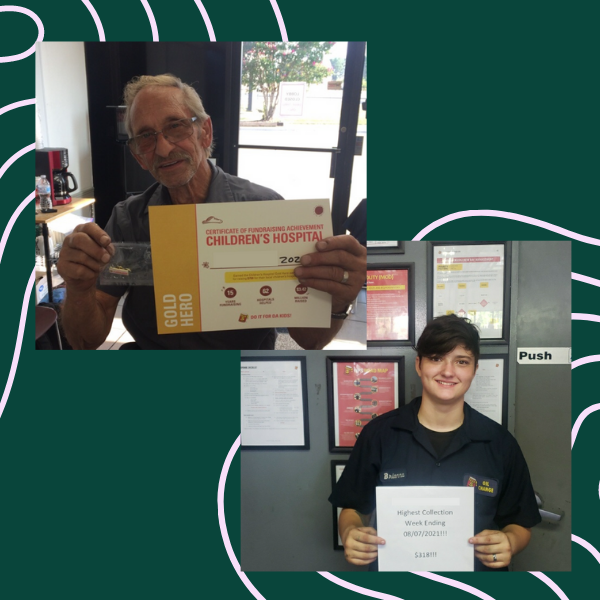 ADVICE FOR CREATORS
Helpful honks
From one Goosechase creator to the next, here are tips for how you can create the most brilliant experiences for your communities.
My team is not made up of IT professionals, so we needed a solution with simple interfaces for both organizers and end users. We have over 3,500 employees of different age groups, technological capabilities, and most importantly, learning styles... We wanted to take training to the next level and engage our employees in a way they would remember and enjoy, and that's exactly what Goosechase did for us.
Jazmin Brown, VP of Operational Excellence at Take 5 Oil Change
Communication is key for adoption
Share news about upcoming Goosechase Experiences to build excitement and curiosity. Funnel multiple activities through Goosechase - trainings, team building, internal updates...if you can make news or a task into a Mission, do it! - so your team gets familiar and comfortable with the app right away. Do the talking, and let the tool do the work!
Transparency in the Goosechase drives engagement
Making it easy to see the activity feed and leaderboard gets everyone pumped. Take 5 displays it prominently on the homepage of their intranet, and keeping up with who's winning - or trailing behind - becomes part of the fun.
Collaborate with your team
Allow others on your team to co-manage games and champion using the platform. Putting Missions together takes some creativity, so lean on collaboration (and check out our blog for inspiration)!
Thank you so much to Take 5 Oil Change for sharing their Goosechase experience. Our shared passion for happy customers and out-of-the-box experiences fuels our work!
Think Goosechase could be a fit for your organization? If you haven't already, start by creating your first game. You can upgrade it at any time.
What is Goosechase?
At Goosechase, experience is everything. Originally inspired by scavenger hunts, Goosechase is an online platform that enables organizations and schools to engage, activate, and educate their communities through delightful interactive experiences. Sign up and try creating a free recreational Experience, or check out our Pricing!