Case Study: Compass Outdoor Adventures
Compass Outdoor Adventures is a team of custom experience creators based out of North Bend, Washington. They have over a decade's worth of expertise in outdoor recreation, and their tour offerings have ranged from youth summer camps to team-building excursions for some of Seattle's most well-known corporate groups.
Led by a passionate team that includes Founder Luke Talbott and Corporate Account Manager Thomas Fowler, Compass is dedicated to delivering unique experiences that utilize the outdoor environment as a backdrop. Through active and competitive adventures – including mountain biking, snowshoeing, paddleboarding, pub olympics, and GooseChase scavenger hunts – Luke and Thomas' team strive to send every adventurer home smiling with memories of a fun and engaging outing.
Lessons Offered by the Outdoor Environment

For Luke, the outdoors is a blank canvas that can help people understand their limitations. During his years as a fifth-grade teacher; he realized that exploring the outdoors taught his students many lessons not offered while confined within the walls of a classroom. Luke transitioned from his teaching career into organizing youth summer camps, the basis of which eventually evolved into the current incarnation of the company.
"A rolling joke is that we actually do a lot of the same stuff with adults that we do with kids, just with beer afterwards. If you can teach a love of the outdoors, you can teach a sense of adventure and figure out how to take risks, which is a huge part of everything we do. It's about "How do you push yourself a little bit out of your comfort zone?" Whether it's skiing, or snowboarding, or rock climbing, or mountain biking, or whatever it might be; you're always put in a position where you can understand your limitations and figure out how to expand them."
-Luke Talbott, CEO and Founder, Compass Outdoor Adventures
Scaling Into Corporate Retreats and Integrating Goosechase

As Compass expanded into team-building retreats for corporate groups, the need arose for group activities that not only kept participants active, but also incorporated elements of problem-solving, teamwork, and competition among a large number of people. GooseChase Scavenger Hunts were added to Compass' menu and allowed an interactive way for participants to explore world-class destinations in and surrounding the Seattle area.
"We spawned a need for a kind of 'outdoor-light' activity – is maybe the best way to put it. Pub Olympics I think was the first one. It and GooseChase filled a similar niche in that they could let us engage bigger groups – because just imagine having to throw 75 people onto a trail, it's a little ridiculous. With GooseChases we generally almost always ran it outdoors. It was our North Bend, Snoqualmie, and Pike Place Market GooseChase games. We started expanding it into Seattle and integrating the history of the city, cool activities like that. We even used it as an intro for companies like Google when they would truck all their people out to Leavenworth as the first activity they did around town"
-Thomas Fowler, Corporate Account Manager, Compass Outdoor Adventures
By offering variety and forging working relationships with local companies, Compass allowed clients groups to customize their experiences with a mix of team-building activities such as GooseChase and Pub Olympics, followed by breakout activity days that included whitewater rafting, rock climbing, skiing, hiking, paddle boarding, or mountain biking.
"We've always sat in the space of 'how do we reward people and help them have a good time?' We started looking at what it would look like to go deeper and how to use the outdoors as an element to look at business transformation. We've worked multiple-day events with Amazon, who are looking at prototyping and getting products to market, and we started to utilize our brains for stuff other than just schlepping gear. It's a lot more challenging to do that deeper level work.
-Luke Talbott, CEO and Founder, Compass Outdoor Adventures
Adapting the Business Model to Pandemic and Social Distancing

As work-from-home orders were mandated for office workers, and the tourism services industry started to decline in March 2020 due to COVID-19, Compass Outdoor Adventures faced cancellations from many of their existing clients. What seemed like a promising season at the beginning of the year – Compass had hit all of their Q1 sales goals by mid-January – started to evaporate as their spring and summer pipeline vanished.
"I called everyone in and I was like "Hey guys, we're done, we can't make any money in this world and I need to go get a job." Back in November we chose to put away the bike rental business and the bar and events space and go 100% into corporate, and unfortunately we picked the only one really susceptible to a pandemic."
-Luke Talbott, CEO and Founder, Compass Outdoor Adventures
Reluctantly seeking another job after all but shuttering a business where he was doing what he loved, Luke started to feel tension from being at home with three restless kids, who were stressed from not being able to leave the house to see their friends. Knowing that this feeling was shared by many across the country, Luke had the idea of utilizing Compass' existing network to run a virtual GooseChase scavenger hunt open to families. He called Thomas on a Friday and the two put together the game over a weekend, ready to run on Sunday. Completely new to running a remote game, they had no idea what the turnout would be. The first Compass At-Home Adventures Scavenger Hunt ended up drawing 250 teams and a total of 1100 players, surpassing their expectations and even gaining coverage on national news.
"I had never used Zoom, I had never figured out how to put all this stuff online and registered in two days, so we were fumbling through it. But we thought: "Well, that was kind of fun!" We decided we were going to do another one the following week, and that's when we got on the news and it blew up. To give you a frame of reference, in the last 30 days we had more hits to our website than all of last year."
-Luke Talbott, CEO and Founder, Compass Outdoor Adventures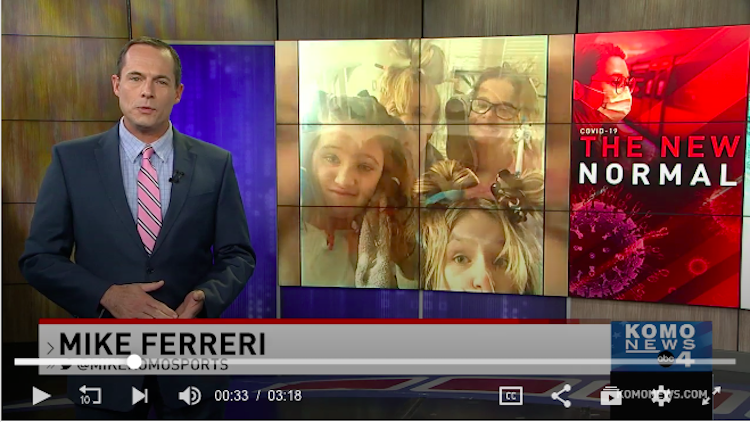 Compass At-Home Adventures - 2nd Weekend Game by the Numbers

When: April 4, 2020
Duration: 2 hours
Missions: 73
Participating Teams: 643
Photo Submissions: 3654
Video Submissions: 3174
Text Submissions: 5835
The free weekend family games ended up being a good investment for Compass, allowing them to re-open the business by offering a unique twist to one of their prior activity offerings. Participants saw the value in virtual scavenger hunts during social distancing and lockdown periods, and requests started coming in from corporate teams for custom games with their newly-remote workers. Compass said "yes" to all of these opportunities, adapting their established company brand and persona to the digital world. According to Luke, virtual GooseChase games allow team members to reveal an authentic side of themselves that is normally missing from the physical office environment, something especially needed during stressful times.
"We're now starting to see that people are understanding that this might be the new normal and people are more authentic. I might go to work and you may never hear anything about my life outside of it; now with these scavenger hunts you see my kids, you see my dog, you see my sloppy kitchen or whatever else. I think companies are kind of realizing this is a good way to keep their folks engaged and happy."
-Luke Talbott, CEO and Founder, Compass Outdoor Adventures
"I think the messaging is really big too. From the feedback we've gotten on what missions they like the best, it's ones like the one literally called "Stupid Pet Tricks", and it's their pets doing tricks or the ones of people's babies. These are slices of lives of co-workers that they normally don't get to see shared. In this time where everybody feels so isolated and disconnected wherever they are it's a way to connect people and bring them back together and make it feel like a group again."
-Thomas Fowler, Corporate Account Manager, Compass Outdoor Adventures
Stupid Pet Tricks
Show us your best stupid pet trick. If you don't have a pet, use a human.
+1000 Points
Tips for Keeping Players Engaged During Virtual GooseChase Games
Engage with all participants by awarding bonus points and actively sending messages.
With the boost in attention from the news segment, Luke re-hired much of his staff, knowing that engagement was going to be key for success of the second game. By Saturday, over five hundred teams had registered. A plan was put in place for two people to be in the Game Manager and just giving out bonus points as the game progressed, in order to make sure all teams get notifications that awarded their efforts. Automations enabled by GooseChase's Game Script feature allowed the team to pre-plan mission releases and announcements to all players, decreasing their workload while the game was in progress.
"The automations really saved the game on that one. We had dipped into the automations a little bit before to release a mission or two or send a message, but we didn't really do anything heavy. This is the first game where I'm step-by-step automating it so things are releasing, messages are being sent out, all of these things are happening; I'm really glad we did."
-Thomas Fowler, Corporate Account Manager, Compass Outdoor Adventures
Project a unified organizer persona.
Having to outwardly project Compass' company persona over a digital medium is a massive shift from in-person events, where Luke and Thomas have usually been able to MC and freely interact with adventurers who are on-location and focused on the activity at-hand. This is where really putting effort into written content through missions and notifications, as well as organizing video introductions and wrap-ups over Zoom or Skype can come in handy.
"We talk trash sometimes over the messages or give shout-outs. With corporate we've done this before, like "Hey Team Fred, where are you guys? Are you sitting in the bar? We can't tell!" Or whatever else. And that's the persona of our company anyway, just this really cheeky sort of scenario. It's a little harder to get across virtually when we don't have an opening and they don't know who we are, but with our corporate ones we're opening and closing with a Zoom call, so they see a bit of our personality on both sides."
-Luke Talbott, CEO and Founder, Compass Outdoor Adventures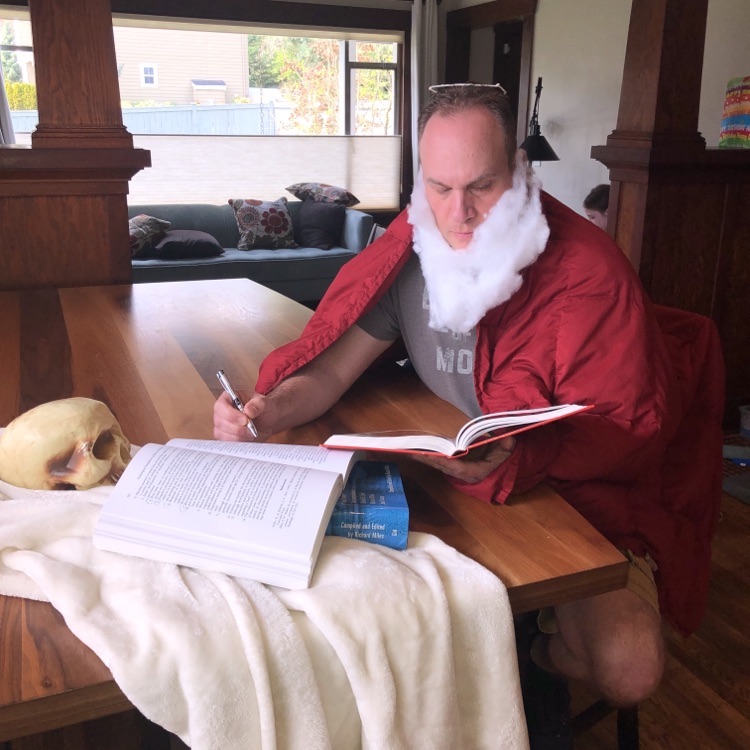 Deju Vu
Recreate a famous or iconic picture or video. Lacking inspiration? Think John and Yoko, the moon landing, etc.
+1000 Points
Use context to connect missions with your audience.
Luke and Thomas have found, as veteran experience builders, that context is extremely important for engaging with participants. For GooseChase missions, building missions that activate prior knowledge or a sense of solidarity can help to connect with people on a personal level and drive engagement. This can be accomplished by referencing shared experiences, or popular things seen in media.
"On Jimmy Fallon they do these jam band sessions where they just grab artists, and they sit them in the room and they just start riffing on things. They grab things from around the house as instruments, like pots, pans, anything. But the context in that mission would be "Have you seen these kinds of things on Jimmy Fallon?" And then it leads into the challenge. It also has the perk of letting them know that they don't need instruments to do it, they can grab a cheese grater and start using it as a washboard."
-Thomas Fowler, Corporate Account Manager, Compass Outdoor Adventures
Jam Band Challenge
You may have caught clips of this challenge on shows like Jimmy Fallon. Using whatever you have at home, create your own Jam Band session of a song of your choosing. You can use instruments, pots, pans, whatever you can think of. Grab a video of the end result. This will take a little practice.
+5000 Points
The Success Formula of Great Experience Organizers

Compass Outdoor Adventures maintains an impressive 5.0 rating on TripAdvisor based on 108 customer reviews, with only 1 out of 108 ratings awarded being lower than the full 5.0 maximum. When asked what their secret is, the focus on communication and authenticity is stressed once again. Compass only hires guides that are effective communicators, who are able to radiate a contagious enthusiasm for each and every experience they bring clients on.
"The one I tell my folks all the time is to over-communicate and really set expectations. This way they also have an idea of what's going to happen and what's expected of them"
-Luke Talbott, CEO and Founder, Compass Outdoor Adventures
"We're a company that puts a focus on hiring and working with people that are engaging. We demand that they're engaging. You've really got to bring everything to the table, you can't just small talk a little bit. Even on our bike adventures, you have to be able to get excited about the Old Milwaukee Railroad and its history every single time. For me it came from theatre, and teaching in the outdoor industry. And with Luke I'm sure a lot of it came from teaching and his past."
-Thomas Fowler, Corporate Account Manager, Compass Outdoor Adventures
---
You can learn more about Compass Outdoor Adventures and book your team's next hands-on team-building experience, either of the outdoor or virtual kind, through their website.
Check out the Virtual/Remote Scavenger Hunts section of the GooseChase blog for mission ideas and other resources to get you started on organizing a virtual scavenger hunt game of your own!
What is GooseChase?
GooseChase is an online platform that helps organizers create and run digital scavenger hunt experiences for team building, learning, public engagement, or a variety of other events. Sign up and try creating a free recreational game, or contact us to learn more about our enterprise solutions!